Back to News
SURF: Laura Enever Joins the Billabong Team!
February 26, 2013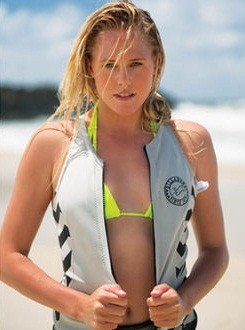 Laura Enever Joins the Billabong Team!
BURLEIGH HEADS, AUSTRALIA - Billabong today announced the addition of Australian Laura Enever to its pro surf team. Enever, 21, is one of the most popular female surfers in the world today and will start the 2013 ASP World Tour later this week ranked eight in the world.
"On behalf of the Billabong brand, we are thrilled to add Laura to our roster," said Graham Stapelberg, Billabong's Global Marketing Manager. "Not only is she a brilliant surfer and a top competitor, but Laura has emerged as something of a style icon within the beach lifestyle world, which makes her a perfect representative for Billabong."
Enever hails from the North Narrabeen area of Sydney, New South Wales and has amassed a formidable collection of titles, including the Australia, ISA and ASP Junior Championships. She joined the women's world tour in 2011 at age 18, becoming the Rookie of the Year during the Hawaiian big wave season at the Van's Triple Crown. Laura was runner up in the ASP's 2012 Roxy Pro on Australia's Gold Coast and is now finalizing her preparation for the kickoff of the 2013 edition that starts on March 2nd.
Enever's surfing skills come nicely packaged with a healthy dose of fitness and a natural beauty that have ignited a parallel modeling career. Australia's Stab Magazine, a well-known arbiter of surf style, declared her "cute as hell."
Laura Enever Joins the Billabong Team from Billabong on Vimeo.
"I really love what Billabong represents," Enever said of the new partnership. "It's a core surf brand with high performance products, but at the same time brings out the beauty of the beach lifestyle. My other passion besides surfing is the fashion world and it's clear Billabong is all about taking high fashion to the beach. They are collaborating with fashion bloggers and coming out with amazing products and wetsuits. Beach fashion is changing and Billabong is leading the way. I'm excited!"
Enever joins an all-star Billabong global surf team which includes Keala Kennelly and Courtney Conlogue on the girls' side and World Champion Joel Parkinson, Taj Burrow, Shane Dorian and World Junior Champ Jack Freestone, to name just a few, on the men's team. Enever will be representing the brand in competitions, photo shoots and appearances worldwide for years to come. Importantly she will also be working on special fashion collections inspired by her travel experiences to the most exotic surfing destinations on the planet.

---