Back to News
SUPPORT: Surfing for Life Foundation Gears Up For Annual Surfing for Hope Cancer Benefit
February 27, 2013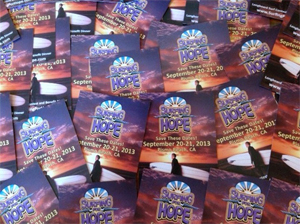 Surfing for Life Foundation Gears Up For Annual Surfing for Hope Cancer Benefit
Santa Barbara, Ca. (February 27, 2013) The Surfing for Life Foundation will be teaming up with Surfing for Hope at the 2nd annual benefit dinner and longboard contest September 20-21 in Pismo Beach, Ca. "We're stoked to be invited to the upcoming surfing event supporting the Hearst Cancer Resource Center", enthused Tom Brown, Executive Director of the Surfing for Life Foundation. "I believe strongly in the Surfing for Hope mission. Everyone has been touched by cancer in some way. If we can help bring awareness about the disease to just one person, we have succeeded in our goal. By distributing Surfing for Life wristbands to all participants we hope to bring surfers together and make them more aware of ways to become proactive against the disease", states Brown. The Surfing for Hope event is a way to raise money for Central Coast cancer patients and their families and to spread awareness throughout the surfing community. Proceeds from the sale of all wristbands at the event will be donated directly to the Hearst Cancer Resource Center.
Surfing for Hope is fast becoming the go-to surfing extravaganza on the Central Coast. Along with doctors Thomas Spillane and Karen Allen, Founder and Executive Director Bob Voglin explains how this event is designed to inspire people challenged by cancer through the positive energy of surfing. As a cancer survivor himself, he understands what patients and families go through as their cancer journey unfolds. "This is the 2nd annual event. Last year we raised more than $61,000 for charity", states Voglin. "This year is shaping up to be the biggest and best event to date. We are expecting participants throughout California to register, beginning March 1st". The contest is open to the entire family with divisions for all ages.
The weekend-long event begins with a memorial sunset paddle out in Avila Beach to remember those who have lost their battle to cancer. This will be followed by a benefit dinner, auction and live music at the beautiful Avila Beach Golf Resort. Dinner will include an offering of fine wines produced by local vintners followed by a live auction of unique items. Saturday kicks off with the longboard contest and day-long health fair on the Pismo Beach pier. Following the surfing competition the event concludes with an awards dinner.
Mark your calendars now! Registration forms and additional information are available at the Surfing for Hope website. Stay tuned for more details. Sponsorship opportunities are available. Interested parties should contact Bob Voglin.
All proceeds support the Hearst Cancer Resource Center and the Angel of Hope Fund at French Hospital Medical Center in San Luis Obispo.
About Surfing for Life Foundation: A grassroots, 100% surfer-driven 501c3 nonprofit organization. The mission: bringing cancer awareness to the surfing community, with an emphasis on diet, exercise and positive thinking. One wristband at a time… www.surfingforlife.org
About Surfing for Hope: An annual event bringing the community together to help inspire people challenged by cancer through the positive energy of surfing.
www.surfingforhope.com
About The Hearst Cancer Resource Center: Located at the award winning, not-for-profit French Medical Center in San Luis Obispo. It is a one-of-a-kind resource on the Central Coast for those living with cancer and their families. All services are provided at no charge. The Hearst Cancer Resource Center provides the supportive and educational services necessary for cancer patients to understand their disease, tolerate treatment, maintain dignity and quality of life throughout all aspects of their cancer experience. www.frenchmedicalcenter.org
---