Back to News
SURF: Arnette's Second Stop of the Cash Pot Surf Series Goes Down On Sunday, March 3, 2013
February 27, 2013
Arnette's Second Stop of the Cash Pot Surf Series Goes Down At Blackies in Newport Beach On Sunday, March 3, 2013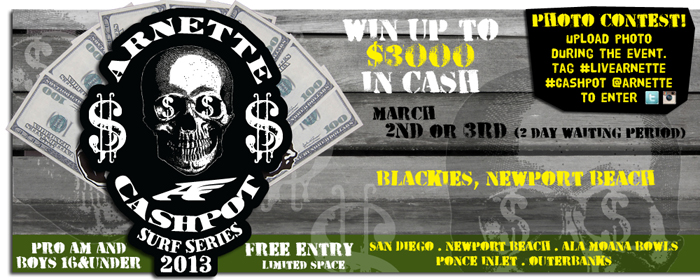 Encinitas, CA – February 27, 2013: The second stop of Arnette's Cash Pot Surf Series has been confirmed for Sunday, March 3 at Blackies in Newport Beach, CA. Held in conjunction with TransWorld SURF, this year's Cash Pot Surf Series events not only distribute prize money to the winners of each heat, but also to social media users who participate in the online #LIVEARNETTE social media photo contest.
Cash Pot Surf Series events feature two divisions at each stop – Pro-Am and 16 & Under – with $3,000 in cash up-for-grabs at each event. Judges award prize money to the winners of each heat throughout the day, as well as specialty prizes throughout the day, at their discretion.
As a bonus for spectators, Arnette will be giving away prize packs, including sunglasses, to people who post photos from each event on Instagram and Twitter. To enter, photos must be tagged #LIVEARNETTE, #CashPot and @Arnette. One winner will be chosen from each event, based on photo originality and caption creativity.
All Cash Pot Surf Series events are beach entry only, with limited space available. Interested participants should plan on being on the beach by 6:00 am for signup. At each contest, ASP judging criteria and interference rules will be in full effect.
Future 2013 Arnette Cash Post Surf Series dates and locations include:
* 7/12-13 – Ala Moana Bowls, HI (two-day competition)
* 8/12-13 – Ponce Inlet, FL (two-day competition)
* 8/15 or 8/6 – Outer Banks, NC (two-day waiting period)
More info and updates on the Cash Pot Surf Series, including downloadable entry forms, will be posted online before each event at www.arnette.com, www.facebook.com/arnette and www.twitter.com/arnette.
---