Back to News
SKATE: Winners Announced For 15th Annual TransWorld SKATEboarding Awards Presented By New Era
February 28, 2013
Winners Announced For 15th Annual TransWorld SKATEboarding Awards Presented By New Era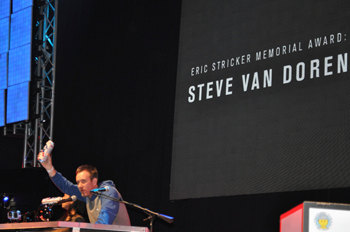 Carlsbad, CA – TransWorld SKATEboarding just announced this year's TWS Award recipients last night in Southern California as skateboarding's heavyweights came out in force and packed out the Avalon Hollywood. Veteran emcees Brian Schaefer and Lizard King presided over the biggest night in skateboarding as the best skaters of 2012 took the stage to receive their coveted awards.
Starting out the night, Steve Van Doren—the godfather of Vans—accepted the Eric Stricker Memorial Award for his continual contributions to the world of skateboarding. From personally grilling burgers for the public at events to helping in the development of new skateparks being built, Van Doren has literally given his life to making the world a better place for skateboarders.
Next up, the New Era Readers' Choice Award went to none other than the people's champ, Guy Mariano, who came out swinging with a mind-blowing part in Pretty Sweet.
After putting out an insane barrage of coverage this past year, including an interview in TransWorld SKATEboarding's May 2012 issue and a grip of footage in The Cinematographer Project, Alien Workshop's Gilbert Crockett took the stage to accept Best Rookie. With his ridiculous pop, raw style, and timeless trick selection, the future is looking bright for Crockett.
Between the stack of magazine coverage—including a 16-page feature in TransWorld SKATEboarding's April 2012 issue—and every single rider on the brand putting out a full part in Parental Advisory, DGK took home Best Team, and proved they really are here to stay. So while the world saw some of the heaviest skateboarding to date over the course of 2012, Stevie Williams and Josh Kalis truly showed everyone they know how to pick 'em.
Girl and Chocolate's Pretty Sweet took home Best Video. Produced by the legendary team of Spike Jonze, Ty Evans, Aaron Meza, and Federico Vitetta, Pretty Sweet showcased some of the world's greatest skateboarding and did it with style.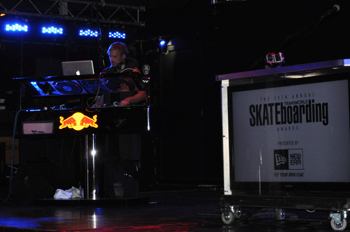 Taking the stage once again, Guy Mariano accepted the Best Video Part award for his curtains part in Pretty Sweet. Not many skaters actively progress well into their 30s, but like fine wine, Mariano somehow gets better with age. Countless NBDs and an ender of all enders, Guy managed to put out what few will ever come close to doing. Combine his skills on the board with Crailtap's legendary video editing, and you've got an epic part that won't be topped for years.
Wrapping up the Awards show, Tommy Guerrero accepted the Legend Award. Not many people can say they revolutionized the world of skateboarding, but this San Francisco icon, top shelf Bones Brigader, co-founder of Real Skateboards, and first ever "street" pro, has left an incredible mark on the world of skateboarding. Roll Forever.
Directly following the awards, Jon Holland and Chris Thiessen premiered the 25th TransWorld SKATEboarding video, Perpetual Motion, featuring parts from Walker Ryan, Jimmy Carlin, Josh Matthews, Tom Remillard, Julian Davidson, and Silas Baxter-Neal. When all was said and done, this was the biggest and best Awards night yet. Congratulations to all the winners!
Check out more updates, photos, and video footage from the amazing show at TWSKATE.com and to TWS's social feeds at @transworldskate (#TWSAWARDS2013). The 15th Annual TransWorld SKATEboarding Awards is proud to be presented by New Era and sponsored by Red Bull, GoPro, and Pabst Blue Ribbon.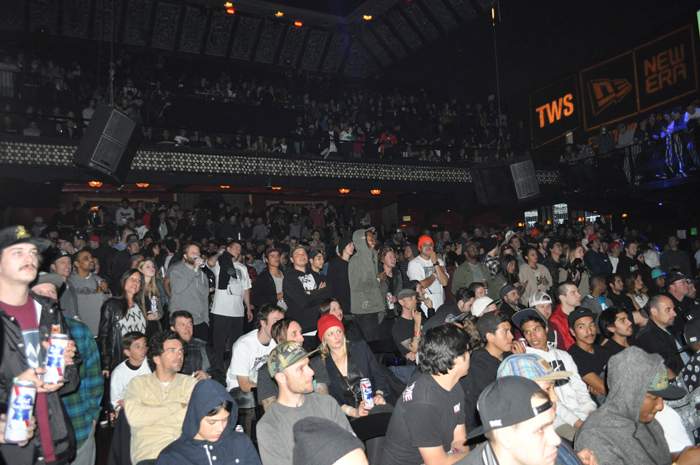 Photos: Patrick Hourihan
About TransWorld SKATEboarding
TransWorld SKATEboarding has been the largest, most respected skateboarding media outlet in the world for more than 30 years. Known widely by its mantra, skate & create, and delivering the most innovative photography, cutting-edge editorial, and top-notch videos, TransWorld SKATEboarding offers its audience an inside look at the skateboarding culture through its magazines, videos, events, and website. TransWorld SKATEboarding can be found online at skateboarding.com.
TransWorld SKATEboarding is published by TransWorld Media, the world's leading action sports media company. TransWorld is a division of the Bonnier Corporation. Bonnier Corporation (bonniercorp.com) is one of the largest consumer-publishing groups in America and the leading media company serving passionate, highly engaged audiences through more than 50 special-interest magazines and related multimedia projects and events. Bonnier Corp. is the US division of the Bonnier Group (bonnier.com), a 200-year-old family-owned media group based in Sweden with business operations in 25 countries.
---