Back to News
SKATE: Tilly's Returns As Official Sponsor Of NSSL For 2013 Season!
March 1, 2013
Tilly's Returns As Official Sponsor Of National Scholastic Skateboarding League For 2013 Season!
Skateboarding to Success!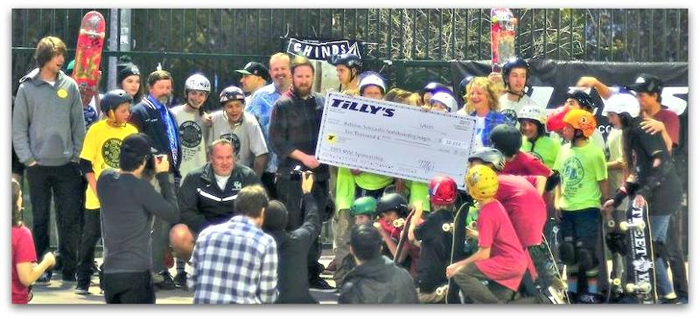 On Friday, February 22, 2013 night, representatives from Tilly's presented league Founder and President, Katrina Foley with a giant check for $10,000. "I love that Tilly's is headquartered right here in the OC where the league was founded. The financial support by Tilly's also brings with it a pledge to support the school skate clubs on campus with activities, career day field trips, and product, as well as allows us to provide coaches and equipment for our teams in low-income neighborhoods. We are thrilled!" said Foley. "Tilly's support has been instrumental in allowing the league to expand to more than 300 skaters this year."

With Tilly's support through the league's 4th season, they join other NSSL sponsors including; Volcom, Etnies Skatepark, Quiksilver, Pukka, Inc., InkGenda, Dr. Mogavero Orthodontics, The Foley Group, Elite Health, Concept 73, Stance, S-One Helmets, OC Skateboarding School, and the City of Costa Mesa.

"Tilly's is very excited to once again support the efforts of the National Scholastic Skateboarding League," said Cheryl Rudich, Tilly's Vice President of Marketing.
---