Back to News
SURF: TW SURF And SurfRide To Host Camp Shred Demo Event In Cardiff By The Sea, CA
March 12, 2013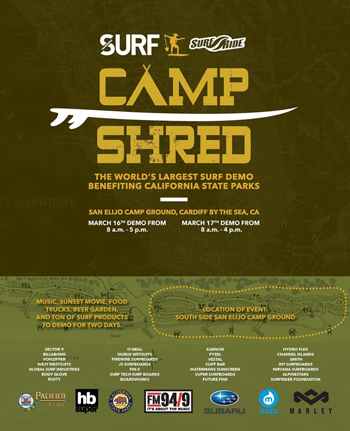 TransWorld SURF And SurfRide To Host Camp Shred Demo Event At San Elijo Camp Ground In Cardiff By The Sea, CA

Carlsbad, CA—Mark your calendars as TransWorld SURF and SurfRide host its first-ever "Camp Shred" surfing demo event at the San Elijo Campgrounds in Cardiff By The Sea, California next weekend, March 16 and 17. The demo will also include live music, entertainment, food trucks, and a beer garden, and will be taking over the entire South end of the San Elijo Campgrounds. Sponsors for the TransWorld SURF and SurfRide Camp Shred include Suburu, Pacifico, House of Marley, HB Super, Mizu, and 94.9 F.M. Radio. In addition, thanks to the support of Suburu and Pacifico, proceeds from the event will also be benefiting California State Parks and the Keep-A-Breast Foundation. The event is free and open to the public and will run from 8:00 a.m. to 5:00 p.m. on Saturday and from 8:00 a.m. to 4:00 p.m. on Sunday.
Consumers can come out and demo the latest in surfboard shapes, designs and products. Brands that will be represented at this year's demo include: Sector 9, Billabong, VonZipper, West, GSI, Body Glove, Rusty, O'Neill, Isurus Wetsuits, Firewire, JS, Fin-S, Surf Tech, Boardworks, Kaenon, Pyzel, Vestal, Clif Bar, Waterman's Sunscreen, Super, Future Fins, Hydro Flex, Channel Islands, Smith, INT, Nirvana, Alpinestars, Surfrider Foundation, and Captian Fin Co.
The music line-up includes: DJ Peril and DJ Unite from Tribe of Kings Sound System, Austin Burns, Loose Snakes, and Yovee. (Music line-up is subject to change.)
For more updates, details, and information about the demo event, stay tuned to transworldsurf.com. To subscribe to TransWorld SURF magazine, click here. To download it to your iPad on iTunes, click here.
About TransWorld SURF:
Since its inception in 1999, TransWorld SURF has become the embodiment of youth, progression, and innovation. Through its print, digital, video and event properties, TransWorld SURF is the fastest growing surf media company in the industry. Found online at transworldsurf.com. TransWorld SURF is based in Carlsbad, California, and published by TransWorld Media, the world's leading action sports media company. TransWorld is a division of Bonnier Corporation.
---