Back to News
SKATE: Street League Skateboarding Announces 2013 World Tour Expansion
March 13, 2013
Street League Skateboarding Announces 2013 World Tour Expansion
Elite Skateboarding Series Partners with Global X Games and Adds Foz do Iguaçu, Barcelona, Munich and Los Angeles to 2013 SLS World Tour
Street League Skateboarding (SLS) has announced a new agreement with ESPN that expands the league to a 7-stop world tour for the 2013 series. The first-ever world tour for professional street skateboarding will now include 'Street League at X Games' events in Brazil, Spain, Germany, and Los Angeles. The three North American arena events will take place in Kansas City, MO; Portland, OR; and Newark, NJ. All seven 2013 SLS World Tour events will air on ESPN or ESPN2.
The dates and venues for the 2013 SLS World Tour are:
Stop One: Street League at X Games – Foz do Iguaçu, Brazil (April 18 – 21)
Stop Two: Street League at X Games – Barcelona, Spain (May 16 – 19)
Stop Three: Sprint Center – Kansas City, MO (June 9)
Stop Four: Street league at X Games – Munich, Germany (June 27 – 30)
Stop Five: Rose Garden Arena – Portland, OR (July 14)
Stop Six: Street League at X Games – Los Angeles, CA (August 1 – 4)
World Championship: Prudential Center – Newark, NJ (August 25)
The 2013 SLS World Tour will feature 20 of the world's best street skateboarders competing in an easy-to-follow, instant scoring format on one-of-a-kind concrete skate plazas with the largest prize purse in skateboarding history at $2 million. Each event features the standard league point system necessary for qualification into the SLS Super Crown World Championship on August 25th at the Prudential Center in Newark, NJ. In total, the 2013 World Tour will include 11 live broadcasts available in more than 198 countries with more than 40 hours of live content. The 2013 tour will receive the most expansive television coverage that professional skateboarding has received to-date.
"There is no better opportunity to elevate Street League globally than our new partnership with the X Games," says Street League creator Rob Dyrdek. "By launching a fully connected world tour, our pros now have 6 events to qualify into the Championship, with each tour stop utilizing the standard Street League format, course design, and prize money that has helped establish the series as the most elite tour in skateboarding. This partnership not only gives more to our fans but also adds undeniable media support from ESPN to give the league a true global impact."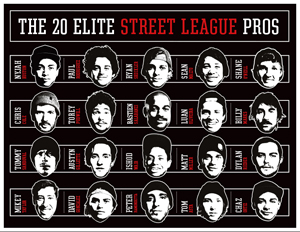 2013 Street League Pros:
Austyn Gillette
Bastien Salabanzi
Billy Marks
Chaz Ortiz
Chris Cole
David Gonzalez
Dylan Rieder
Ishod Wair
Luan Oliveira
Matt Miller
Mikey Taylor
Nyjah Huston
Paul Rodriguez Jr.
Peter Ramondetta
Sean Malto
Ryan Sheckler
Shane O'Neill
Tom Asta
Tommy Sandoval
Torey Pudwill
With this partnership, Street League is also launching its first-ever qualifier, the SLS Select Series. The SLS Select Series will be at each of the four Global X events and will consist of 10 pre-qualified professional skateboarders and 5 local skateboarders from each Global X host city. The 15 skaters battle it out on the same Street League at X Games course for a chance to compete in that Street League at X Games pro event. The top two overall ranked athletes in the 4-stop SLS Select Series will qualify into next year's SLS World Tour.
Tickets for the North American 2013 SLS World Tour stops will go on sale April 10 at www.streetleague.com. For X Games ticket information visit XGames.com
About Street League Skateboarding (SLS)
Street League Skateboarding (SLS) is a professional sports property with the mission of growing the popularity of skateboarding worldwide. SLS elevates professional skateboarding via the SLS World Tour – the first true world tour featuring 20 of skateboarding's biggest stars who compete in an easy-to-follow format for the largest prize purse in skateboarding history aired live on ESPN/ESPN2. SLS also focuses on educating newcomers to skateboarding via all forms of media and on the non-profit efforts of the Street League Foundation in constructing public skateboarding facilities globally. For more information please visit www.streetleague.com
---