Back to News
SUPPORT: Olukai Official Giveback Sponsor Success at 4th Annual Punta Sayulita Classic
March 13, 2013
Olukai Official Giveback Sponsor Success at 4th Annual Punta Sayulita Classic March 8-10, 2013
March 13, 2013, Orange County, CA — Official Giveback Sponsor of the 4th annual Punta Sayulita Classic, OluKai celebrated the conclusion of a highly successful event this past weekend. With multiple giveback events throughout the weekend, OluKai fulfilled its goal of inspiring event goers to giveback too.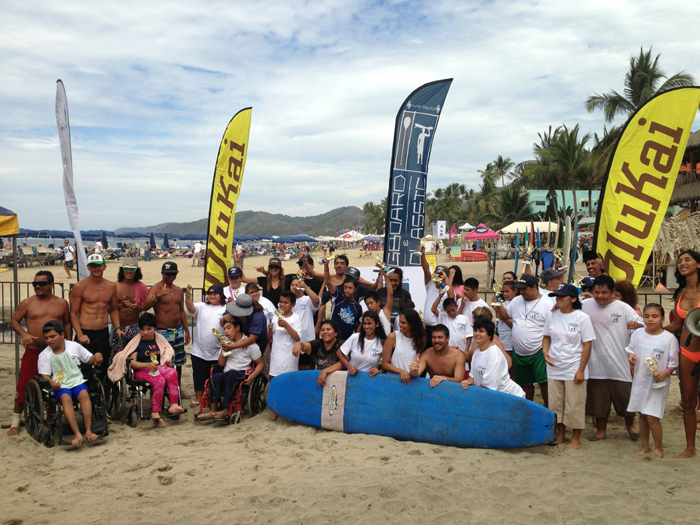 OluKai's company wide, hands-on participation included participating in the Punta Sayulita Classic's Friday "Foundation Day" where it partnered with various organizations including local, ecological and community-oriented private school, Costa Verde International School (CVIS) in educating youth on the plastic recycling process and why its so important. OluKai also collaborated on additional activities including: a surf clinic for special needs and underprivileged children under the supervision of renowned longboard surfer, Jimmy Gamboa and members of his TheraSURF organization; a community-wide beach cleanup managed by former pro surfer James Pribram of the Eco-Warrier Foundation and members from Project Save Our Surf; and a children's interactive Reef Day art camp with local artist Treva Dea of Sayulita Art Camps. All events were free and open to the public. In addition, OluKai donated shoes and tee-shirts to locals and event participants.
"The Punta Sayulita Classic is a special event for many reasons but one in particular stands out for us," says Kerry Konrady, OluKai's marketing director. "There is truly such a massive focus on giveback, and everyone, including the athletes, event organizers and attendees band together to make a difference. We are inspired by the 'Ohana of the event." 100% sponsorship dollars went to area Reef Check and to l the Punta Sayulita Foundation's children development programs.
The event took place in the quaint village of Sayulita, Mexico, featuring 250 of the best surfers and stand-up-paddlers in the world participating in the SUP Surf and Longboard contests as well as SUP Elite, and Offshore Distance and Fun races where several father-daughter teams participated paddling together. Over 3,000 people attended throughout the weekend with beautiful sunny skies and consistent 3-5 foot swells creating fun, yet challenging waves for all. International reggae recording star Mishka performed to a lively beach crowd and the event culminated with a very special awards dinner for family and friends.
For a complete results list go to http://puntasayulitasurfclassic.com.
About the Punta Sayulita Classic
With one of the deepest international fields of professional athletes and amateurs competing in longboard and stand-up paddle ("SUP") surfing, the event attracted thousands of spectators to the beautiful surfside village of Sayulita, Mexico, 40 minutes north of Puerto Vallarta. The event lineup included top pros defending SUP surf champ Zane Schweitzer who successfully defended his title; Mexican SUP National champion Fernando Stalla who claimed this year's SUP Elite race title; top ranked ASP longboarder Tony Silvagni who claimed the Men's Longboard title, top ranked SUP distance racer Ryan Helm who claimed the challenging 10km offshore distance race, as well as ROXY team riders Vanina Walsh and Chloe Calmon who respectively won the women's SUP Surfing and Longboard contests. Unique to the Punta Sayulita Classic and unlike other international competitions, competitors were not competing for prize money. The primary goal of the event was to raise awareness for environmental protection and respect for the world's oceans and wildlife. Additionally, the event raised funds for the Reef Check Foundation's area Eco-Diver Program as well as the Punta Sayulita Foundation's children's educational and sports development programs. Founded and organized by the Punta Sayulita resort community (www.puntasayulita.com), the competition was made possible by the generous support of the event's sponsors, professional athletes, the Sayulita community and the event volunteers.
About Costa Verde International School:
Founded in part by Anne Menke, a highly recognized fashion photographer: http://annemenke.com/, the Costa Verde International School (CVIS) is an ecological, community-oriented, multicultural and bilingual private school located in Sayulita, Mexico. CVIS provides an intellectually stimulating curriculum for preschool through 6th grade with small class sizes and hands on instruction to inspire healthy, happy and well-adjusted life-long learners. In an environment designed to develop the talents and skills particular to each individual, CVIS students analyze and solve problems relevant to the world around them. The school is a resource to disseminate information to families and the community about the challenges of development that are not unique to Sayulita as it grows into a desirable travel destination.
About OluKai:
OluKai is an ultra-luxury lifestyle brand that believes everyone, no matter where they are, can live Aloha. OluKai is one way to unlock its spirit in all of us. It is an inspired brand that whole heartedly believes in creating an emotional connection with the consumer and communicates from an "inside-out perspective." The company is committed to building a unique and better class of products that blend ocean heritage with modern performance while leaving the smallest footprint possible on the planet. Through its Fit by Nature™, Crafted by Hand™ design principle, OluKai builds every pair of footwear with signature anatomically contoured footbeds to deliver the perfect balance of instant comfort and lasting support. Each pair features beautiful, quality materials and handcrafted details inspired by island culture. In every facet of its business, the brand is committed to respecting the people and the environments it touches. Inspired by the strong tradition of giving an offering or tribute in Polynesian culture, OluKai established the 'Ohana Giveback Program to support the efforts of those who continue to give back to preserve local cultures and traditions. For more information visit www.olukai.com.
---