Back to News
SKATE: IRIR Signs on as Sponsor for TW SKATE's 2013 Come Up Tour
March 13, 2013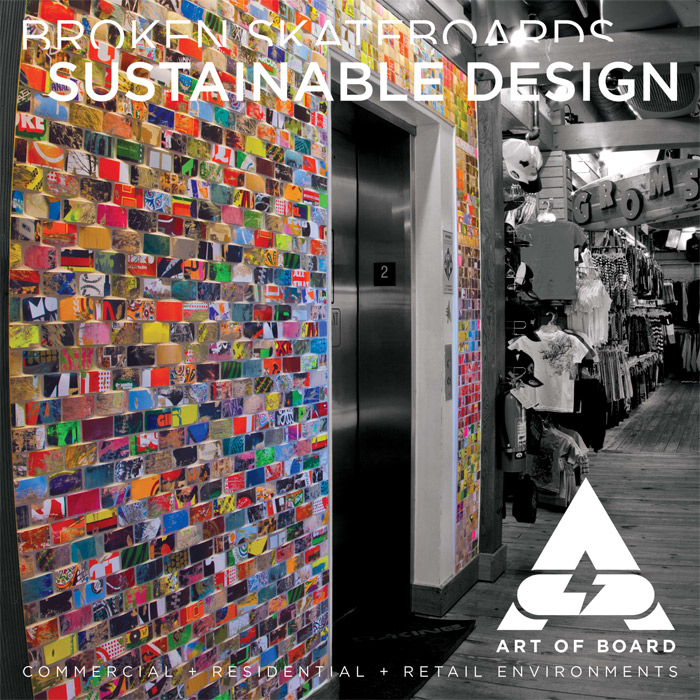 I Ride I Recycle Signs on as Supporting Sponsor for Transworld Skateboarding's 2013 Come Up Tour
SAN CLEMENTE, CA– Art of Board's nationwide skateboard recycling movement – I Ride I Recycle – has signed on as a supporting sponsor for Transworld Skateboarding's (TWS) 2013 Come Up Tour. The tour takes I Ride I Recycle on the road calling on skateshops, skateparks, skaters and skateboard manufacturers throughout the U.S. to embrace sustainability and join the first-ever skateboard recycling movement.
The six-stop U.S. amateur skateboarding open sessions start on March 30 in San Diego and wrap up in New York City on May 11 – each stop held in conjunction with a local skateshop.
"We're thrilled to align ourselves with Transworld," says I Ride I Recycle co-founder Bruce Boul. "Not only is Transworld the premier media company for board sports, but these events help support local skateshops and amateur riders – making it a perfect fit for our grassroots credo."
Attendees are encouraged to bring a used, beat up or broken skate deck in exchange for a chance to win prizes. All wood waste will be repurposed through I Ride I Recycle's philanthropic product line. All used decks will be refurbished and given to at-risk youth on Go Skateboarding Day June 21 in Washington D.C.
"TWS is proud to have a partner like I Ride I Recycle as a supporting sponsor of the C.U.T.," says TWS publisher Monica Campana. "Our vision is similar in that we want to help skaters come up within skateboarding while providing a positive experience benefiting them, their environment and the skateboarding industry asa whole."
I Ride I Recycle keeps decks out of landfills and salvages them to fuel its sustainable lifestyle brand – Art of Board – which revolves around the scratched, scraped and gouged decks. The brand preserves the graphic art on these decks – the Art of Board – so they can be reused and their story live on in the form of its product lines.
"The main goal is to keep this wood out of landfills," says Boul. "The bonus is that through our movement, we help create community, empower youth and provide never-before-seen products for those who share our passion for art, action sports, music and film."
Art of Board's business model focuses on giving back to skateboarding in a major way by supporting skate charities and skateparks, and helping to drive business to local I Ride I Recycle-affiliated skateshops.
"Millions of old decks are thrown in the trash every year along with dumpsters of manufacturer wood waste," says Boul. "The industry finally has a solution that both supports skateboarding and helps create an eco-friendly world."
For more information on the C.U.T., log onto www.skateboarding.transworld.net/come-up-tour
All entries will be taken on site at each tour stop. For a chance to automatically qualify for your regional tour stop final, riders may submit a one-minute video at least one week prior to each tour stop. E-mail in your YouTube or Vimeo video to: TWSCUT@gmail.com . TWS Staff will pick three winners that will go straight to the final. Winners will be announced the day of. All skaters will skate in a jam session format, while judges in the park hand out final entries to skaters competing in various categories.
Finalists from each stop will receive prize packs, which include product from I Ride I Recycle as well as other tour sponsors. First place winners from each stop will have the chance to be the overall TWS C.U.T. Champion and appear in a "Check Out" feature in Transworld SKATEboarding magazine.
Here are the C.U.T. dates, locations and retail partners:
March 30,2013– SanDiego,CA Carmel Valley Park / Pacific Drive
April 6, 2013 - Denver, CO Denver Skatepark / 303 Shop
April 13, 2013 - Minneapolis, MN Familia Park / Familia Boardshop
April 20, 2013 - Chicago, IL Piotrowski Park / Uprise Shop
April 27, 2013 - Peoria, AZ
Rio Vista Park / Cowtown Shop
May 11,2013 – NewYork,NY Lower East Side Park / Labor Shop
---