Back to News
SKATE: Tampa Pro 2013 Presented by Nike SB: March 21 - 24, 2013
March 18, 2013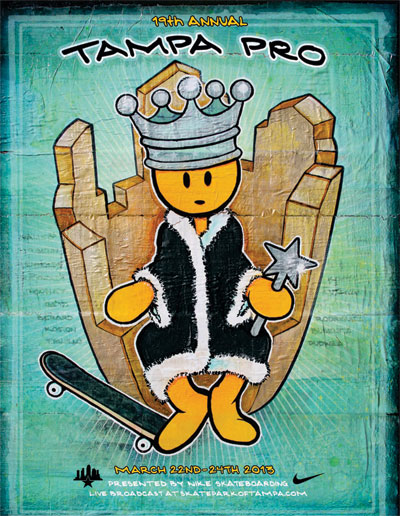 Tampa Pro 2013 Presented by Nike SB: March 21 - 24, 2013
This year marks the 20th anniversary of SPoT and the 19th annual Tampa Pro. As far as contests go this one is the real deal. Running nearly two decades, it's the skate world equivalent of spring break: Florida, mayhem, humiliation and glory. It's a time to skate with friends you haven't seen all winter and get ready to kick off another year of skateboarding.
A live broadcast starts on Friday, March 22 at 6 pm EST and will be shown at http://skateparkoftampa.com/tampapro
Tampa Pro 2013 Weekend Schedule, Tickets, and Details
Thursday, March 21
Open to public, regular admission to skate
12pm - 9pm Regular hours
Thursday Nightlife
Welcome to Tampa Party / Art Show Presented by Girl Skateboards at 7pm
Girl and SPoT celebrate 20 years at The Bricks, 1327 E. 7th Ave., Ybor City, Free / All Ages
Friday, March 22
LIVE BROADCAST AT 6pm EST - 9pm EST at skateparkoftampa.com
New at Tampa Pro is the Legendary Vert Session Presented by Nike Skateboarding at 7pm
Friday Nightlife
Survived the Legendary Vert Session? We're still celebrating 20 years of Girl and SPoT at The Bricks, 1327 E. 7th Ave., Ybor City, Free / All Ages
Saturday, March 23
LIVE BROADCAST AT 2pm EST - 5pm EST at skateparkoftampa.com
Pro stret qualifiers begin at 12 noon immediately followed by Silver Trucks Best Trick contest.
Saturday Nightlife
Tampa Pro Party Presented by Converse at 7:30pm featuring Big Boi with Metz (Sub Pop) at The Ritz, 1503 E. 7th Ave., Ybor City; Tickets available at SPoT, SPoT Ybor, and Ticketmaster
Sunday, March 24
LIVE BROADCAST AT 11am EST at skateparkoftampa.com
Doors open at 9am and Semi-Finals start at 12pm with Top 10 advance to Finals (beginning immediately after the semis) to join Golden Ticket holders from Pro Qualifiers.
Sunday Nightlife
Tampa Pro After-Party at 8pm at The Bricks, 1327 E. 7th Ave., Ybor City, Free / All Ages
---