Back to News
EMP: Mike Carter Joins The AGENDA Show as Vice President of Sales and Marketing
March 19, 2013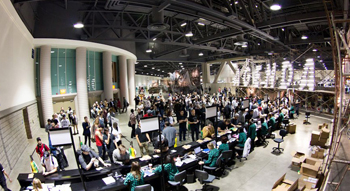 Mike Carter Joins The AGENDA Show as Vice President of Sales and Marketing
LOS ANGELES (March 19, 2013) – AGENDA Trade Show, the leading forum for action sports, streetwear, lifestyle and sneaker industries, welcomes global marketing industry leader and action sports veteran Mike Carter, as Vice President of Sales and Marketing.
Carter, who co-founded eyewear brand Electric Visual and served as Vice President of Global Marketing for Skullcandy, will head up Sales and Marketing for AGENDA at a particularly fortuitous moment of growth for the company. AGENDA recently added two shows to its full calendar after joining the Modern Assembly trade show collective in Las Vegas. Carter will bring his expertise and vision as a brand strategist to AGENDA's three bi-annual shows in Long Beach, New York and Las Vegas.
"The AGENDA organization has always represented innovation and out-of-the-box thinking, bringing refreshing new energy to the B-2-B community." Carter said. "AGENDA is unique in their ability to bring different segments, cultures and art forms together under one roof to benefit from one another as well as to create the outlet for established and emerging brands to come together to celebrate the true action/lifestyle movement. I look forward to continuing the relationships with those already affiliated with AGENDA and creating opportunities with new brands that could benefit from the growth AGENDA can provide."
Before co-founding Electric Visual, Carter managed the renowned Laguna Surf and Sport, later running sports marketing for Arnette. Volcom eventually acquired Electric Visual, which under Carter's tenure grew into a leading global action sports eyewear brand. At Skullcandy, Carter helped drive company sales to over $200 million, including assisting in taking the company public in 2011. His proven track record in both endemic and non-endemic markets will be essential as AGENDA continues its steady growth.
"I've been a huge admirer of AGENDA's decade of success and there couldn't be a more exciting time to join the team and assist in the brand's further expansion on a national and global scale," said Carter. "I'm looking forward to making my own contributions from a sales and marketing standpoint and look forward to what the bright future holds."
About AGENDA:
The AGENDA Trade Show is a forum for the most inspired in the streetwear and action sports industries to unite. Lines speak for themselves and buyers are not intimidated by the usual overwhelming tradeshow experience. From the garage-run lines on the verge of explosion, to the well-established elite, AGENDA caters to the needs of buyers and brands that exist on a higher level of design and aesthetic. With a strong emphasis in style, art, music and culture, the AGENDA experience is as much a lesson as it is a tool.
About Reed Exhibitions:
Reed Exhibitions is the world's leading event organizer, with over 460 events in 36 countries. In 2011 Reed brought together over six million active event participants from around the world, generating billions of dollars in business. Today Reed events are held throughout the Americas, Europe, the Middle East and Asia Pacific, and are organized by 34 fully staffed offices. Reed organizes a wide range of events, including trade and consumer exhibitions, conferences and meetings. Its portfolio of over 460 events serves 44 industry sectors.
---