Back to News
RESULTS: BH triathlete and Olympian Eneko Llanos wins Ironman(r) Melbourne
March 27, 2013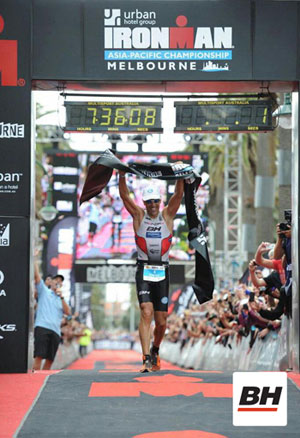 BH triathlete and Olympian Eneko Llanos wins Ironman® Melbourne
March 25th 2013 Foothill Ranch, CA – BH triathlete Eneko Llanos has triumphed at Ironman Melbourne, riding a great race and catching up from the back of the pack to beat Marino Vanhoenacker and Craig Alexander with a finishing time of 7 hours, 36 minutes and 7 seconds. Riding for the BH brand gave him the advantage over the Belgian runner up who came in at 2'51 and the Australian who received third at 3'39. Eneko from Vitoria, Spain was in the top standings from the start; finishing fifth out of the water with other favorites, he then systematically made his way to second place on the bike, and sprinted his way down the last 6km to an impressive victory.
Staying close to Alexander and Vanhoenacker, Llanos hunted down Fettell in the first part of the cycling test and provided a spectacular duel between the three favorite athletes. He launched an attack at the 50 kilometer mark but was caught by Vanhoenacker who took the lead alone, raising the time difference between his competitors Llanos and Alexander to 5 minutes.
Llanos commented "The whole first lap I was expecting Marino to attack. I saw him making the break when we started the second lap, we tried to stay with him, but he was really, really strong on the bike. Crowie (Alexander) and Clayton (Fettell) kept a good rhythm, so Marino was getting time on us, but it was not too much."
It was this point in the race that Eneko Llanos put on quite a show, making an amazing comeback against one of the best long distance runners in the world. Llanos gradually reduced the time difference between Vanhoenacker who could see that his comfortable lead was becoming less. With just 6 kilometers to go, Llanos overtook Vanhoenacker and barreled to the finish line, with over 3 minutes to his rival, achieving a spectacular marathon finish time of 2 hours, 43 minutes and 45 seconds, absolutely smashing his personal best.
"It was a pleasure and an honor to run with Craig (Alexander)," Llanos said. "For me he's an icon in the sport. It was amazing to run with him. I was a bit surprised. When I saw that I was leaving him behind – I expected it to be the other way around. I expected it to be me falling behind. I have no words to describe how happy I feel. I thank everyone for their support! You are a big part of this win."
Eneko celebrates his ecstatic win as a double victory; winning one of the most important and well-respected races in the world, and collecting a respectable amount of points, ensuring his place at Ironman Kona. Llanos' has begun another successful tri season, finishing second just a few weeks ago at the Abu Dhabi International Triathlon.
IRONMAN MELBOURNE RANKINGS
1) Eneko Llanos (ESP) 7:36.07
2) Marino Vanhoenaker (BEL) 7:38.58
3) Craig Alexander (AUS) 7:39.36
For more information visit www.BHFitnessUSA.com or www.BHBikes-US.com
About BH
BH is a multi-national company within the BH Group, headquartered in Spain and creating quality products for over 100 years. Built on a legacy of producing high end, road and mountain bikes and user-focused fitness equipment for the home, light commercial and full commercial settings, BH Fitness manufactures and distributes treadmills, ellipticals, upright bicycles, recumbent bicycles, indoor training cycles, whole body vibration platforms, strength equipment, road bikes, mountain bikes and pedal assist e-bikes. With distribution and operations in North America, Spain, Mexico, Asia, UK, Portugal and Germany, BH products can be found in more than 65 countries worldwide, making BH one of the most trusted and widely used fitness equipment and bike brands available today.
The mark "BH" and the design mark BH Fitness are registered trademarks and used by BH North America Corporation under license from their owners.¬
---