Back to News
SKATE: IASC Announces Guest Speakers for Sixth Annual 2013 Skateboarding Summit
April 1, 2013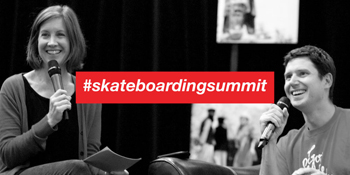 IASC Announces Guest Speakers for Sixth Annual 2013 Skateboarding Summit
Early Bird Registration Expires on April 5th
Rancho Santa Margarita, Calif., (April 2013) – The International Association of Skateboard Companies (IASC) is excited to announce its guest speaker lineup for the 2013 IASC Skateboarding Summit on May 8 through May 10, which will be held at the Sheraton Park Hotel in Anaheim, Calif. Registration is open now and $100 Early Bird Discounts expire on April 5th.
The IASC Skateboarding Summit is a three-day event that gives the leaders in skateboarding a chance to come together in a non-competitive atmosphere to educate themselves on topics meant to broaden their perspectives, connect them with their peers, and to inspire and further their business.
This year IASC is proud to host guest speakers:
Mike Lewis, Editor-in-Chief of TransWorld Business: State of Skate, an in-depth, data-driven look at the state of the industry.
Bobby Kim, Co-Founder of The Hundreds: Skateboarding is up for grabs, so stop talking and start taking.
Johnny Schillereff, Founder/CEO of Element and Nick Tershay, Founder of Diamond Supply Co. discuss the roadmap for growing skate hardgoods companies into lifestyle brands.
Kevin Duffel, Editor of TransWorld SKATEboarding.
Jamey Stone, Publisher of Skateboarder Magazine; and Jessie Fritsch, Content Producer at Ride Channel: Discuss skateboarding's current digital media landscape.
Jeff Harbaugh of Jeff Harbaugh & Associates presents: A Business Model for our Times and its Economic Justification.
Robert Brink, Digital Communications Manager for Emerica/Altamont; Joel Jutagir, Owner of Metro Skateshop and Heath Brinkley, Founder of Social Ops discuss digital strategy and tools from a brand, skateshop and rider perspective.
Todd Richards, Olympian and lifelong skateboarder takes a look at the impact of the Olympics on the snowboarding industry and what skateboarding can expect as it edges ever closer to Olympic inclusion.
And the closing keynote – NHS Founder Richard Novak and Bob Denike, President/CEO of NHS talk 40 years of Santa Cruz Skateboards with Tiffany Montgomery of Shop-Eat-Surf.
"The depth of experience and variety of viewpoints from our speakers this year will give everyone who attends some great food for thought, I can't wait to hear what these guys have to say!" –Josh Friedberg, Executive Director, International Association of Skateboard Companies.
The Skateboarding Hall of Fame and Icon Awards ceremony will be held the second night of the Summit on May 9th. The awards ceremony honors the skateboarders, industry pioneers and cultural icons who have left a permanent imprint on the history of skateboarding and our culture. The 2013 inductees include: Woody Woodward (1960s), Tom Sims (1970s, Era One), Alan "Ollie" Gelfand (1970s, Era Two), Rodney Mullen (1980s, Era One), Christian Hosoi (1980s, Era Two), and two women – Wendy Bearer Bull (1960s) and Laura Thornhill Caswell (1970s). This year's Icon Award recipients are pioneering skateboard photographer Warren Bolster, who revived Skateboarder Magazine in the 1970s; NHS and the crew who built it into what it is today – Richard Novak, Jay Shuirman, Bob Denike, Tim Piumarta and Jeff Kendall – and Devo, a band with the non-conformist attitude that has been inspiring skateboarders since the 1970s.
The night will include a Happy Hour, VIP meet-and-greet, VIP dinner and Awards Ceremony. All proceeds benefit the not-for-profit efforts of the Skateboarding Hall of Fame and the Go Skateboarding Foundation's Just One Board initiative. All Summit attendees are guaranteed entrance to the Hall of Fame Awards ceremony which sold out last year with 400 attendees.
Make sure to catch the Vans Pool Party Contest at the Vans Skatepark located three miles from the Summit location on Saturday, May 11th.
For information on registration for the 2013 IASC Summit and tickets to the Skateboarding Hall of Fame, please visit; http://bit.ly/2013iascsummit or http://bit.ly/2013shof
For registration questions please contact Jardine Hammond – jardine@theiasc.org.
About IASC
The International Association of Skateboard Companies is the member-owned not-for-profit trade association of skateboarding. The mission of the IASC is to represent the global skateboarding community with a united voice by listening, understanding and acting on the needs of skateboarders and the skateboard industry. IASC's goals are to promote skateboarding, increase participation, educate and save our members money. IASC serves its members and the skateboarding community by focusing on areas that affect not only the business but the overall sustainability and health of skateboarding as a whole. For more information please visit: http://theiasc.org/
---