Back to News
SNOW: Skullcandy Presents The 2013 TransWorld SNOWboarding TransAM
March 29, 2013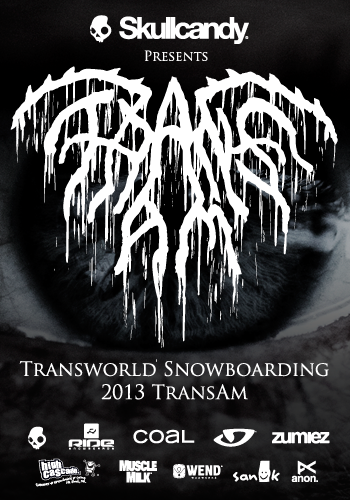 Skullcandy Presents The 2013 TransWorld SNOWboarding TransAM
Park City Wins TransAM Premier Resort Award
Carlsbad, CA - The 2013 TransWorld SNOWboarding TransAm Tour is officially a wrap after charging through nine stops across the country in its 11th season. This year, the tour was presented by Skullcandy and sponsored by High Cascade Snowboard Camp, Zumiez, Ride Snowboards, Anon Optics, Giro Helmets, Coal Headwear, Wend Wax, Sanuk, and Muscle Milk.
Today, as voted by the TransAM event team, TransWorld SNOWboarding magazine is pleased to announce and congratulate Park City as the winner of the 2013 TransWorld SNOWboarding TransAM Premier Resort Award.
The TransAM leans heavily on the creative skills of park crews, and the 2013 tour was proof once again that its host resorts are some of the most progressive in the world. Tour sponsors are given the opportunity to submit a feature concept that park crews customize into the mini park build. The end result is that you not only have features that represent the sponsors, but also features representative of each resort's creativity and personality.
The Muscle Milk Tower of Triumph, the Ride Snowboards Get Buck Wild theme, the Sanuk Wave, the Skullcandy Cassette Tape, the Coal Combo, and the jib-able Zumiez couch were just some of the features that Park City's Jeremy Cooper and crew incorporated into their one-of-a-kind TransAM Finals skate bowl setup.

Take a look back at the recap to see why Park City earned this year's TransAM Premier Resort Award.
For more information and full photo & video recaps of the 2013 TransAM tour series stops, visit www.twsnow.com/transam.
Thanks again to all our sponsors and hosting resorts for another amazing TransAM tour!
2013 TransWorld SNOWboarding TransAM Schedule
1/5/13 - Waterville Valley, New Hampshire www.waterville.com
1/12/13 - Mountain Creek, New Jersey www.mountaincreek.com
1/19/13 - Seven Springs, Pennsylvania www.7springs.com
1/26/13 - Powder Ridge, Minnesota www.powderridge.com
2/9/13 - Keystone, Colorado www.keystoneresort.com
2/23/13 - Mt. Bachelor, Oregon www.mtbachelor.com
3/2/13 - Northstar, California www.northstarattahoe.com
3/9/13 - Bear Mountain, California www.bearmountain.com
3/16/13 - Park City, Utah : FINALS www.irideparkcity.tv
About TransWorld SNOWboarding
TransWorld SNOWboarding, published by Bonnier Corp., is the world's largest and most respected snowboard magazine. It is 100 percent dedicated to promoting and covering snowboard culture with innovative photography, feature articles on snowboard travel, instruction, advice, and tips. Bonnier Corp. (bonniercorp.com) is one of the largest consumer-publishing groups in America and is the leading media company serving passionate, highly engaged audiences through 50 special-interest magazines and related multimedia projects and events. Bonnier Corp. is the U.S. division of the Bonnier Group (bonnier.com), a 200-year-old family-owned media group based in Sweden with business operations in 25 countries.
---