Back to News
B$Z: Deckers Outdoor Corp Acquires Hoka One One
April 3, 2013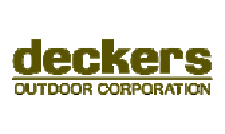 Deckers Outdoor Corp Acquires Hoka One One
GOLETA, CA - Deckers Outdoor Corporation (NASDAQGS:DECK) President, CEO and Chairman of the Board Angel Martinez announced today that the company has fully acquired performance running shoe brand Hoka One One®, after taking a minority stake in the company in July 2012.
"Since making our initial investment in Hoka in the summer of 2012, we've seen the brand's momentum increase rapidly," said Martinez in announcing the acquisition. "The enthusiasm for Hoka product from both retailers and runners is significant and fully acquiring the brand gives us the opportunity to support the brand's momentum with the resources to accelerate its growth."
Jim Van Dine, Brand President of Deckers brands Ahnu and Tsubo, and an executive with over 30 years of experience in the running shoe industry, will add Hoka One One to his management portfolio. The brand will operate from Deckers offices located in Richmond, California. "I began my footwear career in running specialty retail over 30 years ago alongside Angel," said Van Dine. "It's gratifying to come full circle with our roots, and we look forward to helping drive the brand's continued growth and innovation."
Founders Jean-Luc Diard and Nicolas Mermoud will continue to work with the brand. Diard will be responsible for international distribution and will continue to work with the brand on product innovation, while Mermoud will continue to support the brand's sports marketing and athlete management. Among Hoka's athletes are world class endurance runner Karl Meltzer—who currently holds the record for most 100-mile trail race wins and was named 2006 Ultra Runner of the Year—and Dave Mackey, the 2011 Ultra Runner of the Year who most recently won the Miwok 100K.
# # #
About Hoka One One®: Hoka One One designs and manufacturers lightweight running shoes with an unconventional design featuring a midsole with volume two and a half times greater than traditional running shoes. Long distance runners and endurance athletes wearing Hoka One One shoes have recorded more than 30 podium finishes on five continents in the past 18 months. Keep Running! For more information on Hoka One One, visit Hoka One One®.
About Deckers: Deckers Outdoor Corporation is a premiere lifestyle marketer that builds niche brands into global market leaders by designing and making innovative, functional and fashion-oriented footwear developed for both high performance outdoor activities and everyday casual lifestyle use. UGG® Australia, Teva®, Sanuk®, Tsubo®, Ahnu® and MOZO® are registered trademarks of Deckers Outdoor Corporation. For more information, visit deckers.com.
---