Back to News
SURF: John FLorence and Carissa Moore Top SURFER's 2013 Hot 100
April 3, 2013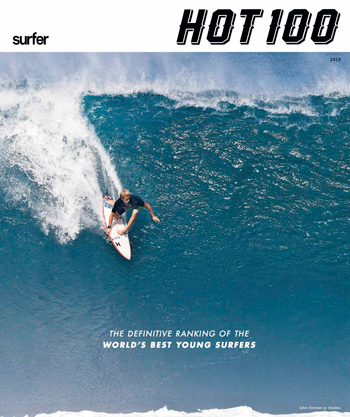 John FLorence and Carissa Moore Top SURFER's 2013 Hot 100
Special Issue on Newsstands Now, Free Movie at Surfermag.com
SAN CLEMENTE, Calif., April 3, 2013 – Each spring, SURFER Magazine compiles the Hot 100, the definitive ranking of the best young surfers on the planet. The special bonus issue, which accompanies the May issue, includes the full list of the world's best under-21 surfers, along with photos, interviews, profiles, and more. And this year, for the second year running, SURFER has also produced a full-length Hot 100 Movie to accompany the issue. The 25-minute flick, made up of the year's best footage from the surf world's top up-and-comers, is available now at Surfermag.com.
"SURFER's Hot 100 has expanded from a simple list in the magazine to a multimedia property that encapsulates the current state of youth surfing," says SURFER Editor Brendon Thomas. "Today, the Hot 100 is a stand-alone magazine, a free-to-download movie, and a visually stunning multimedia feature on Surfermag.com. But the Hot 100's reach and importance are dwarfed by the incredible talent that makes up the list. Surfing's future is in very capable hands."
The Hot 100 issue recognizes the top 60 under-21 boys, the top 20 under-21 girls, and the top 20 groms (14 and under). This year, John Florence and Carissa Moore earned the highest spots on their respective lists. Pick up the issue, on newsstands through the end of April, to find 100 uninterrupted pages of top-notch under-21 surfing and to see who else made the list.
And be sure to also watch the Hot 100 Movie, which features everyone from John Florence and Carissa Moore to Gabriel Medina, Jack Robinson, Luke Davis, Tyler Wright, and more surfing at locations all over the globe. See it now at Surfermag.com.
About SURFER
In 1960, SURFER Magazine began as the original. After a long history of delivering provocative and insightful editorial features, revealing interviews and award winning state-of-the-art photography, SURFER remains the authoritative voice of the surfing world and thus earned the moniker "the bible of the sport." The SURFER brand has also grown to include Surfermag.com, Fantasy Surfer, and the SURFER message boards. All of these assets combine to make the SURFER network the most current and reliable channel of information to the surf community. The magazine is published by Source Interlink's GrindMedia, which reaches more than 22-million active sports enthusiasts through an integrated network of magazines, online properties, events and television programming. To learn more, visit surfermag.com
About GrindMedia
Source Interlink Media's GrindMedia is home to renowned action and adventure sports magazine brands Surfer, Surfing, Snowboarder, Skateboarder, Powder, Bike, Canoe & Kayak, SUP-Standup Paddler, Dirt Rider, ATV Rider, and Paved. Along with our standalone websites, including GrindTV.com, Newschoolers.com and Motocross.com, GrindMedia is the leading provider of print and online action sports and entertainment content in the United States. Delivering significant reach across both action sports enthusiast and various in-market consumer audiences, GrindMedia produces more than 20 leading events and webcasts such as Surfer Poll, Powder Awards, Lowers Pro and EnduroCross. GrindMedia is also the exclusive action and adventure sports content provider for Yahoo! Sports. To learn more, visit grindmedia.com
---