Back to News
SKATE: Dew Tour Announces 2013 Dates and Locations
April 5, 2013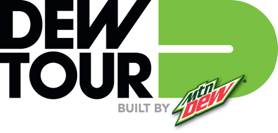 Dew Tour Announces 2013 Dates and Locations
Events Celebrate Action Sports and Provide Platform for Progression
Burr Ridge, Ill. - Alli Sports, a division of the NBC Sports Group, today announced the dates and locations for the 2013 Dew Tour. Following a successful 2012 season, Dew Tour continues with three large-scale, premium events that will reach consumers across broadcast, digital and consumer activation platforms.
"The Dew Tour is about celebrating action sports and providing athletes and the industry with a world-class platform for progression and creativity," said Kenny Mitchell, General Manager of the Dew Tour. "We want all of our fans – whether tuning in through broadcast, online, or on-site at the events – to celebrate with us and be inspired by the sports, the music and the action sports culture."
The Dew Tour remains committed to working with athletes and industry leaders to drive progressive disciplines and formats while creating groundbreaking courses. This season, Dew Tour will debut The Dew Tour Showcases, a series of events that will recognize key lifestyle elements of action sports, such as art, photography and film, and celebrating progressive and transcendent work in each field. In addition, the Dew Tour's exclusive Streetstyle discipline for Skate, BMX and Snow will continue in 2013, delivering an unprecedented platform for originality and innovation.
In 2012, the Dew Tour enjoyed the highest per event attendance in its history, while connecting consumers and action sports in an unprecedented way through the Dew Tour Experience. Dew Tour's best in class brand activation platform will continue to host the event's roster of blue chip partners and bring their engaging and relevant experiences directly to the fans.
For the 2013 season, The Dew Tour will return to its distinct Beach – City – Mountain format. The Dew Tour kicks off June 20-23, drawing inspiration from the East Coast beach destination of Ocean City, Md.October 10-13, The Dew Tour will return to the urban action sports heritage of San Francisco, Calif. for the second event of the year. The Dew Tour will wrap up 2013 from Breckenridge Ski Resort, in Breckenridge, Colo., December 12-15.
The complete 2013 Dew Tour schedule is as follows:
Dew Tour Beach Championships: Ocean City, Md. June 20-23
Toyota City Championships: San Francisco, Calif. October 10-13
iON Mountain Championships: Breckenridge, Colo. December 12-15
The 2013 Dew Tour will be available on NBC, NBC Sports Network and Dew Tour Live on DewTour.com. Dew Tour Live – Dew Tour's dedicated digital platform – will stream every competition live bringing more Dew Tour action, interviews and behind-the-scenes access than ever before. In addition, all telecast hours will be distributed internationally across NBC's global distribution partners.
For additional Dew Tour event information, visit www.DewTour.com and the Dew Tour Facebook page.
About The Dew Tour
The Dew Tour consists of three marquee events in distinct beach, city and mountain locales, featuring summer sports of skateboarding and BMX, with additional competitions of surf and freestyle motocross; snowboard (superpipe and slopestyle) and freeskiing (superpipe and slopestyle) will be featured at the winter event. Dew Tour events are premium action sports and lifestyle festivals combining the best in action sports competitions along with the Dew Tour Experience, live music performances and lifestyle showcases. The Dew Tour is broadcast live on NBC and NBC Sports Network and streamed live ondewtour.com. The Dew Tour is also distributed on Universal HD, and internationally on Eurosport, Extreme Channel, Rogers Sports Network, TVA, and Globosat. Dew Tour partners include Mountain Dew (tour title sponsor), iON, Toyota, GoDaddy, Mongoose, National Guard, Paul Mitchell and Stride. More information can be found at www.DewTour.com.
About Alli Sports
Alli Sports, is an action sports lifestyle brand whose mission is to connect fans with athletes and brands through best in class events, media, and authentic branded products. Alli Sports includes: the Dew Tour, Lucas Oil Pro Motocross Championship and the Red Bull Signature Series; Alli Media, which creates, produces, and distributes original content; and Alli Enterprises which includes a partnership with action sports retailer Dogfunk.com. Alli Sports is a division of the NBC Sports Group. More information can be found at www.allisports.com.
---