Back to News
SUP: Chaco and Boardworks Join Forces to Grow the Sport of Stand Up Paddling
April 10, 2013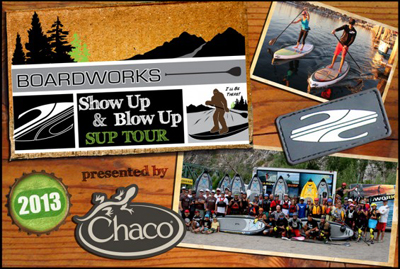 Chaco and Boardworks Join Forces to Grow the Sport of Stand Up Paddling
Partnering to get more people on the water and learning the sport of Stand Up Paddling (SUP), Chaco and Boardworks introduce the 2013 Show Up and Blow Up SUP Demo Tour. The tour will visit over 30 sites across the nation, showcasing the latest, most innovative boards, paddles, and Chaco performance sandals and shoes through a series of national SUP events. For more information on the tour, visit http://www.boardworkssup.com/shubutour/
"As an outdoor brand born on the river, we want to continue to encourage and support on-water adventures," said Colin Butts, marketing manager at Chaco. "Partnering with Boardworks on this tour is a natural fit and one where we can help people learn paddling skills, try new gear, and share their experiences with other enthusiasts. We're dedicated to building a community of active Chaconians enjoying our nation's rivers, lakes, and coasts."
"We are thrilled to have Chaco join the Show Up and Blow Up Tour as the presenting sponsor," said Gretchen Gamble, marketing manager for Boardworks. "Our river SUP athletes train and compete in Chacos as well as wear them while on shore. It is a solid alliance of two brands with a similar goal of getting more people into the sport of SUP to nurture an active, on-water community while building the next generation of SUP athletes and ambassadors."
Working in conjunction with local retailers and shared brand ambassadors, the tour will encompass all areas of the sport from flat water and whitewater to coastal paddling and will consist of product demos, clinics, and races. The Tour began March 30 in Florida and continues on to North Carolina in April; Virginia and Colorado in May and June; Idaho, Utah and Montana in July; Oregon, Washington and California in August and California, Georgia and Tennessee in September and October.
Born on the river in 1989, Chaco builds premium footwear and accessories for the outdoor-minded. What started as sandals for river guides has evolved into sandals, shoes, and boots that offer Chaco's uncompromised support no matter where you roam. All Chaco footwear features the LUVSEAT™, a uniquely contoured platform that properly aligns and supports your foot and body to enable a lifetime of adventure. As a result, the American Podiatric Medical Association (APMA) has awarded the Seal of Acceptance to many Chaco footwear styles. The APMA Seal is intended to raise awareness by identifying products of exceptional quality that are manufactured with comfort, health, and safety in mind. Simply put, Chaco is fit for adventure. Chaco is a part of Wolverine Worldwide's Performance Group that also includes Merrell, Saucony, Patagonia Footwear, and Cushe.
Chaco, 9341 Courtland Drive NE, Rockford, Mich. 49351. Phone: (888) 637-7001; Fax: (800) 862- 6230. www.chacos.com, Facebook, Twitter
Based in Carlsbad California, Boardworks Surf, a leader in the standup paddle industry, designs and manufactures innovative and award winning standup paddle boards, paddles, surfboards and accessories. The focus of Boardworks is to build user-friendly performance products that make your time on the water more enjoyable. There are many types of waterways in this world and many different ways to enjoy Stand Up Paddling. Boardworks' design approach ensures that you have the perfect board for your next SUP adventure. Along with the Boardworks branded products, Boardworks manufactures SUP boards, paddles and accessories for the worlds premier SUP brands including Infinity SUP, Badfish Standup Paddle, Morrelli & Melvin, Ohana, Rusty and Paddle Surf Hawaii, using our proprietary construction technologies.
Boardworks Surf, 5925 Priestly Drive, Suite 120 Carlsbad, CA 92008. Phone: (760) 722-853. www.boardworkssurf.com, Facebook, Twitter
Chaco Media Contact: Kris Hathaway, HFS Communications, 802.249.9171, kris@hfscommunications.com
Boardworks Media Contact: Gretchen Gamble, 760-722-8536, gretchen@boardworkssurf.com
---