Back to News
SNOW: POW Founder, Jeremy Jones, Honored at the White House
April 12, 2013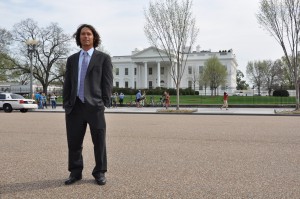 POW Founder, Jeremy Jones, Honored at the White House
Washington, DC - April 12, 2013 – Jeremy Jones, pro snowboarder and Founder of the global nonprofit, Protect Our Winters was honored yesterday at a White House ceremony along with other "Champions of Change," in recognition of "ordinary Americans doing extraordinary things in their communities to out-innovate, out-educate, and out-build the rest of the world."
Jones is being recognized for his contribution to raising awareness about the impact of climate change on the winter sports industry by creating Protect Our Winters, a foundation established in 2007 to unite and mobilize the global winter sports community against climate change.
The ceremony took place at the White House on Thursday afternoon.
Twelve Champions of Change were honored for working to prepare their communities for the consequences of climate change. These individuals are leaders and innovators working tirelessly to build community resilience by preparing for increasingly extreme weather and other costly climate-related impacts. The Champions of Change program was created as a part of President Obama's Winning the Future initiative.
"As we take action to reduce carbon pollution and speed the transition to more sustainable sources of energy, we must also take action to prepare for the impacts of climate change we are already seeing, including more frequent and severe extreme weather," said Nancy Sutley, Chair of the White House Council on Environmental Quality. "This week, we look forward to welcoming Champions of Change who are doing smart, innovative work to protect the health, safety and prosperity of their communities in the face of climate change."
"This nomination and to be recognized by the White House is an absolute honor for me. It's also a testament to the work that we're doing at Protect Our Winters and how important fighting climate change is to the future of our sport and economy," said Jones.
Additionally, earlier this week, Jones and 75 other winter sports athletes also sent a letter to President Obama today urging the President to take action on climate and clean energy. The letter was hand delivered to the White House in a separate meeting after the Champions of Change ceremony.
"Without a doubt, winter is in trouble," the letter states." At risk are the economies of tourist-dependent states where winter tourism generates $12.2 billion in revenue annually, supports 212,000 jobs and $7 billion in salaries. Those are the jobs and businesses owned by our friends and families, generators of billions in federal and state income."
The letter calls on Obama to follow through on the promises he made in the State of the Union address to fight climate change. He can do so by using executive authority currently available to reduce carbon pollution emitted by America's power plants, the largest source of carbon pollution worsening climate change, and by rejecting the Keystone XL pipeline, which would add millions of tons of new carbon pollution to the atmosphere.
---