Back to News
SURF: Reef to Present 2013 ISA World Surfing Games
May 2, 2013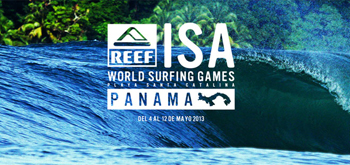 All Teams Announced for the 2013 Reef ISA World Surfing Games in Panama
Press Release from the ISA
Surfline's Official Forecast Calls for Great Surf Conditions for the Duration of the Contest Period
A total of 24 countries and over 150 athletes and coaches are confirmed to compete in the 2013 Reef ISA World Surfing Games, in the tropical surf town of Santa Catalina, located 6 hours from Panama City by car. Each National Team consists of up to 4 Open Men and 2 Open Women surfers plus Team Officials.
The confirmed countries are Argentina, Australia, Brazil, Canada, Chile, Costa Rica, Ecuador, El Salvador, Guatemala, Italy, Jamaica, Japan, Mexico, New Zealand, Panama, Peru, Puerto Rico, Russia, South Africa, Sweden, Switzerland, Turkey, Uruguay, and Venezuela.
"There are only a few days to go before the Opening Ceremony and the start of the 2013 Reef ISA World Surfing Games. All National Teams have been announced and the athletes have begun to arrive in the surf town of Santa Catalina, Panama," remarked ISA President Fernando Aguerre.
"The surfers will be practicing at the world-class reef break waves in preparation for the World Championship that begins with the Opening Ceremony on Saturday and the competition on Sunday. Great surfing conditions and waves in the head high to overhead range in Panama's 84 degree (29 C) water are welcoming the delegations. As I like to remind all competitors, representing your country for national pride is one of the highest honors. You are already a winner by competing on behalf of your National Surfing Team."
Surfline, the official forecaster of the event, has predicted great waves during the whole contest period.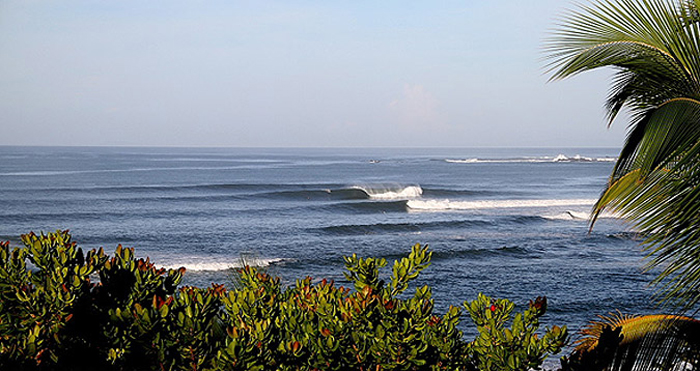 "Plenty of contestable waves are lining up for the entire event; starting off with a solid SSW swell, then possibly ending with another good SW swell. At least for the first few days or so, conditions are looking good as well, with mornings offering the best wind with incoming tide," said Surfline Forecaster Jonathan Warren. "At this point, we're looking at head high sets or better for the entire event."
The full Surfline Forecast can be found on- http://isawsg.com/forecast/
Below is a full list of the confirmed teams. Please note team registration closes on Friday and is subject to change. The final list will be found on- http://www.isawsg.com/teams
Argentina
Open Men:
Nahuel Amalfitano
Marcelo Rodriguez
Lucas Santamaria
Leandro Osuna
Open Women:
Maia Cheer
Maria Lucia Belen Cosoleto
Team Officials:
Carlos Grassi
Juan Manuel Santamaria
Australia
Open Men:
Tim McDonald
Thomas Woods
Russell Molony
Wade Carmichael
Open Women:
Codie Klein
Dimity Stoyle
Team Officials:
Mike McSuliffe
Brazil
Open Men:
Alan Jhones
Ruda Carvalho
Marco Fernandez
Jose Francisco
Open Women:
Suelen Naraisa
Barbara Segatto
Team Officials:
Adalvo Argolo
Gabriel Macedo
Canada
Open Women:
Leah Oke
Chile
Open Men:
Tristan Aicardi
Guillermo Sat
Nicolas Vargas
Maximilian Cross Gantes
Open Women:
Pomare Tepano
Jessica Anderson
Team Officials:
Francisco Gana Molina
Costa Rica (To be announced)
Ecuador
Open Men:
Adrian Dapelo
Jonathan Zambrano
Sebastian Santos
Joshua Barona
Open Women:
Dominic Barona
Cristina Vargas
Team Officials:
Otoney Xavier Santos
Cirilo Yagual
El Salvador
Open Men:
Porfiro Alexis Miranda Miranda
Juan Carlos Ramos Amaya
Samuel de Jesus Arenival Cordova
Israel Antonio Arenivar Cordova
Open Women:
Katherine Carolina Diaz Hernandez
Eveline del Carmen Cento Alvarez
Guatemala
Open Men:
Amos Rivera
Mario Venega
Gefre Lima
Christian Mendez
Open Women:
Cindy Lone
Virginia Bartolome
Team Officials:
Pedro Vergara
Obed Rivera
Edgar Guillen
Italy
Open Men:
Stefano Esposito
Francisco Porcella
Federico Pilurzu
Angelo Bonomelli
Open Women:
Greta Dalle Luche
Valentina Vitale
Jamaica
Open Men:
Icah Wilmot
Ackeam Phillips
Michael Panton
Ronley Lewis
Japan
Open Men:
Shun Murakami
Kaito Ohashi
Kazutomo Nakamura
Yoji Osedo
Open Women:
Nao Omura
Hiroe Mori
Team Officials:
Yusuke Maki
Katsumi Tateyama
Mexico
Open Men:
Julio Quinones
Dylan Southworth
Jose Manuel Trujillo
Adrian Rodriguez
Open Women:
Leila Figueroa Takeda
Pamela Verboonen
New Zealand
Open Men:
Matt Lewis-Hewitt
Billy Stairmand
JC Susan
Sean Peggs
Open Women:
Ella Williams
Thandi Tipene
Team Officials:
Dean Williams
Panama
Open Men:
Gary Saavedra
Gian Carlos Gonzales
Jose Alejanndro Camarena
Deivis Godoy
Open Women:
Enilda Alonso
Malena Toral
Alternates:
Diego Salgado
Oralndo Ortega Jr.
Karol Baule
Team Officials:
Ness De Icaza
Raul Stanford
Orlando Ortega
Peru
Open Men:
Miguel Tudela
Alvaro Malpartida
Cristobal De Col
Gabriel Villaran
Open Women:
Anali Jessica Gomez Quiroz
Valeria Sole
Team Officials:
Gabriel Aramburu
Renato Quezada
Ricardo Kaufman
Puerto Rico
Open Men:
Tommy Bursian
Josie Graves
Brian Reithmayer Toth
Roger Torres
Open Women:
Idalis Alvarado
Kelly Ann Laide
Russia
Open Men:
Sergey Rasshivaev
South Africa
Open Men:
Shaun Joubert
Mike February
Davey Brand
David Van Zyl
Open Women:
Tanika Hoffman
Faye Zoetmulder
Team Officials:
Etienne Venter
Sweden
Open Men:
Freddie Meadows
Switzerland
Open Men:
Martin Muller
Swen Diego Zaugg
Phillip Mappes
Inaune Cyril
Open Women:
Rachel Bonhote/Mead
Nataly Bernold Gutierrez
Turkey
Open Men:
Orkun Kavusturan
Tunc Ucyildiz
Batu Bilgin
Onat Ersoy
Team Officials:
Cuneyt Senson
Syleyman Yilmaz
Tolga Hadimoglu
Orcun Kavusturan
Uruguay
Open Men:
Lucas Madrid
Santiago Madrid
George Acosta
Sebastian Olarte
Open Women:
Sofia Alonso
Martina Lorenti
Team Officials:
Santiago Madrid
Veronica Aimonod
Venezuela
Open Men:
David Diaz
Rafael Pereira
Francisco Bellorin
Jean Carlo Schaffer
Open Women:
Rosanny Alvarez
Maria Eugenia Rojas
Alternates:
Natali Alvarez
Joisis Delgado
Team Officials:
Heli Valero
Ronald Reyes
Jesus Capote
About the International Surfing Association
The International Surfing Association (ISA) is recognized by the International Olympic Committee as the World Governing Authority for Surfing. It was originally founded as the International Surfing Federation in 1964 and has been running the Open Division World Championship since 1964, the World Junior Surfing Championship since 1980, the World Masters Surfing Championship since 2007, the World Bodyboard Championship since 2011, the Hainan Wanning Riyue Bay International Surfing Festival in China, and the World Standup Paddle (SUP) and Paddleboard Championship beginning in 2012. The ISA also sanctions the World Kneeboard Titles and the World Tandem Surfing Championship, and will launch the World Longboard Championship in 2013. ISA membership includes the surfing National Governing Bodies of 73 countries on five continents. Its headquarters are located in La Jolla, California. It is presided over by Fernando Aguerre (Argentina), first elected President in 1994 in Rio de Janeiro and re-elected seven times since. The ISA's four Vice-Presidents are Alan Atkins (AUS), Karín Sierralta (PER), Debbie Beacham (USA) and Layne Beachley (AUS).
---