Back to News
SUPPORT: Global Wave Conference 2013 Unifies World's Surf Protection Groups
May 14, 2013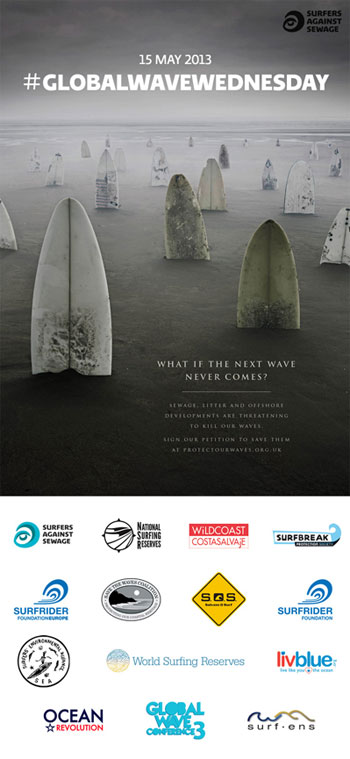 Global Wave Conference 2013 Unifies World's Surf Protection Groups
Press Release from Surfrider
San Clemente, CA (May 14, 2013) – The world's largest gathering dedicated to global wave protection with representatives from 19 organizations and ten different countries came together for the 3rd Global Wave Conference in Rosarito, Mexico. The three-day conference concluded with the signing of a conference statement on wave protection and coastal preservation that marked the unity of the world's surf protection organizations.
"Over the last decade the surf conservation movement has blossomed but until recently the world's surf protection groups have been working in isolation," says Surfrider Foundation Environmental Director Dr. Chad Nelsen. "The Global Wave Conference is designed to change that and promote exchange of knowledge and programs, information sharing and collaboration, with the larger goal to establish a unified front for global wave protection."
The conference focused on surfing and coastal conservation in Mexico, with case studies from the U.S.-Mexico border, Baja California and Barra de la Cruz in mainland Mexico, Surfonomics (economic valuation of surfing), proactive strategies and innovative programs to protect waves, and case studies of on the ground action for wave protection around the world.
"Representation from small coastal fishing and surfing villages put a spotlight on some great examples of surf protection taking place under the radar in Mexico, one of the most popular countries for surf tourism on the globe," said WildCoast's Coastal and Marine Director Zach Plopper. "These locals provide real world case studies in how to establish community-based conservation programs that balance tourism, surfing and long term coastal protection."
Some of the early results from this year's Global Wave Conference include:
Information and sharing of wave protection case studies and strategies.
Establishment of many collaborative projects between attending groups.
Establishment of a Wave Protection Network and strong commitment to work together, including the signing of the "Global Wave Conference 2013 Statement on Wave Protection & Coastal Preservation."
Establishment of the first Global Wave Wednesday on May 15, 2013. As an act of solidarity the attending groups agreed to support Surfers Against Sewage's Protect Our Wave campaign, which is designed to increase legal protection for surfing in the UK. On May 15th, all involved groups will promote the Protect Our Wave petition.
The Global Wave Conference 4 will take place in 2015 in the United Kingdom and will be hosted by Surfers Against Sewage.
About Surfrider Foundation
The Surfrider Foundation is a non-profit grassroots organization dedicated to the protection and enjoyment of our world's oceans, waves and beaches through a powerful activist network. Founded in 1984 by a handful of visionary surfers in Malibu, California, the Surfrider Foundation now maintains over 250,000 supporters, activists and members worldwide. For more information on the Surfrider Foundation, visit www.surfrider.org.
---
Invest 30 seconds, sign this and help protect waves
Petition from Surfrider
I'll make the ask up front, sign this petition to help us establish legal protection of waves in the UK. It will take you 30 seconds to be part of this effort.
The Surfrider Foundation, as part of the global coalition of wave protecting organizations, is joining our friends Surfers Against Sewage in England to call for 100,000 signatures to protect the waves we love.
Organizations from all over the globe are coming together on what we're calling "Global Wave Wednesday", May 15th, to pool our efforts and ask people to connect to this push.
Waves are under threat from many different forces including sewage, litter, beach access, development.
The aim of the Protect Our Waves petition is to generate at least 100,000 signatures to highlight the value of surfing waves and locations to government and encourage debate of legislation in order to recognize the importance of waves as a cultural, social, economic and environmental asset to coastal communities.
We, all of us, believe that waves and surf spots deserve to be seen as part of our heritage and should be afforded greater recognition and protection through debate and legislation.
By signing the Protect Our Waves petition: "I am calling on the government to debate the economic and intrinsic value of surfing waves and beaches, and produce specific legislation to protect these unique, finite assets for this and future generations."
Thanks so much and we'll see you in the water.
---