Back to News
EMP: Mark Sweetser Joins olloclip as Action Sports Sales Director
May 22, 2013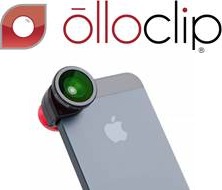 Industry veteran to focus on action sports and photographic industries
Press Release from Mambo Communications
Huntington Beach, Calif. – May 22, 2013 -- olloclip™, the award-winning maker of the 3-in-1 photo lens solution for the Apple iPhone and mobile photography tools, today announced the appointment of Mark Sweetser as Sales Director in the Action Sports and Photographic markets. Sweetser, who brings more than 18 years of sales and marketing experience to the company's leadership team, will play a key role in expanding olloclip's global presence in the skateboarding, surfing, and snowboarding and photographic markets.
"Mark brings with him a wealth of experience in the actions sports market, as well as much experience building and managing sales teams," said Patrick O'Neill, founder and CEO. "By developing our grass roots marketing programs and managing our brand presence in the action sports and photographic markets, we're confident that Mark will contribute greatly to the continued rapid growth of olloclip."
Sweetser joins olloclip from previous roles as VP of Sales & Marketing at Switchboard Inc. and Domestic and International Sales Manager at Dwindle Distribution, both key major skate distribution businesses.
"As a consumer electronics enthusiast, I am excited to join the olloclip team," added Sweetser. "olloclip is the perfect camera accessory for the action sports market. It's small enough to fit in a pocket, yet provides three great creative options to easily capture amazing videos and photos on the go and share them instantly with friends, anytime and anywhere. I look forward to helping olloclip organically grow its mobile photography tools in this market."
To connect with Mark and olloclip, contact sales@olloclip.com or call 714 497-0007.
Connect with olloclip:
• Instagram - @olloclip
• Flickr - http://www.flickr.com/groups/olloclip/
• Facebook - www.facebook.com/olloclip
• Twitter - http://twitter.com/olloclip
• YouTube - http://www.youtube.com/user/olloclip
About the olloclip:
The olloclip® brand is synonymous with creativity in your pocket — olloclip products give amateur and professional photographers alike the ability to use the iPhone to capture and share what was previously impossible — easily, spontaneously and artistically. With olloclip, one's mobile phone becomes a window to the world, and mobile photography/videography enters a whole new realm of possibility. For more information about olloclip, visit olloclip.com.
olloclip® is a registered trademark. © 2012 olloclip. All rights reserved. Featured photography and the content within are the property of respective owners. olloclip Registered Community Design Numbers 001312359-0001, 001312359-0002, 001312359-0003, 001312359-0004. U.S. Patent No. 8,279,544. U.S. and foreign patents pending. Made in USA. iPhone 4/4S and iPod are trademarks of Apple Inc.
---