Back to News
B$Z Award-Winning All-Girls Surf Magazine is Back!
May 23, 2013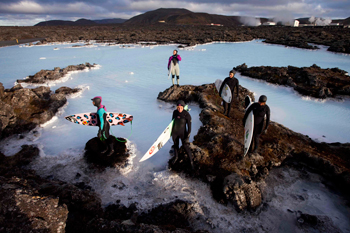 Issue #2 of Salted Magazine Hits Newsstands Mid-June
Press Release from GrindMedia
SAN CLEMENTE, Calif., May 23, 2013 – The second issue of SURFER Magazine's award-winning women's surf magazine, SALTED, hits newsstands June 11. The debut issue earned a 2013 MAGGIE Award in the Best Annual & Custom Publication category and also had the highest in sell-through of any special issue produced by SURFER. Issue 2 promises nearly 100 pages of female surf content—including massive photo features, interviews with the best and most interesting surfers, adventures to far-off locales, health, fashion and more. Some of the many female surfers featured in Issue 2 include Malia Manuel, Kassia Meador, Steph Gilmore, and Lisa Andersen.
"For the second issue, we wanted to really show how broad female surfing is, so we included features that span all ages, locations, and sectors of the surf world," says SURFER Managing Editor Janna Irons, who edited the issue. "There's a profile on one of the most progressive female surfers on the planet, Malia Manuel, as well as one on one with one of the greatest female surfers of all time, Lisa Andersen. There are trips to Iceland, China, and Mexico, and a massive photo feature of beautiful images from all over the globe. We also included a feature on the best female big-wave surfers, where they discuss the dangers and motivations for surfing massive waves. Plus, we threw in a short fashion feature, an op-ed, and a collection of smaller features on interesting characters in the surf world. There really is a ton of great content in the issue that I'm super excited about."
"We are proud to create a special issue that really showcases the women in the sport," says Publisher Tony Perez. "The caliber of female athletes has never been this high, and their performances have never been better. And thanks to the endemic support for the girls, we are able to produce this amazing product."
SALTED's debut issue landed on newsstands last summer to major acclaim and readers have been asking for more ever since. Female surf content has been scarce in the media in recent years leaving female surf fans hungry for this kind of female focused content.
"I don't think the demand for female content has ever decreased; in fact, there are more female surfers and female surfing fans now than ever before," continues Irons. "For a while now, there just hasn't been a place to see all the great trips and sessions that are happening around the world. SALTED is able to provide that, and because it's made by the editors of SURFER it has the level of quality and authenticity readers have come to expect from the biggest surf magazine in the world."
SALTED by SURFER Magazine will be on newsstands at local surf shops and bookstores beginning June 11, 2013. A digital version will also be available on the Apple Newsstand. Follow Salted on Twitter or Instagram.
About SURFER
In 1960, SURFER Magazine began as the original. After a long history of delivering provocative and insightful editorial features, revealing interviews and award winning state-of-the-art photography, SURFER remains the authoritative voice of the surfing world and thus earned the moniker "the bible of the sport." The SURFER brand has also grown to include Surfermag.com, Fantasy Surfer, and the SURFER message boards. All of these assets combine to make the SURFER network the most current and reliable channel of information to the surf community. The magazine is published by Source Interlink's GrindMedia, which reaches more than 22-million active sports enthusiasts through an integrated network of magazines, online properties, events and television programming. To learn more, visit surfermag.com
About GrindMedia
Source Interlink Media's GrindMedia is home to renowned action and adventure sports magazine brands Surfer, Surfing, Snowboarder, Skateboarder, Powder, Bike, Canoe & Kayak, SUP-Standup Paddler and Paved. Along with our standalone websites, including GrindTV.com, Newschoolers and Motocross.com, GrindMedia is the leading provider of print and online action sports and entertainment content in the United States. Delivering significant reach across both action sports enthusiast and various in-market consumer audiences, GrindMedia produces more than 20 leading events and webcasts such as Surfer Poll Awards, Powder Video Awards, Lowers Pro and EnduroCross. GrindMedia is also the exclusive action and adventure sports content provider for Yahoo! Sports. To learn more, visit grindmedia.com.
---