Back to News
UK: Sidewalk Skateboard Magazine celebrates 200th issue
May 24, 2013
Sidewalk is the longest running UK skate magazine in history
Press Release from Factory Media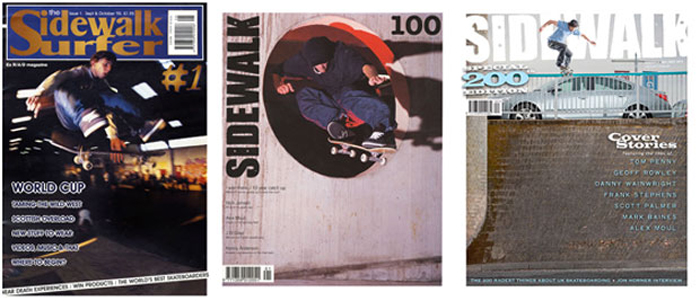 LONDON, UK – For nearly 20 years, Sidewalk Skateboarding Magazine (formerly Sidewalk Surfer) has been a public reflection of the UK skateboard scene. Established in 1995, Sidewalk's mantra has always been to represent skateboarding from the inside and has documented the ever-evolving nature of one of the most dynamic street cultures in the world.
Back when Sidewalk began, endorsement of skateboarding by mainstream sports brands or coverage on the TV were unheard of. Internet connections were virtually coal-powered and the wider world of skateboarding was just beginning to pay attention to the paradigm-shifting antics of UK-based Flip skateboards crew who had immigrated to the US in the same year.
The ethos of the magazine was directly influenced by what came before, namely the truly magnificent 'RAD' and 'Skateboard!' magazines, which had kept skateboarding in the UK alive throughout the darkest eras, (in terms of participation numbers) of the late 80's/early 90's.
As time passed and skateboarding began to emerge from its self-regarding teenage-years, finally losing the shackles of the boom and bust cycle that had dogged it since its inception, Sidewalk was there to document this evolution.
By 2000, when the Tony-Hawk-computer-game effect kicked in, skateboarding participation numbers exploded bringing new opportunities and global recognition to British skateboarders, with major US tours hitting the UK and UK-based international skate contests drawing the attention of skateboarding on a global level. Since then, skateboarding in the UK has grown exponentially and, through a third Golden Age of skatepark construction, skateboarding has finally been enshrined as a permanent part of the UK cultural landscape.
Throughout all these changes Sidewalk has been there, reflecting on the evolution of skateboarding and offering a voice to skaters of all nationalities, genders and age groups. Having embraced the Internet revolution, Sidewalk has also gone on to invade the cyber-world with skate content through Sidewalkmag.com and the Sidewalk forum. Yet through all the transitions of the constantly evolving culture, the physical magazine has remained a permanent fixture on the scene.
Issue 200 of Sidewalk contains interviews with 25 of the most influential skaters to be featured on Sidewalk covers, tracing the magazine's history right back to the launch issue with Tom Penny. British underground legend Jimmy Boyes graces the cover of the anniversary issue itself – his first cover since 1988.
---