Back to News
SURF: The 2013 Quiksilver Ceremonial Chile Presented by Subaru is a Go!
May 31, 2013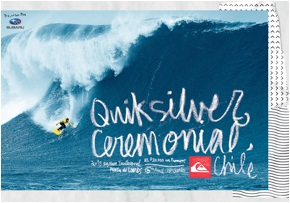 Event Called for Tuesday, June 4th; Kick Off of the 2013 Big Wave World Tour
Press Release from Quiksilver
Punta de Lobos, Pichilemu, Chile (May 31, 2013) - The 2013 Quiksilver Ceremonial Chile Presented by Subaru has officially been called "ON" by Contest Director Gary Linden for Tuesday, June 4th.
"It's all about timing when it comes to big wave surfing," said Linden. "The swell we have been waiting for is just around the corner." Linden continues, "The Quiksilver Ceremonial Chile will open this year's newly enhanced BWWT with increased prize money and Chile's gaping left hand barrels. The best big wave riders in the world are scheduled to compete, so it is sure to be an incredible event!"
The Quiksilver Ceremonial Chile will commence early next week with the world's top big wave riders competing for a $50,000 prize purse. The first stop on the 2013 Big Wave World Tour, the Quiksilver Ceremonial Chile is one of the world's most anticipated big wave events.
Past winners of the event include Marcos Monteiro (2011), Christian Merello (2010) and Grant "Twiggy" Baker (2009). In addition to Monteiro and Merello, the complete line-up of 2013 Quiksilver Ceremonial participants includes:Jamie Sterling, Kohl Christensen, Carlos Burle, Peter Mel, Greg Long, Gabriel Villarán, Mark Healey, Jaimie Mitchell, Ramón Navarro, Diego Medina, Joao De Macedo, Ken Collins, Frank Soloman, Ben Wilkinson, Zach Wormhoudt, Jose Gomez, Jeff Rowley, Natxo Gonzalez, as well as four local qualifiers, Fernando Zegers, Camilo Hernandez, Morris Tapia, and Ismael Herrero.
This year, Quiksilver will be producing several post-event video recaps, starting with 'heats on demand' after the conclusion of the 2013 Quiksilver Ceremonial Chile. The videos will be available online for viewers on the official 2013 Quiksilver Ceremonial Chile website at www.quiksilver.com/chile.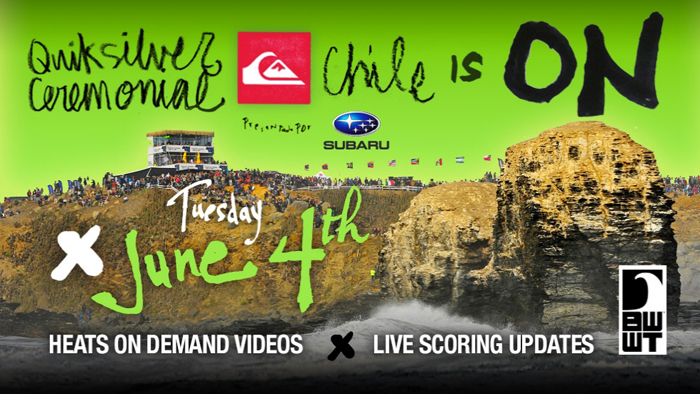 About Quiksilver
Quiksilver is committed to providing tools for uncovering, expressing and expanding your personal style. Our aim is to foster the sense of individual expression and excitement – the stoke that is the essence of boardriding*. We're also here to spread the word because the only thing better than finding stoke is sharing it.
*Boardriding is about timing and style. It's youthful, active, casual, and free flowing. There is no wrong way to ride a board. The goal is simply to learn, progress, improve, and give it your own interpretation.
---