Back to News
Hommy Diaz, Global Product Line Manager at Palladium Boots
May 31, 2013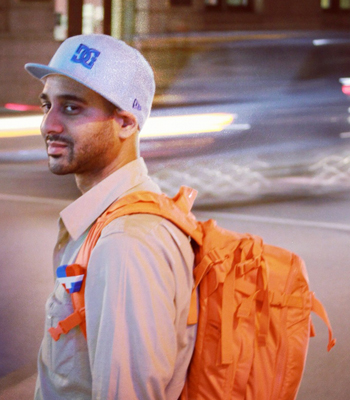 Hommy Diaz, Global Product Line Manager at Palladium Boots
Earlier this year, footwear designer Hommy Diaz made the exciting move from his job at DC Shoes to Palladium Boots, as the company's new Global Product Line Manager. In his new role, Hommy is responsible for all aspects of the product creation process, from pricing and scheduling, to materials and color selection.
Considering Palladium's rich global history, the company was founded in France in 1920 as a rubber manufacturer that supplied tires to the wartime aviation industry but transitioned to boot production after World War II and now boasts over 65 years of innovation in footwear design, there is added pressure for a person in Hommy's position to live up to the time-tested products the company's loyal customers have come to expect.
"The most rewarding aspect is seeing people in different countries wearing a shoe I worked on," said Hommy via email. "Consumers are particular about their fashion choices and their options are abundant. It is a great sense of accomplishment to be a contributor to a person's fashion statement"
We spoke with Hommy via email about how he initially got involved in footwear design, what led him to Palladium Boots after working at DC Shoes for over five years, and how his time five months into a new role has been for him.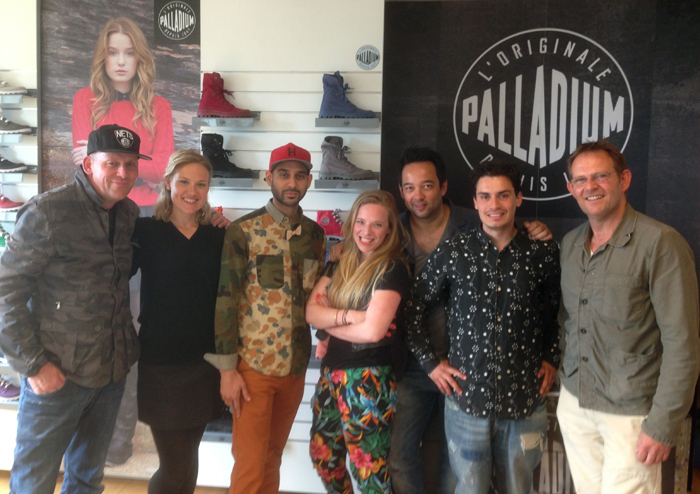 Hommy joined Palladium, based in Westlake Village, Calif., in January 2013.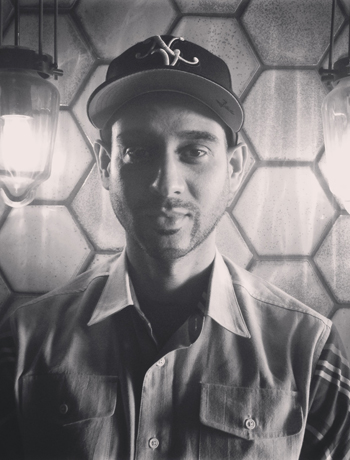 What drew you to Palladium?
My first job that I held throughout high school was at an Army and Navy surplus store in Queens, New York where I was born and raised. From a fashion perspective, army and navy trends have influenced me since my teenage years. As a result, I was naturally drawn to the military aesthetic of Palladium's iconic Pampa boot upon being introduced to it just a few years ago. Aside from the visual appeal of Palladium boots, what drew me most to the brand is its authentic European history and innovation. Palladium was founded in 1920 in Lyon, France and originally manufactured vulcanized rubber tires lined with canvas for the aviation industry, supplying Europe's warplanes during WWI and WWII. At the end of WWII, with most planes being grounded and decommissioned, Palladium saw the demand of its tires dramatically decrease and approached the adversity as an opportunity to innovate. In 1947 they moved forward by leveraging their expertise in manipulating rubber and canvas by making boots in those materials. The boots they made were as rugged and durable, just like the tires they made, and were soon adopted by the legendary French Foreign Legion. Their original canvas boot, the Pampa, now has over 65 years of proven authenticity and now combined with modern performance functionality like premium waterproof leathers. The fact that the canvas boots stood the test of time with the French Foreign Legion decades ago motivates me to be a part of offering it to consumers today!
What aspects of your previous work experience have enabled you to succeed in your current role?
The progression from working in retail, selling footwear, to learning from some of the best professionals in the footwear-merchandising and design field has been a winning combination for success in my current role. Interaction with consumers at retail has been a lasting and helpful learning experience to prepare me for this role. I could never have predicted a career path in footwear merchandising although, unintentionally retail was the perfect place to start.
How was the transition from overseeing the creative product direction for DC with their line of athletic-driven footwear to leading all aspects of the product creation process for Palladium, with more lifestyle-driven products?
From a lifestyle perspective, the transition to Palladium has been seamless. My position at DC Shoes was unique in comparison to my counterparts responsible for the core athletic-driven footwear categories. I was responsible for leading the merchandising direction for the special projects and lifestyle driven categories, which included the trademarked DC Life, Artist Projects, ReMix Series, Double Labels and NVRBRKN.
From a performance perspective in contrast to DC, Palladium is also a performance brand with an extensive offering for urban terrain. The product line includes insulated and waterproof materials for Fall/Winter in addition to the breathable textiles for the Spring/Summer seasons to meet the needs of the city explorer all year around.

Is it challenging to design for Palladium, a company with such a rich history in footwear design?
The fact that Palladium has a rich history makes the challenge to design the line exciting! We have over 60 years of authentic history to reference. I feel like a soldier who has been given all access to a top-secret military operation.
What enables you to be a successful designer?
This career has provided me with the opportunities to travel the world. Research about different cultures and experiencing new places is an important ingredient for design. Learning always results in inspiration and seeing something new or something old reinterpreted is a recipe for success in merchandising and design.
How do you measure success?
I measure success with the satisfaction and accomplishment of doing something I did yesterday better today.
You're now based in LA but have roots as a skater growing up in NYC – do you miss the city?
I don't recall ever being away long enough to miss NYC. I am fortunate that my career has allowed me to travel often and visit New York several times each year.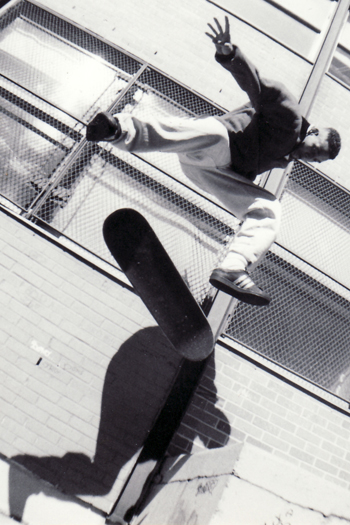 When did you make the move to the West Coast?
I made the move to the West Coast in 2007 for DC Shoes.
How did you initially get involved with footwear design?
Growing up in New York caused me to be particular about my footwear choices whether it was to go skate, play ball, or look fashionably relevant among my peers. My ambition for product motivated me to attend Parsons School of Design where I earned a Bachelor of Fine Arts degree in Communication Design. I began my career in footwear unexpectedly while working for Apple, Inc. in New York City. While at Apple, Inc. DC Shoes became one of my many clients and they immediately recognized my talent for merchandising and found value in my skateboarding history as well as my experience in fashion and design. As a result, I was offered a position as the Global Product Line Manager for the Lifestyle division. Although Parsons School of Design did not offer any classes in footwear merchandising and design, my coursework in the communication design program prepared me to take on this challenge with DC Shoes. Despite not having any formal experience in the footwear industry, I hit the ground running and have been in the race ever since.
What can you tell someone who is building a career as a footwear designer, or looking to start one?
My advice for someone looking to start a career in footwear design is to not be reluctant to start from a different angle and learn the business. Knowing the business and its logistics are arguably more important than the ability to create a good-looking drawing. Having excellent drawing skills will not guarantee you success and not being able to draw does not discount you from developing a successful career in footwear design. The only guarantee is that it all boils down to the business in the beginning and in the end.
What's the most rewarding aspect of what you do?
Consumers are particular about their fashion choices and their options are abundant. The most rewarding aspect is seeing people in different countries wearing a shoe I worked on. It is a great sense of accomplishment to be a contributor to a person's fashion statement.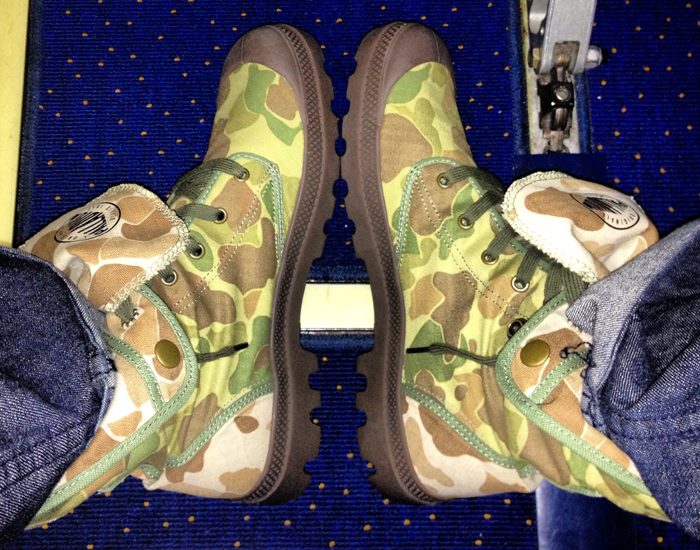 For more about the Palladium product line visit palladiumboots.com and follow Palladium on instagram.
---