Back to News
SoupGraphix Q&A with co-founders Dan Janssen and Hill (Hilary) Paige
June 5, 2013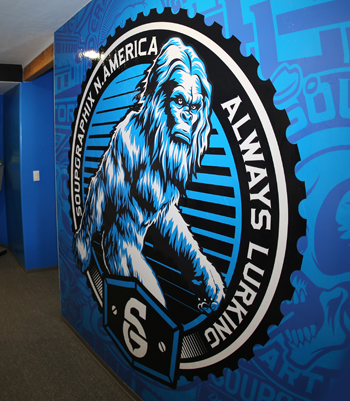 SoupGraphix Q&A with co-founders Dan Janssen and Hill (Hilary) Paige
SoupGraphix is a San Diego based graphic design studio located in downtown La Mesa, CA. The San Diego company was originally founded in the year 2000 by longtime friends Dan Janssen and Hilary (Hill) Paige. Over a past decade they have been servicing the action sports and entertainment brands both large and small. Their client list includes: Nike, Element, Plan B Skateboards, Hot Wheels, Flow Snowboards plus many more.
High school friends originally, the pair both ended up graduating from design schools in `99. After about two years in the professional field Dan and Hill started SoupGraphix. The studio's main focus was to appeal to today's culture and art scenes by developing design ideas that are fresh & new. Inspired by the co-founders of action sports past; both Dan and Hill grew up surfing, skating, snowboarding and riding moto.
Having worked together for over a decade now, juggling multiple projects for a variety of company styles, Dan and Hill have gained the knowledge and experience to personally branch out in pursuing alternative projects. But, with an ever-growing list of industry-leading clients to service, the pair certainly knows they must focus on projects for SoupGraphix.
"Dreaming of being a pro surfer, skater, snowboarder as young kids," explains Hill Paige during a conference call. "We decided to make the action sports industry our main focus for our studio early on. We knew these sports and we loved how the art has always been an underlining force behind each product."
We spoke with Dan and Hill, co-founders of SoupGraphix, about the company's origins in San Diego and how action sports & the Southern California lifestyle have influenced the style of their designs in appealing to today's culture and art scenes.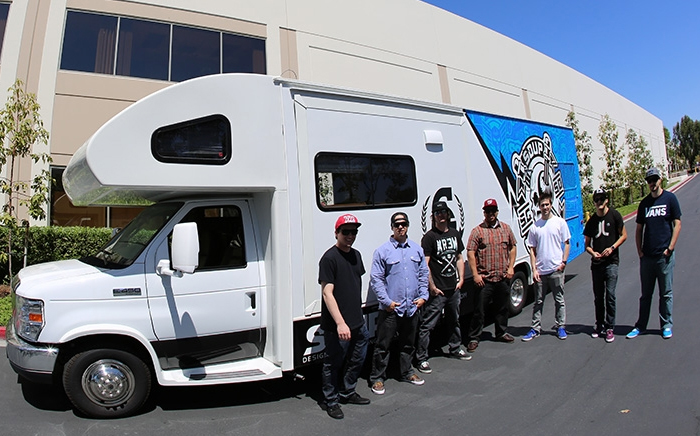 "Soup' it up!"
From a client standpoint, when is the right time for a company to turn to SoupGraphix for assistance?
D: Where we excel is when a company's art or marketing department is short-handed (or is non-existent) and asks for our assistance to help develop new graphics for their products. We step in, look at where they have been, where they are now and where they want to be with their new line. For example, if a company has only one designer; they bring us on, now they have an additional 8 designers working on their line. We can bring a fresh outside take on the same project. Clients like this, since we all get a little tunnel vision sometimes being too close to your own product.
Would you say a specialty of the company is being able to adapt to different size companies or companies with different backgrounds?
H: Yeah, for sure. We feel we're very capable of handling everything from the artistic to the traditional sides of design. We can do the more traditional design projects in our sleep and the edgier stuff is what we do on a day to day so we're able to adapt easily from both extremes. We showcase our more contemporary action sports projects, because it's the eye-catching stuff. You got mild or wild project in mind? We got you covered.
Are there advantages or disadvantages to having clients within the action sports world as well as your more "mainstream" clients like Hasbro and Mattel?
D: We quickly learned that you can't fake good design in either world. The action sports industry usually demands the next big thing, where the more "mainstream" clients want more of the tried and true designs. Although, we're starting to see a trend of these "mainstream" clients starting to want more and more of the action sports look in their marketing and packaging designs. The X-Gens are all grown up and they are now buying toys for their kids, so the old designs do not work as well as they did on our parent's generation. The "mainstream" projects have more visibility to the masses but the action sports companies help us keep our edge and in-touch with trends.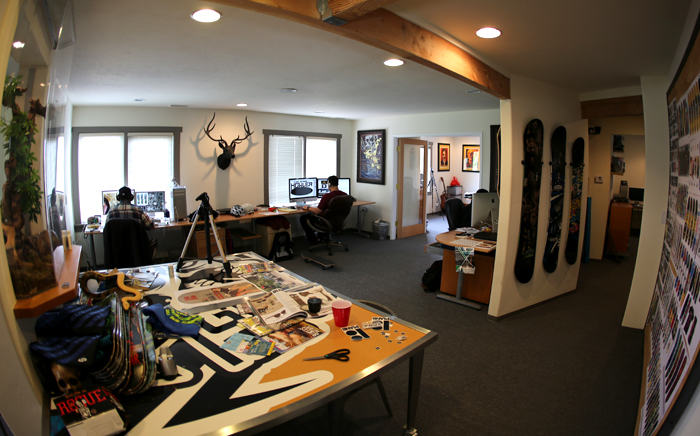 Does budget ever affect how you work?
D: I would say no. We put just as much effort into a Tony Hawk or Plan B Skateboard project as we would do with a mainstream design for a major toy company. We understand we're not going to earn as much on certain projects but all-in-all we think every project is a showcase piece and we are going to put 100% effort into it; we're going to try and show the best of our ability.
How does being based in San Diego influence how the company operates, in terms of finding and working with clients in both the action sports and entertainment industries?
H: There's always a struggle finding new clients. I'm sure every design studio, or any business in general, is always looking for ways to find new clients. But, for us being based in San Diego, it's not as convenient as it would be if we were based in a bigger city, like Los Angeles. Mainly because we can't necessarily just get up from our desk and pop across town to deal face-to-face with one our clients – because some of our clients are based in LA and Orange County. But, with technology being what it is, we don't find it to be as much of a restraint. We have found all kinds of workarounds to be in touch with our clients making it as easy to work with us as-if we were just next door. From the very beginning, we've been very capable of listening to our clients and understanding what their needs are, then executing based on what they say and utilizing all means of technology to get the art to our clients on time and making sure it's exactly what they're looking for. We've never lost a client because of our location. We have worked with clients in different states, different time zones and in other countries.
D: In some ways it's cool because we have a lot of clients in Irvine, and that's an hour and half or two hour drive. For instance, our clients in the OC like Plan B and Element, who we recently meet at our office for a meeting, can drive down here or vice versa. It's just far enough that clients aren't popping in all the time and we're not popping into their office all the time. But, if we do need to meet we can drive up there - and we do. So, it's actually worked out pretty well being down here in San Diego.
H: On top of that, we're also proud to say that we are from San Diego. We love promoting more of a design community down here because we feel like it's such an awesome place to live and we always wonder why there aren't more people down here. Obviously, the location is in the bottom corner of the US and it seems to be out of the way for some but, in my opinion, there's not a better place to live than San Diego.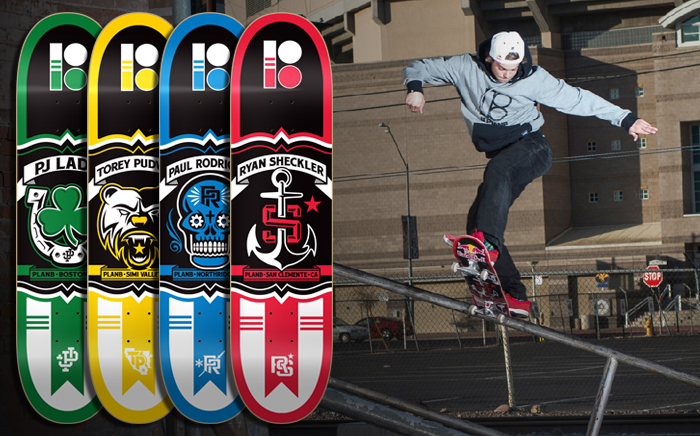 If a client approaches you and is still in the process of determining whether or not to use your services, how are you able to prove results from past clients to gain new customers? Do you have any quantitative standards on a client seeing a return on investment?
D: A lot of times, that relies on the client in the end to open up to us. Say we do a full advertising campaign for a client, on occasion, we'll go back to the client and ask how it worked out for them. In a lot of instances, we aren't given any past sales numbers or how they did the season before. So, a lot of times it's hard to tell. But, for the most part we get most of our work from someone seeing our stuff out there in the public or visiting our website. There aren't a lot of instances where we need to prove hard numbers though. We let the quality of our design do the talking.
H: How I think we're able to prove results is, number one, we're still in business. We've seen other design studios like ours come and go in our past 13 years of being in business. Two, we get a fair amount of return business from past clients. And three, we compare where a client's design was before coming to us and level it is after we're done.
H: Our portfolio itself helps us sell the company and our services. Like Dan said, we rarely are presented hard numbers from our clients. We create the art but it's the client's responsibility to execute the point of sale. So once it leaves our hands we no longer have control of it.
Can you speak on the company growth - is the company currently looking to expand?
H: Well, that's based on the market. We let workflow dictate growth. Luckily for us, we haven't had to fire or let anyone go because of the downturn in the economy, although we do feel the ebb and flow; we see when the marketing dollars are there and when it's not. We don't go on hiring binges to satisfy a two-month project and then let those people go six months later. We let projects come in, and struggle through to satisfy the project's need. If our clientele continues to build and our projects continue to grow and pay better, then we'll make that executive decision to bring on another designer or illustrator. In the last two years, we've grown our studio from four designers to eight. So, we've had slow growth with an average of two new designers a year. We hope to continue to grow, but we aren't going to expand just because.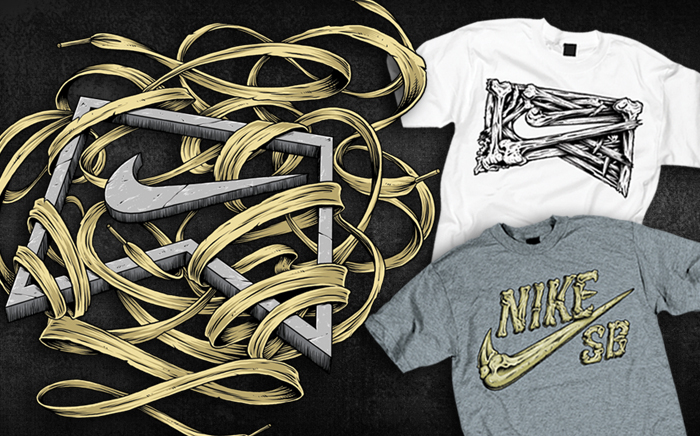 How is the team broken down?
D: We have Hill and I as Partners/Creative Directors, along with two full-time illustrators. The remaining 4 guys are graphic designers.
All based out of the office in San Diego?
H: Yep, everyone is in-house and full time.
D: That's one thing we pride ourselves on, is having our designers and illustrators in the studio every day. A lot of times in our industry, people want to work from home or do their own freelance thing, and we are definitely not that – we are a full-service design studio.
What is the composition of a client team for a typical project?
H: We have the flexibility of putting one or all of our designers on any given project at any time, depending on turnaround or if the project is calling for a mix of both design and illustration. If you want a simple answer, with a typical project for a logo design, we would throw two or three designers at it, giving them anywhere from two or three days to spend exploring and researching different ideas before presenting our design comps to a client. This ensures we give them a wide variety of styles to choose from.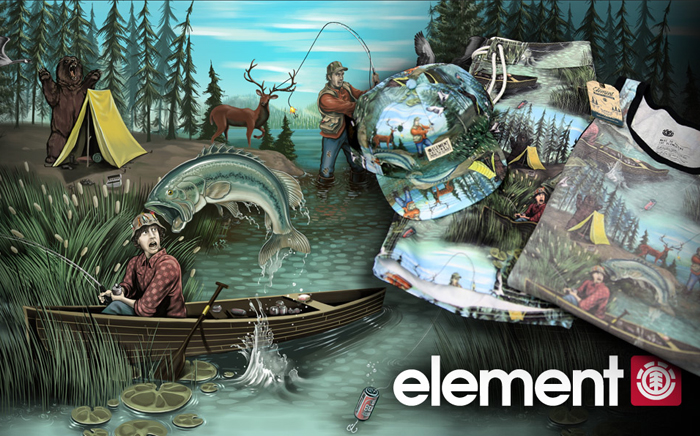 How involved does the SG team get in terms of strategic development for individual clients?
H: We definitely allow the client to determine that. On one level, if they want us to interject our own opinion and style into any particular project we will. We would love to take their design problem and come up with solutions if need be. But, a lot of times budget restraints limit how much we can be involved in strategic planning. As Dan said before, we are a full-service design house and we have been in this industry for 13 years. So, we've designed almost everything from simple logo designs and business cards, all the way up to style guides and websites. We've been in this field long enough to know what the key components needed for a successful marketing campaign and if a client needs that kind of know-how, we are here to help.
Looking back on past projects you've worked on, what have been some of the more memorable designs to come from the SoupGraphix studio?
D: We've designed most of Tony Hawk's pro model graphics for the last five years. One cool thing we're able to say, is that every board Tony has been riding lately was designed by us. Last year we completed a pretty big project for Nerf football in which we rebranded their whole company and all of their different footballs. Also, we've been involved with Plan B Skateboards for the last five or six years as well, doing all their board graphics and a bunch of new designs for them.
H: Flow Snowboards has been a recurring client that's utilized us for a handful of decks each season. The sheer amount of skateboard designs that we've created is kind of mind blowing. In addition, the mountain of t-shirt designs and graphics we've designed is pretty staggering also. We're currently getting hit up almost weekly for new logo, skateboard and t-shirt designs.
Are you able to speak on any current or upcoming projects that the team is excited about?
D: Yeah, we're in the middle of trying to completing a line of 30-40 skateboard designs for Element/Plan B. And, we have a huge new project for Nerf which resulted from doing a kickass job on the Nerf football project – but that's about all I can say on that.
Do you have anything you care to add that we missed?
H: One last thing I'd like to add is that Dan and I grew up around action sports – we skated, surfed, rode dirt bikes and got into all kinds of trouble since we were little. One of the biggest problems for action sports companies is finding studios like ours that can actually speak the language of action sports. A lot of design studios out there can make nice looking rectangles with a picture inside and call that a design. Companies are often disappointed by the design world because of the low level of creativeness and poor execution of art. When companies come across a studio like ours, there is this level of relief for them because we understand the kind of artwork they need. We know the difference between a snowboard graphic and a skateboard graphic. Most outside design studios would consider them the same.
D: Keep a look out for our Skateboard Design book coming out later this year ( The 8th Ply – Skateboard Art and Design ). It will show case the last 10 years of SoupGraphix skateboard design for various clients like Blind, Darkstar, Zero, Mystery, Plan, etc.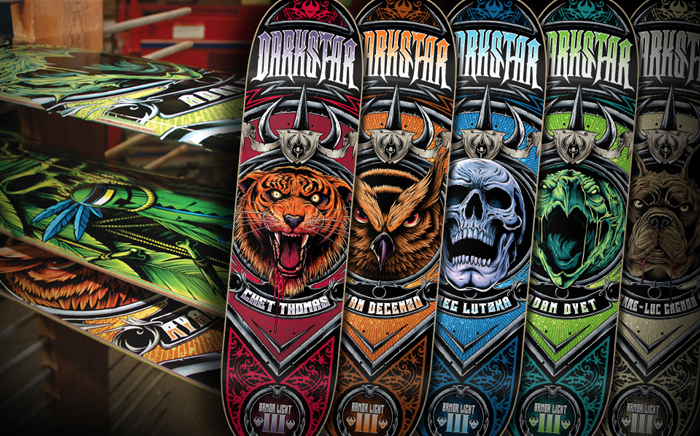 In closing, the co-founders of SoupGraphix are truly action sports enthusiasts to the core. Case in point: the pair recently produced a 40-page, oversize comic book to introduce The Gimmies, an action sports adventure series cartoon brand they have been developing for the last few years. Along with a team of artists and Developers, Dan and Hill have created an ever evolving family of characters targeted to children, with names like Ollie, Huck, Steeze and Wedge.
"We hope this cartoon will inspire kids to get out and play instead of sitting around watching TV all day (but of course, after watching our cartoon episode first)," said Dan and Hill in an interview for Junk Trunk Magazine. If you're interested in learning more about the project or want to inquire about getting your hands on a copy of the Gimmies comic book, you can contact the team here.
Additionally, Dan and Hill are working hard on a new clothing line they just launched recently, called Snake Oil Supply Co. (S.O.S.), offering a limited initial run of t-shirts and hats.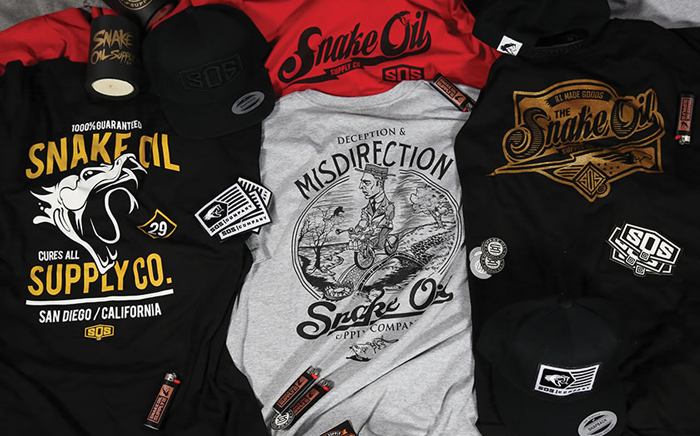 Thank you for your time and thoughts Dan and Hill. For more on SoupGraphix, head to SoupGraphix.com, or find them on Facebook, Twitter and Instagram.
---