Back to News
SUPPORT: DAKINE Designs Limited Edition Collection Benefiting The Keep A Breast Foundation
June 5, 2013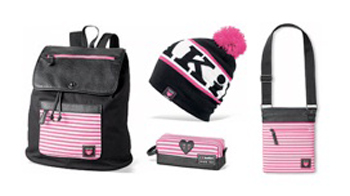 DAKINE Designs Limited Edition Collection for Fall 2013 Benefiting The Keep A Breast Foundation™
Press Release from Keep A Breast Foundation
Hood River, Ore. (June 4, 2013) – DAKINE is proud to announce its partnership with The Keep A Breast Foundation™ (KAB) including a limited edition collection to be released in September 2013 to help raise awareness and assistance for the non-profit's continuing efforts to eradicate breast cancer. A portion of the proceeds from the sale of the collection will benefit KAB's support, education and prevention programs.
"DAKINE has been a longtime fan of KAB's energy and philosophy and we are thrilled to now offer our support to the foundation through the launch of our first series of collaborative products set to hit retailers this fall," said Leslie Pyfer, DAKINE's product line manager. "We think KAB's efforts are impactful and we are honored to partner with them in hopes of spreading their message to our consumers and beyond."
KAB provides support programs for young people impacted by cancer and educates about prevention, early detection and cancer-causing toxins in our everyday environment. Through awareness campaigns, an interactive website, grassroots marketing and a dedicated army of employees, volunteers and ambassadors, KAB works tirelessly on its mission to ultimately eradicate cancer. DAKINE's collaborative products are co-branded with the KAB logo and will feature pink detailing in support of breast cancer awareness. The collection includes the Sophia pack (MSRP $55.00), Jive purse (MSRP $20.00), Women's Accessories Case (MSRP $10.00) and Kineda beanie (MSRP $20.00).
"For over 12 years we have been able to expand our educational outreach across the U.S., Canada, Europe, and Japan because of the support and dedication of valued partners like DAKINE," said Kimmy McAtee, vice president of partnerships and communication for KAB. "We absolutely love the new collaboration products and are excited to utilize the support from this collection to further our foundation's mission."
DAKINE's limited edition KAB collection will hit retailers in September 2013 and will also be available at www.dakine.com. A percentage of all sales will benefit KAB's educational programs and efforts. For more information on The Keep A Breast Foundation™, please visit keep-a-breast.org.
ABOUT DAKINE
Backed by a pro team roster that includes some of the world's top action sports athletes, DAKINE has been an industry leader in action sports accessories since 1979. Founded in Hawaii and located at the base of Mt. Hood in Hood River, Oregon, DAKINE offers a complete range of innovative and quality products, including outerwear, sport-specific and lifestyle-driven backpacks, bags, travel gear and accessories. DAKINE products are available for purchase at specialty sports retailers worldwide. For more information, visit www.dakine.com.
ABOUT THE KEEP A BREAST FOUNDATION
The Keep A Breast Foundation™ is the leading youth-focused, global, nonprofit breast cancer organization. Our mission is to eradicate breast cancer for future generations. We provide support programs for young people impacted by cancer and educate people about prevention, early detection, and cancer-causing toxins in our everyday environment. keep-a-breast.org.
---