Back to News
EMP: Katin USA Appoints Dale Rhodes as Vice President of Sales
June 6, 2013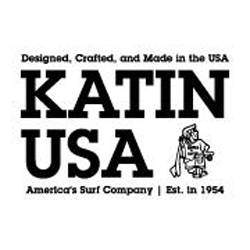 Katin USA Appoints Dale Rhodes as Vice President of Sales
Press Release from Katin
Orange County, Calif., (June 2013) – KATIN USA, the original California surf company, is excited to announce Dale Rhodes as the team's new Vice President of Sales.
"I'm very proud and excited to forge an amazing relationship with the KATIN USA brand and retailers. I feel KATIN USA is the perfect fit because it's a one-of-a-kind brand that has true culture and heritage in this industry and differentiates itself with design, look and feel," Rhodes explains.
Rhodes' career in the retail industry began early, having worked with various California labels since he was just 17 years-old including MGA (Guess Jeans,) Camp Beverly Hills and Val Surf. Rhodes also had a Rep Group called 215 Marketing group where he represented a host of surf related brands that were sold to major retailers on the West coast in the early 90's. Rhodes also spent over seven years, from 1999 to 2006, at Hurley where he honed his experience and connected retail with the surf culture, representing women's and men's collections in surf, boutique, and department stores throughout Southern California.
"We are very excited to welcome Dale to the Katin family! Dale brings years of knowledge and experience as well as a great presence to our company," says Mac Beu president Katin USA licensing.
For more about KATIN USA, visit www.katinusa.com.
ABOUT KATIN USA:
In the early 1950's Nancy and Walter Katin were in the business of making canvas boat covers. It was upon request from local surfers that they made the first pair of custom canvas surf trunks. Word spread of their ability to withstand the demands of the sea and an industry was born. In 1976, Nancy initiated the annual Katin Pro/Am Team Challenge at the north side of Huntington Beach's pier, a team event where amateur surfers can compete alongside the pros. Surf legends such as Kelly Slater and Tom Curren have won the Katin Pro/Am. In 1986, Nancy passed away leaving the company to Sato Hughes, her loyal seamstress. It is with the same mindset as the founders that Katin continues to provide trunks and clothing inspired by our heritage with an emphasis on quality product that are Made in the USA.
---