Back to News
EMP: Mary Ann Mangiacapre Exits Eastern Surfing Association
June 10, 2013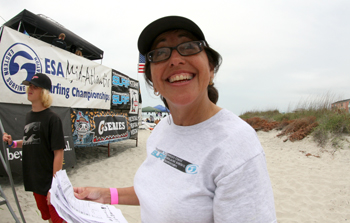 Mary Ann Mangiacapre Exits Eastern Surfing Association
Press Release from the ESA
Ocean City, MD – The Eastern Surfing Association (ESA) announced today that Mary Ann Mangiacapre has resigned from her role as Competition Director of the organization. The Competition Committee will assume her responsibilities on an interim basis while the organization contemplates the need for a replacement.
"It has been an honor to be a part of the ESA family for so many years," says Mangiacapre. "I am stepping down so that I can enjoy more time with my own family and allow for a more diverse role in supporting the growth and progression of East Coast surfing. I will continue to stay involved in my local surf community and look forward to helping sustain quality surfing events along the coast."
Mangiacapre's resignation comes after more than five years at the helm as Competition Director and more than 12 years of involvement with the organization. During her tenure she helped create and implement the four-man heat format, updated competition rules and assisted in providing a streamlined guide for all ESA districts to abide by. She also played an integral part in updating the judging criteria to correspond with the Association of Surfing Professionals (ASP) and International Surfing Association (ISA) guidelines, and introduced Stand-Up Paddleboard (SUP) as a competition division.
Mangiacapre continues, "I cherish the relationships I created with families and sponsors over the years. It has been an honor to see so many young surfers grow up to become talented athletes that have excelled with their careers in and out of the water."
"On behalf of the ESA family, I would like to thank MaryAnn for her years of dedication to the organization," said Michelle Sommers, Executive Director of the ESA. "I additionally thank her for taking care of the executive office, while we were in the the transition stages of finding a new Executive Director."
About the ESA
The ESA, which celebrated its 45th anniversary in 2012, is a 501(c)(3) non-profit amateur athletic organization dedicated to the sport of amateur surfing. The organization promotes amateur competition for surfers of all ages and abilities, and is dedicated to the establishment and preservation of free access to a clean shoreline and ocean environment.
---