Back to News
SURF: Oakley Announces Bruce Irons as the Wildcard for the Upcoming Oakley Pro Bali
June 10, 2013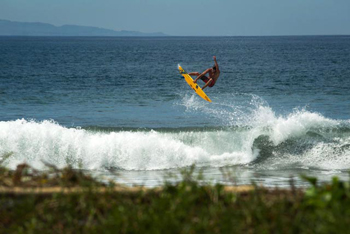 Bruce Irons to Compete in Indonesia for the First Time Since 2008
Press Release from Oakley
FOOTHILL RANCH, Calif., Tuesday, June 4, 2013 – The much anticipated question has been answered. Oakley, Inc. is thrilled to announce that Bruce Irons will return to the site of his first Association of Surfing Professionals (ASP) World Championship Tour (WCT) victory to compete in the inaugural Oakley Pro Bali as one of two event wildcards. The second wildcard will be awarded to the local trials winner, which will be announced on June 17, 2013 – the eve of the Oakley Pro Bali.
Recognized among surfers the world over for his fearless tuberiding abilities and progressive aerial maneuvers, Irons will be a force to be reckoned with on the powerful right at Keramas, which is known to produce a dizzying combination of deep blue barrels and open-face launch pads.
"Choosing a wildcard is never easy, especially with such a talented pool of surfers to choose from," said Ronny Nelson, Oakley Surf Sports Marketing Manager. "As the surfer who won the event the last time the WCT came to Bali, Bruce was a natural choice. Besides Bruce is 'Bruce' and if Keramas is six-foot plus and barreling, the best of the best will be nervous to draw him."
After taking a step back from the Dream Tour after the end of the 2008 season, Bruce turned his focus to chasing storms and competing in specialty contests, but remained a legend among his peers. His presence in Bali will be a welcomed reunion among the ASP's top 34.
ʺKeramas is such a sick wave and it suits my style of surfing," said Irons upon accepting a wildcard spot into the Oakley Pro Bali. "I'm stoked on the opportunity to surf in this event. The part I miss about being on tour is the camaraderie among all of the guys. So it will be great to hang with everyone in Bali and maybe even give them a run for their money."
Stop No. 5 of 10 of the 2013 ASP World Championship Tour, the Oakley Pro Bali runs from June 18 – 29, 2013, thanks in part, to the support of valued event partner Kawasaki Motors Corp., U.S.A. Watch the contest unfold live at www.oakleyprobali.com - the premiere source for Oakley Pro Bali content and information.
About Oakley, Inc.
Established in 1975 and headquartered in Southern California, Oakley is one of the leading sports brands in the world. The holder of more than 600 patents, Oakley is continually seeking problems, solving them with inventions and wrapping those inventions in art. This philosophy has made Oakley one of the most iconic and inimitable brands on the market, with innovations that world-class athletes around the globe depend on to compete at the highest level possible. Oakley is famed for its insuperable lens technologies such as High Definition Optics® (HDO®) which is incorporated into all Oakley sun and prescription eyewear, and goggles. Oakley has extended its leadership position as the world's leading sports eyewear brand into apparel, footwear and accessories collections. Laser focused on the consumer, Oakley has both men's and women's product lines that target Sports Performance, Active and Lifestyle consumers. Oakley is a subsidiary of Luxottica Group. Additional information is available at www.oakley.com.
---