Back to News
EVENT: 2013 Surfing Walk of Fame Inductees Announced
June 12, 2013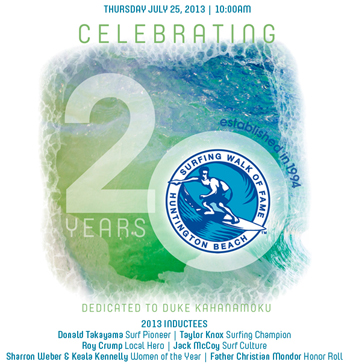 Knox, Takayama, Kennelly, McCoy, Crump, Weber, Mondor to be honored at 20th anniversary ceremony in Huntington Beach
Press Release from the Surfing Walk of Fame
Huntington Beach, CA – June 12, 2013 – The votes have been tallied and seven legendary wave riders will once again be forever enshrined in surfing's history books on July 25, 2013. Through a selection ballot, a host of respected surf industry veterans, former professionals and surf journalists narrowed down a field of hundreds of candidates to name the seven 2013 Surfing Walk of Fame's honorees in their respective categories – Taylor Knox (Surf Champion), Donald Takayama (Surf Pioneer), Jack McCoy (Surf Culture), Keala Kennelly, Sharron Weber (Women of the Year), Roy Crump (Local Hero) and Father Christian Mondor (Honor Roll).
The Surfing Walk of Fame is the only tribunal in surfing to award specific categories as well as require a 10-year margin since the commemorating achievement. This year's recipients will be cemented alongside past inductees, earning their immortal place in the pavement on the corner of PCH and Main Street, directly across from the famous pier in Surf City USA -- Huntington Beach, California.
"The Surfing Walk of Fame board of directors is very excited with this year's voter-selected honorees for the 2013 induction," said Don MacAllister, SWoF Chairman of the Board. "Celebrating our 20th year, we mail ballots throughout the world and gather votes to make our selection."
The late Donald Takayama will be honored with the Surf Pioneer award. Takayama, who could be considered the first-ever professional surfer, is perhaps more known for his technique in the shaping room. Hawaiian by birth, Takayama moved to California at the age of 12 to work under Dale Velzy. After a lengthy boardbuilding career, Takayama passed away in 2012 due to complications during heart surgery.
Carslbad CA's WCT veteran Taylor Knox received the Surfing Champion nod this year. Knox, a renowned power surfer, retired from full-time ASP competition in 2012 after one of the longest stints on tour in history – 19 years. His banner year was in 2001, when Knox finished fourth in the ASP ratings.
The Surf Culture honor goes to legendary filmmaker Jack McCoy. Known for his high-quality surf movies, McCoy's resume includes Tubular Swells (1976), Bunyip Dreaming (1990), The Green Iguana (1992), The Sons of Fun (1993), The Occumentary (1998), Sabotaj (1998), Blue Horizon (2004), Free as a Dog (2006) and his latest A Deeper Shade of Blue (2012), among others.
Keala Kennelly and Sharron Weber share this year's Woman of the Year award. Kennelly, a multiple XXL winner, has been on the global big-wave scene since retiring from full-time ASP competition in 2007. Weber was a former U.S. Champion and World Champion throughout the late 1960s and early 1970s.
Also in this year's ceremony, longtime surfer/journalist Roy Crump is recognized as the Local Hero. And Huntington Beach's surfing priest Father Christian Mondor earns the Honor Roll spot.
Here are the voting criterions used to decide each division:
SURF CHAMPION – Nominees must have held a world championship and/or world-class event titles specific to Huntington Beach.
SURF PIONEER – Nominees achieved surfing fame as a respected surfer or pioneer in the time before major championship; candidates must either be at least 50 years old or deceased.
SURF CULTURE – Inductees are nominated from the arts and/or industry, and must have helped create and define surfing culture.
WOMAN OF THE YEAR – Any female who meets the qualification in any of the four categories: surf champion, surfing culture, local hero, or surfing pioneer.
LOCAL HERO – Nominees must have resided in Huntington Beach for at least 10 years, graduated from Huntington Union School District, been a finalist in the surf champion category, contributed to Huntington surfing culture, been a surfing pioneer in the city or a past champion at the annual Huntington Beach City Championships.
HONOR ROLL – Recipients of the honor roll award deserve recognition du to their important contributions to the sport of surfing and its culture, but hey do not qualify under the specific guidelines of the other five walk of fame categories. The honor roll is the only category chose by the walk of fame board of directors.
This year's honorary induction ceremony will take place during the U.S. Open of Surfing outside of Jack's Surfboards in Huntington Beach on July 25th.
Past recipients of the Surfing Walk of Fame honors include Duke Kahanamoku, Kelly Slater, Lisa Anderson, Tom Curren, Bruce Brown, Eddie Aikau and more. For additional information go to www.surfingwalkoffame.com.
---