Back to News
B$Z: DAKINE Opens New Waterfront Headquarters in Hood River, Ore.
June 17, 2013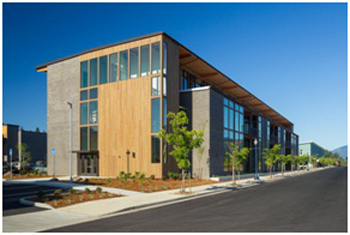 DAKINE Opens New Waterfront Headquarters in Hood River, Ore.
Press Release from Dakine
Hood River, Ore. (June 17, 2013) – After two decades in downtown Hood River, Ore., DAKINE is proud to announce the move of its headquarters to a new waterfront development at the city's port. Conveniently located between the base of Mt. Hood and the Columbia River, the new DAKINE home is adjacent to a world-class kiteboarding and windsurfing destination and minutes away from some of the most amazing bike trails in the Pacific Northwest. The building features 25,000 square feet of eco-friendly space ready to accommodate the brand's growth including a soon to be completed rooftop garden and solar panels.
"The new office will allow our employees to focus on what they love most: designing and testing the best action sports accessories and gear on the planet," said Chico Bukovansky, National Sales Manager for DAKINE. "The space will afford us an opportunity to continue to expand and further cultivate our product development department."
Over the past year, DAKINE has made significant investments in product development including a team expansion of new product designers. With 25,000 square feet of interior space, the new office is efficiently designed to accommodate not only the brand's recent growth, but its long-term growth projections as well.
The building features a northwest contemporary design with a light-industrial element. Eco-friendly features include a rooftop garden to deflect UV rays, facilitate storm water drainage and encourage natural biodiversity. The building's lighting system is designed to maximize natural daylight use. Water efficient features run throughout and the structure is scheduled to have solar panels installed creating carbon-free energy.
The new space also features an expanded showroom for dealer visits with local reclaimed wood slat wall. Native plant species populate the outside landscape and the surrounding neighborhood borders the river, an expansive park and open areas. Employees and brand visitors can partake in windsurfing, SUP, kiteboarding and more within a short walk of the main entrance.
ABOUT DAKINE
Backed by a pro team roster that includes some of the world's top action sports athletes, DAKINE has been an industry leader in action sports accessories since 1979. Founded in Hawaii and located at the base of Mt. Hood in Hood River, Oregon, DAKINE offers a complete range of innovative and quality products, including outerwear, sport-specific and lifestyle-driven backpacks, bags, travel gear and accessories. DAKINE products are available for purchase at specialty sports retailers worldwide. For more information, visit www.dakine.com.
---