Back to News
SURF: Celebrate International Surf Day!
June 20, 2013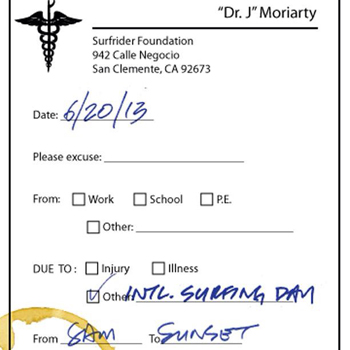 Celebrate International Surf Day!
From the Malakye.com Crew
Happy International Surf Day! It looks like there's swell out there! Need an excuse to get out of the office?
Surfrider CEO Jim Moriarty has written you a sick note for #ISD! Print your copy at Surfrider.org/jims-blog
June 20th is International Surfing Day, so what better way to celebrate than to actually go surfing? Surfrider has made it easy for you to take the day off, so grab your board and print out your personalized doctor's note and prescription right now. (Start practicing that fake cough!)
Hope you all have a great day, and have the opportunity to get in the water yourselves.
---