Back to News
SURF: Legendary Harry Richard "Skip" Frye to Enter the Surfers' Hall of Fame
July 1, 2013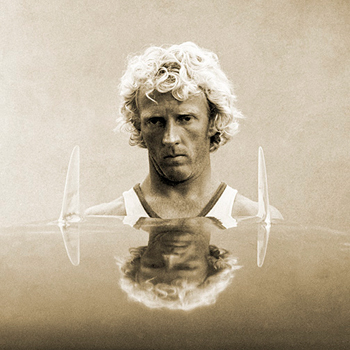 Legendary Harry Richard "Skip" Frye to Enter the Surfers' Hall of Fame
Press Release from Surfers' HoF
HUNTINGTON BEACH, Calif. – Harry Richard "Skip" Frye's profound impact on the surfing world, from stylish competitor and world-class shaper to environmental ambassador, has spanned nearly six decades. The Surfers' Hall of Fame takes great pride in announcing that Skip will join fellow surfers Shane Dorian and Rick "Rockin Fig" Fignetti as an inductee into the 2013 class of the Surfers' Hall of Fame on Friday, July 26 at 10 a.m. in front of Huntington Surf & Sport. Please visit http://hsssurf.com/shof for more information.
The Surfers' Hall of Fame induction ceremony pays tribute to those individuals who have made an indelible mark on the sport, industry and culture of surfing. Annually, tens of thousands of visitors travel to Huntington Beach's downtown area and literally walk in the footsteps of surfing superstars and legends from several eras including Laird Hamilton, Andy Irons, Jack O'Neill, Robert August, Bob Hurley, Sean Collins, Kelly Slater, Lisa Andersen, Pat O'Connell, Al Merrick, Shaun Tomson, Rob Machado and Rabbit Kekai, who are immortalized in cement.
"Skip Frye is one of the all-time great surfers and one of the all-time great surfboard shapers! Skip is true surfing royalty," said Aaron Pai, founder of the Surfers' Hall of Fame. "We are truly stoked to honor Skip for all he has done for our sport."
Skip Frye was born in 1941 and began surfing at age 16 after moving with his family to the north San Diego suburb of Pacific Beach. His birth name was Harry, but since his father was away in the military, he was assigned the task of being the "skipper" around the house and the name stuck. His first wave riding experience came at Pacific Beach in 1958, and was the beginning of a lifelong passion that continues to this day.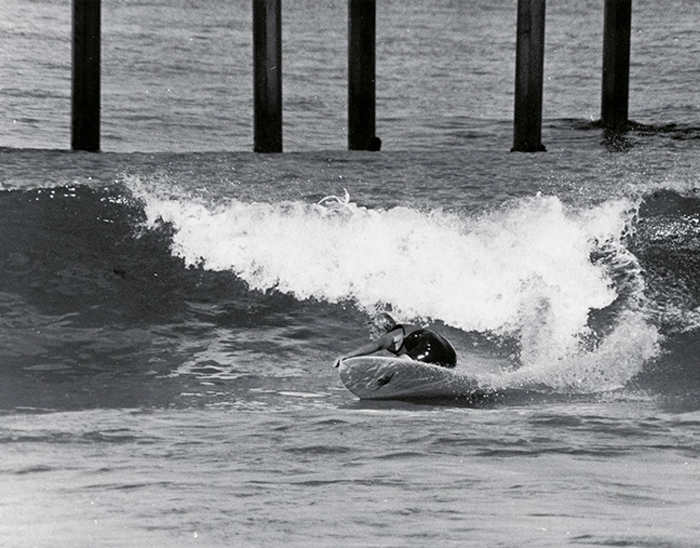 By the mid-60s the shy but focused Frye had become one of California's best competitors. Known for his gliding, fluid style which allowed him to capture several local and national titles, Skip competed in the first Duke Kahanamoku Surfing Championships at Sunset Beach and also represented the U.S. at the World Contests in 1966 and 1968, narrowly missing the final of each occasion. The venue for 1968 was Puerto Rico, which instantly became his favorite surf destination, thanks to its warm, idyllic surf and Latino flavor. A photo of him from the trip appeared on the cover of the Sports Illustrated swimsuit issue.
Skip's talents for shaping surfboards began to emerge in 1963 and within two years he was working for San Diego's Gordon & Smith's Surfboards; in 1966 G&S introduced the Skip Frye signature model. Frye was riding a 9'6" board in late 1967 when he traveled to Australia with the legendary Windansea Surf Club for an American versus Australia team contest (the U.S. team got waxed by Aussies riding lighter boards). After that trip, Skip became more interested in shorter more maneuverable boards and began experimenting with designs such as the V-bottom and Baby Gun.
He kept refining the designs and created a board he called the Egg, one of his best-known shapes. As longboards nearly vanished overnight, Frye went with the flow, working on egg shapes and later experimenting with the Fish (his keel-fin, heavy-glassed split-tails remain in high-demand throughout So Cal). Skip stayed with G&S until the mid-seventies and then struck out on his own to shape boards at the Green Room and at his own place called The Shack, behind Select Surf Shop in Pacific Beach.
In 1981 Skip returned to Gordon & Smith and also started competing again. He left G&S in 1986 to join the crew at Diamond Glassing, and began shaping under his own business name, Skip Frye Surfboards. It was here that he developed his iconic Diamond Frye Logo, a combination of wings and a diamond. In 1988 Skip and his wife Donna officially opened Skip Frye Surfboards, which was a small shaping room and front office that adjoined Windansea Surf Shop in Pacific Beach. Skip began shaping and working on new fin configurations for longer boards, as he was a fan of the smooth glide the increased planning surface allowed. Through this work, he developed a variety of shapes, including the Eagle and Fish Simmons.
In November 1990, Skip and Donna left Windansea, moved across the street and opened Harry's Surf Shop with longtime friend and fellow surfer/shaper Harry "Hank" Warner. Harry's was the namesake of not only Skip and Hank, but both their fathers and also Hank and Donna's grandfathers. Harry's was not your typical surf shop; it was a combination retail store, surf museum, art gallery, shaping shop and political gathering place. Photos of customers with their new boards lined the walls and art pieces and sculptures from local artists were prominently featured.
Skip's career has had many twists and turns, however, he was never more energized than during the longboard revival. "The biggest buzz I ever had in surfing was the early '90s when I went back to the big ones," he recalls. "I mean the 11-footers. The same thing happened to Duke Kahanamoku when Tom Blake reintroduced him to the 16-foot olos back in the '30s."
Skip's boards have slowly become collector's pieces often passed down through generations. Meanwhile, Skip continues his own tireless work for surfing's constituency by collecting and building boards, his keel-fin fish being particularly popular. "I feel it's my duty to pass along the heritage of our sport," he says with a passion. But there's still a long way to go, a lot of work to be done."
The nation's first imprint collection of legendary surfers, the Surfers' Hall of Fame, celebrated its first induction in 1997 inside of specialty retailer Huntington Surf & Sport where several slabs remain. Four years later with the blessing of the City Council and a stunning bronze statue of sport's spiritual leader Duke Kahanamoku serving as a backdrop, the ceremony moved outside to the corner of PCH and Main; less than 100 feet from the famed Huntington Beach Pier, site of the U.S. Open of Surfing.
The Surfers' Hall of Fame induction ceremony is open to the public, free-of-charge. Further information is available at http://hsssurf.com/shof/.

Press Contacts:
Mike Kingsbury, Jennifer Hernandez, MKM
Mike@teammkm.com; Jennifer@teammkm.com
(714)375-2188
---