Back to News
Fred van Schie, Social Media Consultant and Founder of FvS media Inc.
July 9, 2013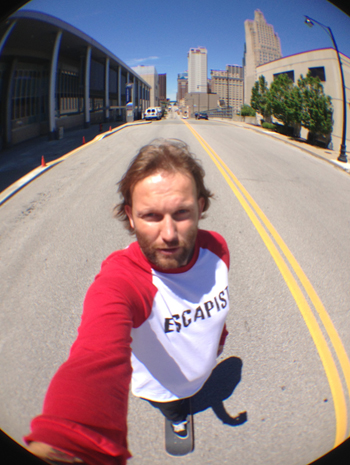 Fred van Schie, Social Media Consultant and Founder of FvS media Inc.
Fred van Schie has been living in Orange County for the last five years, having moved here from Holland to pursue his dream of living in the States. Before migrating to the west coast, Fred worked as a sales rep for Deluxe and Sole Technology while still in Europe and was able to land a job with Sole Tech stateside a few years after settling in.
But after 18 months serving as the marketing manager for Emerica and Altamont, unfortunately due to budget cuts, Fred was laid off. However, he saw a silver lining and decided it was time to try something different. Fred launched his own social media consultancy - FvS media Inc. in January 2012.
"My (self-made) title is social media consultant, but I'm more a coach than anything else," explained Fred via email. "I really focus on training my clients on being the best they can be at social media, and have them focus on interaction - being social on social media."
In March 2012, pro skater David Gonzalez became Fred's first official client and since then he's worked with companies like Flip Skateboards & OBEY and athletes like PLG & Jamie Thomas in maximizing their social media reach. And the guy knows his stuff, just check out his insightful and informative blog, featuring posts with titles such as "How to link Instagram to a Facebook Page" and "Twitter is a conversation not a dictation".
We spoke with Fred about why he struck out on his own 18 months ago when he started FvS media Inc., how he established professional relationships with pro skaters and industry-leading companies, and why he feels his move from the Netherlands five years ago to the sunny coast of California was a good career (and personal) move.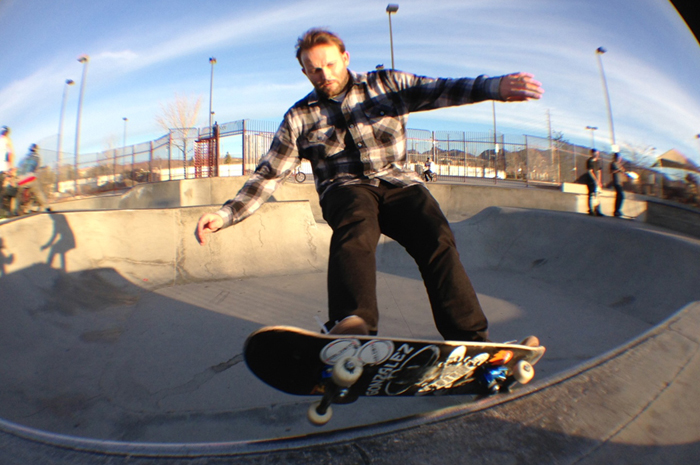 Fred van Schie is a man on the move, his biggest pet peeve: when people don't pick up his phone calls or answer his emails. He claims it's an American thing...it seems there is plenty we can learn from this flying Dutchman.
You came to Southern California from the Netherlands 5 years ago - what are the pros and cons of living in the O.C.?
I moved out here for the weather and skateboarding, so I obviously enjoy living here. A lot. The pros are being in the center of the skateboarding industry and a higher standard of living. Not necessary money-wise, but just more options to do things. Being able to relax at the pool or go to the beach is amazing. I love going to the desert on motorcycle/camping trips, going to NorCal, Las Vegas. The cons? Not too many, but maybe one thing that bugs me is the people that don't answer/reply to phone or email. My Dutch friends out here call it an American thing...Sup with that?
But I wouldn't want to live anywhere else. Every morning when I wake up I realize that I'm so lucky to be living here, having a job I love, and still being able to ride a skateboard with my friends.
On your website, you describe seeing a "huge opportunity to start my own agency and help brands, shops and athletes in the action sports industry with their social media" - can you walk through your decision to break off on your own and what your inspiration was for launching your social media consulting agency?
A few weeks before I was let go from Sole Tech in December 2011 Jim Thiebaud (of Deluxe Distribution) recommended me to read The Thank You Economy by Gary Vaynerchuk. This book really opened my eyes and confirmed a lot of theories I had about social media. At the same time my good friend Brent Koops (of the Kayo Corp) told me about Amy Jo Martin, who helps Shaq and The Rock with their social media. I still remember Brent telling me "What Amy is doing with the brands and athletes in the NBA and NFL, you should be doing in skateboarding." During the 18 months at Sole Tech I worked on the social media of Emerica, Altamont, and éS, and I also helped a lot of the teamriders get their social media accounts started and/or in order. I also saw how impactful it was (for the brands) to get the riders involved.
Not a lot of athletes and brands (in action sports) were really maximizing social media, so I figured I could help them by consulting with knowledge and experience. In the first few months of 2012 I talked to various brands and pros, but most of them weren't really into it (yet), or weren't seeing the opportunities I envisioned.
In early March Jim Thiebaud invited me up to the Deluxe office in San Francisco to give him feedback about how Deluxe was doing their social media, marketing, and print ads. What I thought would be a 1-on-1 conversation turned into more or less a presentation with pretty much the whole marketing team/crew, including Mic-E Reyes and Tommy Guerrero. Talk about a trip! Here's this Dutch kid telling all these industry heavy weights what they are doing right and wrong with social media. Ha! Thanks Jim.
Around the same time my friend Andrew Shusterman was the Flip team manager, and he told me talk to David Gonzalez. I didn't really know David and told Andrew I would prefer to work with Arto Saari or Geoff Rowley, but he assured me David would be a better opportunity. I trusted Andrew and he set up a meeting with David and himself. In late March 2012 David signed on as my first client. (Little did I know David would kick things into major gear and he became the Thrasher Skater of the Year in December 2012).
At the IASC meeting in May 2012 I spoke with Bod Boyle and Steve Douglas and in June I started consulting for Dwindle distribution. That same week I landed 5 other clients. All the work of talking to various people in the months before finally started to pay off. FvS media started to get legs and it's been walking ever since.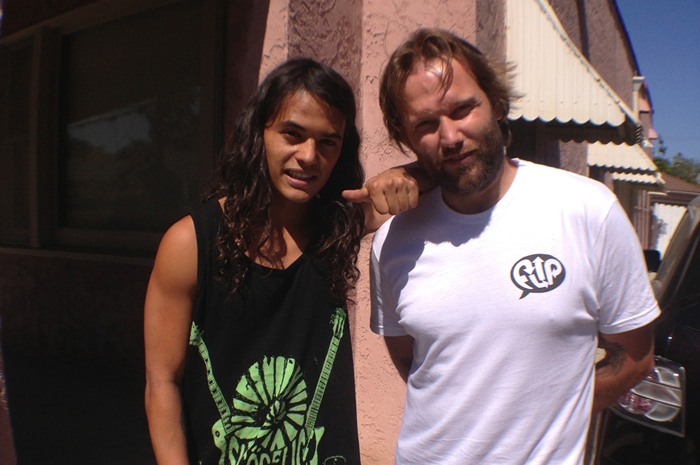 Fred and David Gonzalez, his first official client, and skater of the year 2012.
When does an individual, brand or shop turn to you for assistance? What is the "right time" if there is one?
It sounds cliché, but any time is a good time. I help people get started from scratch. I also help people sync up all the social media channels, so their URLs/usernames are all the same, and their past/present/future consumers can easily find and identify the official accounts. These days' people find you on social media before they come to your website, so having your channels in order is key. And having them look good is not a bad thing either!
Once that is all up and running I can built and host all kinds of Facebook tabs (applications) including ones for sweepstakes and giveaways. This is a perfect way to stoke out the current fans, gain new ones, and gather email addresses that can later be used for sales and marketing purposes.
I also give the people that run the social media tips and tricks on how, what, and when to post. And how to reach more people and gain new followers. Since I deal with social media daily I'm aware of any changes/updates, so I'll make sure my clients are aware of this and use it if it helps them.
And lately I've been getting more into social media content management, where I take over (part of the) posting and responding of certain social media platforms.
A lot of times when I talk to brands they tell me that they already have an in-house person for their social media, and that they don't need any help. But when I work with an in-house person the results are way better. They know all the details about the brand (team, stock, product releases, etc.) and I bring the expertise on how to focus on the interaction and increase the reach and followers. Social media changes so quick that no one knows it all. I learn new stuff every day. But 2 people know more then 1, so it never hurts to listen to what others have to say.
You offer a unique set of specific skills; how do you determine who needs what?
Each client is unique and different, so understanding what they need is key. After the first phone call or email, I usually set up a meeting at their office or house. As much as I love modern communication, you can't beat personal contact. I want to see how people work, and hear from them how they currently run things and what they need help with. I then walk them through the various things I can offer and show them examples. These meetings are priceless, as this lays the foundation for any future work. Even if I only do a one-time one-off project for someone, I prefer to put a face to my name. Via a phone call or email I just remain a number or an email address. And then I am identical to the next person that calls or emails them.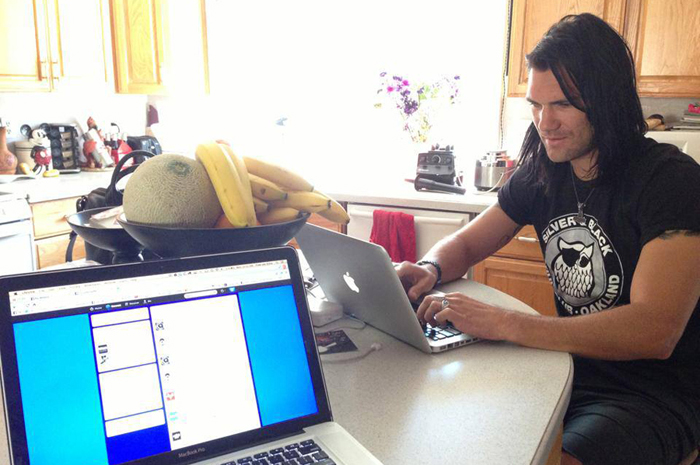 Corey Duffel, putting Fred's advice to good use.
You have an amazing roster of clients – how is it working with companies like NHS and DVS Shoes, athletes like Corey Duffel and Joey Brezinski, and retailers like CCS?
It's amazing, I have the best clients! I'm so thankful that I get to do what I love, and work with these people. At the end of the day I'm still the skateboard kid from Holland that is a fan of the brands and athletes I get to work with. To be able to work with them, and help them out, is truly a blessing. I never take what I do for granted, and I constantly remind myself how crazy it is that I get to do what I. Remember that Altamont ad with the Confucius quote? "Find a job you love and you'll never have to work a day in your life." Hard work, patience, and persistence pay off. I'm living proof. Thank you Justin Regan for the inspiration!
Does being based in Costa Mesa influence how you work?
I've spent too much time on the beach haha! Nah, not really. Costa Mesa is great. I like the local skatepark, South Coast Plaza has red curbs for days, the DC Shoes TF is close, my friends live here, back bay bicycle rides, motorcycle rides on PCH. What I really like about Costa Mesa is that is mellow. Don't think I want to live in a big city anymore (in Holland I've lived in Amsterdam and Rotterdam). Costa Mesa is also really central. Once or twice a week I hit the road and I visit clients. Some of my clients are in LA, some of them are in Orange County, and some are in North County/San Diego. Once every 2 months I drive up north and to visit NHS (Santa Cruz), Deluxe and Thrasher (SF), and Corey Duffel (Walnut Creek). I love those trips, and they're always inspirational and motivational.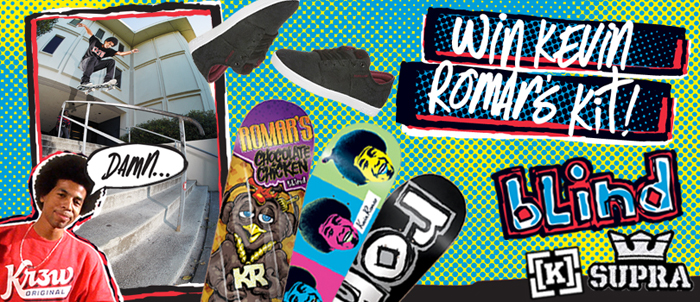 "These days' people find you on social media before they come to your website, so having your channels in order is key. And having them look good is not a bad thing either!"
How have you evolved as a social media consultant since starting off on your own over a year ago?
I've learned so much! When I was let go from Sole Tech I thought I knew social media pretty well. But when I really started looking into things and experimenting with it, I really got an understanding. I still read books, watch YouTube videos, go to seminars (online and offline), and talk to my clients, and hear what my friends say about social media. One of the key things I learned from Jim Thiebaud and from the Thank You Economy is to shut up and listen more. It's not about you. We tend to get so caught up in what we do. Focus on the conversation and interaction with your fans and followers. They are your past/current/future consumers. Why would you not want to talk with them? Just because you have done certain things for a while, or because they worked in the past, doesn't mean at all they will work today. I think people should be more critical about themselves. Social media and mobile have changed the game big time. Adapt or die.
What has been the most rewarding aspect of starting a consulting agency?
Being able to work with a lot of the brands and athletes that I grew up watching and that have inspired me for so long. It's a little tricky sometimes to put aside the fan part aside. When you meet with people like Jamie Thomas, Jeff Kendall, Steve Douglas, Tommy Guerrero, Tod Swank, Adrian Lopez, etc, it's hard to be all business. But I think I learned how to deal with that in a good way. FvS media has been in business for almost a year and I have a great list of current and past clients, so I must be doing something right.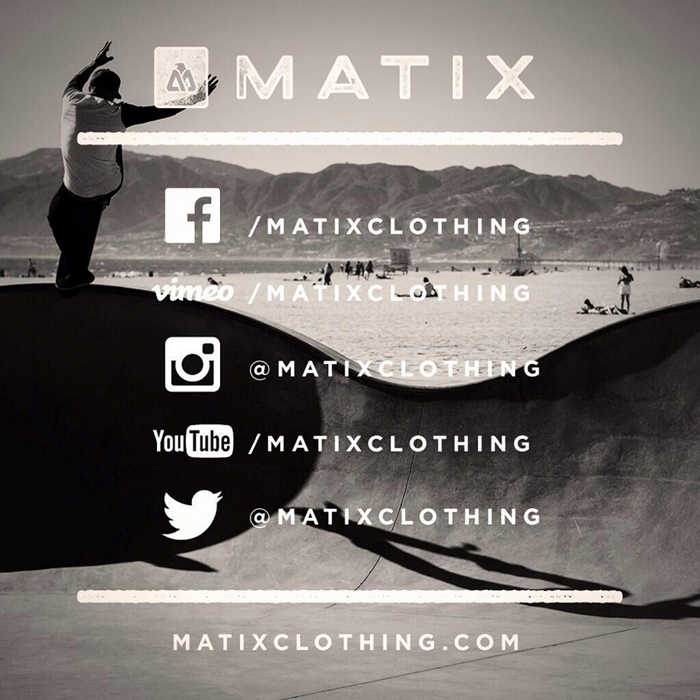 A big part of Fred's business is helping brands sync up there URLs and usernames - like he did with Matix Clothing. Go see for yourself, check out Matix on Facebook, Vimeo, Instagram, YouTube and Twitter.
Do you have any competition? Is there anyone else that does what you do?
In the beginning I was talking to Rick Barnhart a lot, who worked with Chris Cole and Tom Asta (along others) on their social media. He is based out of New Jersey and we've yet to meet in person, been he's been a big help. It's hard sometimes to make the path yourself, so it's always nice to have someone that is walking a similar route.
I know Heath Brinkley helps Paul Rodriquez and some others with social media. There are a few more people I'm sure. Would love to connect with them. Hit me up! One company or person can't do it all, so I'm all for unity. The action sports world is too small to not connect.
Is there anything exciting you have in the works that you're able to share?
I just got a new office and recently hired a full-timer, Jeff "Jazzy" Howard, who used to work at Sole Tech. My friend Brian Jones, who started MUSA apparel last year, recently got an office in Santa Ana, California and asked me to join forces with him and move in. We worked together at Sole Tech, so it's inspiring to see him do his own thing too now too. In the last few weeks I've been training the new full-timer, trying to get him up to speed with all the aspects of the company. It's a big step for me for sure, and all of a sudden I have to be a manager/boss. But in order to provide more and better service for my current clients, I really needed the help. Teamwork makes the dream work.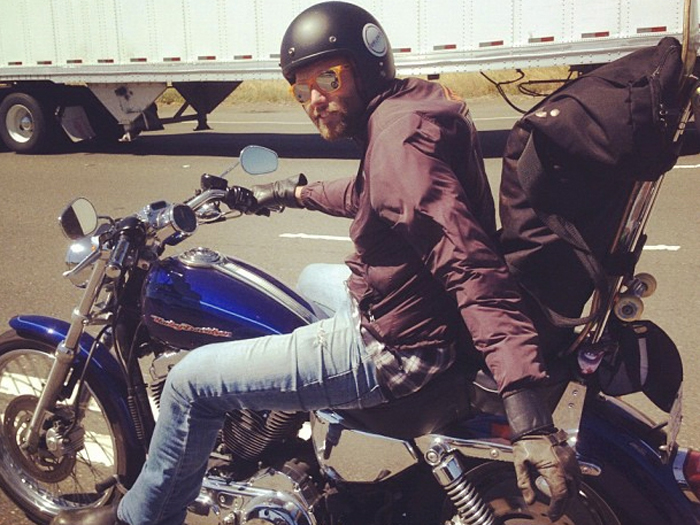 What challenges have you faced since starting your own agency in 2012?
Working from home. I love it in many ways but it's hard to get a set schedule going sometimes. And then there are the ones that don't think social media is the future. Who don't think interaction is key. You answer the phone, you respond to email (from customers), but now you don't reply to people on social media? Because you're "not into it"? Communication has changed. Adapt to it if you want stay in business.
But I'm not here to convince people of social media. It's not a religion. I know it can work for everyone, but if you don't believe in it don't bother. However, your consumers, and most likely your competitors, are already there, so that might convince you? And if you don't like it, hire someone that does. Be on the right side of history and adapt to your consumers. They are the ones that will keep you in business. Not caring, and not interacting, with your consumers will hurt your business in the long run. It's very ironic too that the people that question my business or my beliefs have an old school mentality, or therefore show me even more how the times are changing. Fast. And they might not be ready.
I also know some people might not appreciate my direct and straightforward approach at times. On my blog and in person. Maybe it's a Dutch thing? But then again, I'm only here to help. Before I moved here from Holland my one goal was to move to California and be a positive force in skateboarding. I don't consider myself to be anything special, but the least I can do is give back and add something valuable to the sport and industry that has given me a life.
Where do you see yourself this time next year?
Doing what I'm doing now. What more can I ask for?
Care to add anything we may have missed?

Read books, watch YouTube videos, listen to others, be nice, say thank you (in person and on social media). Action sports is way too rad to not motivate and stoke out the new comers. We were all new to this once and sometimes we forget that. Pass on the torch of awesome. If we can motivate the young ones and show them they can be a part of this, they might see a future for themselves in our industry. And we will always need young blood to keep on track.
For those that want to read some books or want to google some good YouTube videos, look for Gary Vaynerchuk, Scott Stratten (Unmarketing), Amy Jo Martin (Digital Royalty University), and Brian Solis (WTF).
Big thank you to my wife Kelly for her tremendous support. My thank you list would be another page if I type them all out. But a huge thank you to my past and present clients; I would not have been where I am today without you, and for that, I'm forever thankful. And of course all my personal and industry friends, you guys mean the world to me. You know who you are.

"Live by your dreams and your ass will follow. I'm living proof." Now let's go skate!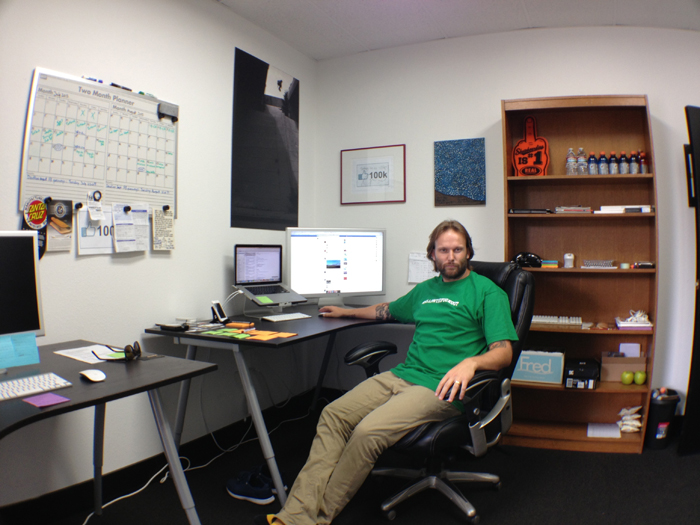 Follow Fred on Facebook, Twitter, and Instagram and check out his blog (www.fredvanschie.com) for free tips for Facebook, Twitter, and Instagram. Fred tries to do weekly updates but that doesn't always happen. And feel free to email Fred at fred@fredvanschie.com if you have any social media questions or issues.
---