Back to News
EVENT: ASI Co-ed softball 1-day Tourney coming this Fall (9/22)
August 5, 2013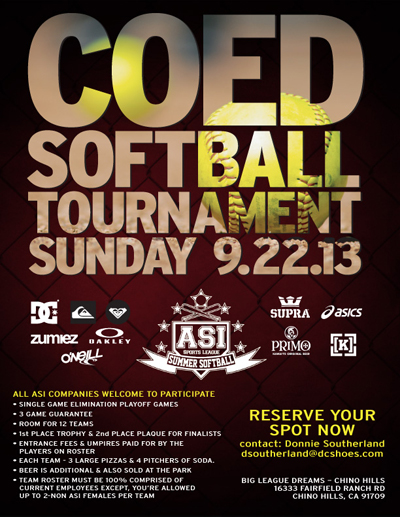 ASI Co-ed softball 1-day Tourney coming this Fall, Sunday September 22nd, 2013
Flyer from ASI Softball
BIG LEAGUE DREAMS in Chino Hills has been confirmed!
Start forming your ASI only Teams! The event will be limited to the first 16 teams.
Location will be at the BIG LEAGUE DREAMS facility in Chino Hills; date & entry cost per team to be announced ASAP.
Contact Donnie Southerland at dsoutherland@dcshoes.com if have any questions.
3 game guarantee
Single game elimination playoff games
Entrance Fees paid for the rostered players
Umpires
Softballs
Two separate Divisions (OPEN & "B" Division)
1st place trophy & 2nd place plaque for OPEN Division Finalists
1st place plaque & 2nd place medals for "B' Division Finalists
Each team = 3 large pizzas & 4 pitchers of soda (can sub for beer additional $).
Food & Alcohol available all tournament long at the park.
No non-ASI guys may play on any team.
May have up to 2 non-ASI girls per team.
---