Back to News
SURF: Need Some Cash? Fly Out East and Enter The Arnette Cash Pot Surf Series at Ponce Inlet and OBX
August 9, 2013
Arnette's Cash Pot Surf Series Returns To Ponce Inlet And The Outer Banks For The Final Two Stops of the 2013 Event Series
Press Release from Arnette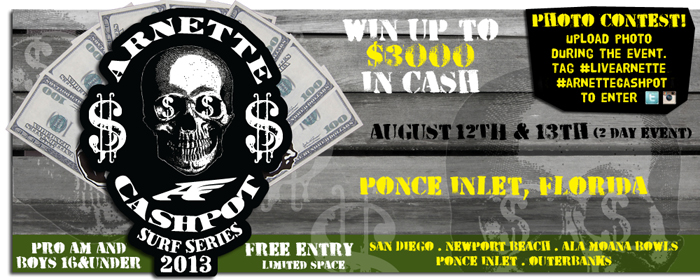 Encinitas, CA – August 9, 2013: The final two stops of Arnette's regional Cash Pot Surf Series will once again be held on the east coast at Florida's Ponce Inlet and North Carolina's Outer Banks. Like all Cash Pot Surf Series events, these two stops will be free-to-enter and prize money will be distributed to the winners of every heat, not just the final podium finishers. In addition, Twitter and Instagram users can try to win prizes by taking photos at the events as a part of the #LIVEARNETTE social media contest.
The Ponce Inlet Cash Pot has been expanded into a two-day format, taking place on August 12th and 13th. Heat winners from the first day will be asked to return on the 13th to compete in the final heats.
The OBX event will be a one day event, taking place either August 15 or 16 in an attempt to ensure the best waves possible. Interested competitors should watch Arnette's social media profiles for up-to-the-minute status reports on when the event will take place.
"I'm pumped that we're bringing the Cash Pot Surf Series back to the east coast again for the final stops. The new event formats are going to make these stops better than ever and the locals there are always having fun, no matter what the conditions," commented Brent Bearden, Arnette Team & Events Manager.
All Cash Pot Surf Series events are beach entry only, with limited space available. Interested participants should plan on being at their local stop by at least 6:30 am the day of event.
Both the Ponce Inlet and OBX events will feature two divisions at each stop – Pro-Am (all ages) and 16 & Under – with $3,000 in cash up-for-grabs at each event. Judges will award prizes to the winners of each heat, as well as specialty prizes throughout the day, at their discretion.
#LIVEARNETTE Social Media Photo Contest
As a bonus for spectators, Arnette will be giving away prize packs, including sunglasses, to people who post and tag photos from each event on Instagram and Twitter. To enter, photos must be tagged #LIVEARNETTE, #CashPot and @Arnette. One winner will be chosen from each event, based on photo originality and caption creativity. More information about the photo contest can be found on Arnette's Facebook page closer to the start of the events.
The final 2013 Arnette Cash Post Surf Series dates and locations include:
* 8/12-13 – Ponce Inlet, FL (two-day competition)
* 8/15 or 8/16 – Outer Banks, NC (two-day waiting period)
Previous 2013 stops for the Arnette Cash Pot Surf Series included Seaside Reef (San Diego), Blackies (Newport Beach, CA) and Ala Moana Bowls (Hawaii).
At each contest, ASP judging criteria and interference rules will be in full effect, with prize money going to the winners of each hear.
More info and updates on the Cash Pot Surf Series, including downloadable entry forms, will be posted online before each event at www.arnette.com,
www.facebook.com/arnette and http://www.twitter.com/arnette.
---