Back to News
SUPPORT: Industry Retailers and Brands to Support Stokes Me
August 20, 2013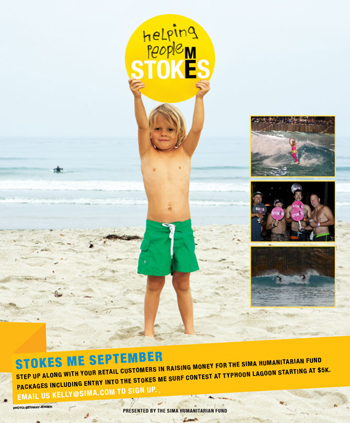 Multiple retailers and brands commit to raising funds for the SIMA Humanitarian Fund
Press Release from SIMA
Aliso Viejo, Calif.(August 20, 2013) – The SIMA Humanitarian Fund has asked specific surf industry retailers and brands to participate in the Stokes Me campaign this year and many have accepted the challenge. Stokes Me will run through the month of September and all proceeds from this year's efforts will benefit11surf-related humanitarian organizations that focus on improving the quality of life, health and/or welfare of people. With new fundraising tactics, the SIMA Humanitarian Fund is now calling on industry brands to join the 18 key retailers in support of Stokes Me.
This year, Stokes Me introduces a new add-a-buck initiative to the fundraising efforts. During the month of September, select retailers will ask consumers to add a dollar to each purchase to support the selected humanitarian organizations. The SIMA Humanitarian Fund Board of Directors sought out a limited number of key retailers for this partnership to ensure fundraising success. The following retailers have committed to partner with Stokes Me:
• BC Surf & Sport
• Brave New World
• Hansen's
• Hi-Tech
• Huntington Surf & Sport
• Jack's Surfboards
• Maui Nix
• Noll Surfboards
• Rip Curl Retail
• Rusty Del Mar Surf Shop
• South Coast Surf Shop
• Spyder Surf
• Sun Diego
• Surfside Sports
• Surf Ride
• Swell.com
• ThaliaSurf Shop
To match the efforts of retailers and consumers, surf industry brands can come along side the retail donations by pledging to be a "Super Stoked" ($7,500), "Stoked" ($5,000), or "A 'La Carte" ($1,000 minimum) donor. Hurley, Rip Curl, Sanuk and Vans have all pledged to be Stoked donors and RVCA has pledged an A 'La Carte amount.
Spots are still available for retailers and brands to support Stokes Me. For more information visit www.stokesme.org or contact SIMA Event Manager, Kelly Keenan, at Kelly@sima.com or 949.366.1164 ext. 3.
About SIMA
The Surf Industry Manufacturers Association (SIMA) is the official working trade association of more than 300 surf industry suppliers. Founded in 1989, SIMA is a non-profit organization that serves to promote awareness of the surf industry and participation in the sport of surfing through public relations efforts and a variety of services, educational programs and research. In addition, SIMA actively supports oceanic environmental efforts through its 501(c)(3) charitable environmental foundation, the SIMA Environmental Fund. In the past 23 years, SIMA's Environmental Fund has raised more than $6.2 million for environmental groups seeking to protect the world's oceans, beaches and waves. The SIMA Humanitarian Fund, also a 501(c)(3) charitable foundation, was established in 2006 to award grants to various surf or boardsport related social and humanitarian non-profit organizations whose efforts are focused on improving the quality of life, health and/or welfare of people.
---