Back to News
B$Z: Art of Board Partners with Element Skateboards
August 21, 2013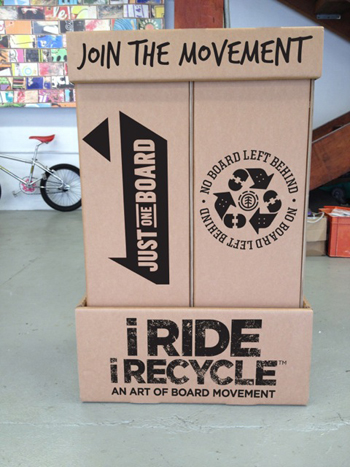 Art of Board Partners with Element Skateboards for Their Skateboard Recycling Movement,"I Ride I Recycle"
Press Release from Art of Board
Program provides recycling bins for used skateboards, reducing waste
Foothill Ranch, CA (August 21, 2013) – Art of Board, a company known for its hard surface tiles made from recycled skateboard decks, is excited to announce a partnership with Element, one of the leading brands in sustainability in action sports. Element has partnered with Art of Board to provide 100 recycling bins for the I Ride I Recycle program that allows riders to turn in their used or broken skateboards for recycling, rather than simply throwing them away.
I Ride I Recycle embraces recycling, environmentally responsible manufacturing, reusing wood waste and broken decks, supporting charities and local skate shops.
"We're thrilled to partner with Element to provide 100 new skate shops with the opportunity to provide skateboard recycling and we hope this prompts more skate companies to step up and get involved," said Bruce Boul, VP and Cofounder of Art of Board. "I Ride I Recycle not only fuels our brand, but it also supports local shops, empowers the skateboard community and illustrates our dedication to being environmentally-friendly."
So far, the program has recycled over 10,000 used or broken skateboard decks, keeping thousands of pounds of waste out of landfills.
The Element and Art of Board collaboration also includes incorporating Element's newest team rider, Evan Smith, into the I Ride I Recycle campaign as well as having I Ride I Recycle be a part of Element's Make it Count events throughout the country.
"Element is proud to expand its 'NO BOARD LEFT BEHIND' program by teaming up with I Ride I Recycle and Just One Board. By placing recycle bins in over a hundred retail locations nationwide, we're giving broken, dilapidated and reusable boards a second life," said Marc Falkenstien, Director of Marketing at Element. "It's a great stride in our ongoing commitment to social and environmental awareness."
For more information, or to see a list of shops where you can recycle your skateboard, please visit artofboard.com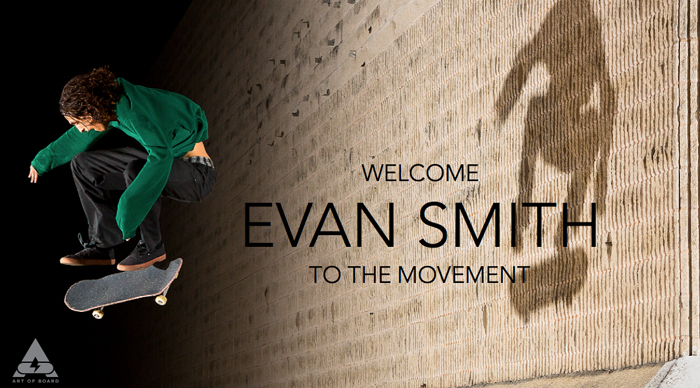 About Art of Board
Art of Board is a lifestyle and design brand that embodies the creative spirit, freedom and individuality of skateboarding. Art of Board-brand hard and soft goods pay homage to a used skateboard deck's scratches, gouges and worn graphics – capturing the true soul of skateboarding. Creators of the first-ever skateboard recycling movement, I Ride I Recycle allows skate shops, parks, board manufacturers and individual riders to be part of the brand's designs by recycling their skateboards instead of tossing them in the trash. The brand's goal is to keep wood waste out of landfills, support skate shops and parks, and empower youth. By purchasing Art of Board products, customers become part of the movement and help the brand to support various action sports charities. For more information, visit artofboard.com.
About Element
In 1992 the Element seed was planted. Our goal was simple, to be the best we could be, in the most honest and ethical way possible. Today, we continue to create the art, direction, and message on a constant path to bring progress to skateboarding. We are more than a business; we are a family, all on the same journey for the growth with-in ourselves, Element, and all that surrounds us.
---