Back to News
VOTE: olloclip Founder Patrick O'Neill Named Entrepreneur of 2013 Finalist by Entrepreneur Magazine
August 21, 2013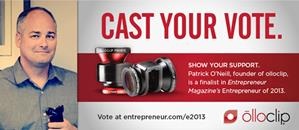 Public voting through September 17 at bit.ly/olloclipVote
Press Release from olloclip
IRVINE, Calif. – Patrick O'Neill, inventor, founder and CEO of olloclip®, the award-winning maker of mobile photography tools, has been named finalist for Entrepreneur® magazine's Entrepreneur of 2013 award—the most prestigious award bestowed upon entrepreneurs today. One of five finalists in the "Established" category, O'Neill is now eligible for the 2013 Entrepreneur award, which is strongly influenced by public voting, available here at bit.ly/olloclipVote through Tuesday, Sep. 17, 2013.
O'Neill was chosen as a finalist for good reason. With equal passion for technology and photography and a knack for getting people excited and involved, he launched olloclip backed by a personal line of equity on his house and funds from the Kickstarter.com crowdfunding platform on June 6, 2011. Fast forward two years: The olloclip product line is now sold in more than 90 countries and is available through top retailers such as Apple, Best Buy and Target. Additionally, the olloclip mobile photography tools are being used to support charities such as Grind for Life, an organization that helps people with cancer (www.grindforlife.org) and Stand Up For Skate Parks with Tony Hawk (http://standupforskateparks.org/), a charity that builds skate parks for underprivileged neighborhoods.
olloclip creates innovative tools for the mobile photographer based on a simple, light and fun-to-use design philosophy. Its flagship product, the olloclip 3-IN-ONE lens system, features three lenses (fisheye, wide-angle and macro) in one small, convenient package that connects to the iPhone in seconds. A line of award-winning products has since followed including the new olloclip telephoto lens and circular polarizing lens (CPL), Quick-Flip case and Photo App for the iPhone and iPod touch.
"We're proud to have helped create a category of easy-to-use mobile photography tools that allows photographers to create a major impact on social media sites like Instagram, Twitter and Facebook," said O'Neill. "We're equally proud of our strong commitment to helping students develop a love of photography by donating olloclips to local schools' photography departments and supporting charities that are important to our passionate fans who use mobile photography as a way to spread the word and boost support."
olloclip has garnered many awards including WIRED's Editor's Pick for "iPhone Lens," Mashable Editor's Choice, International CES Innovations 2013 Design and Engineering, Parent Tested Parent Approved (PTPA), Computer America and CE Week Best of Show. Considered to be "Go to Gear" by Kevin Systrom, CEO of Instagram, olloclip mobile photography tools have attracted a legion of passionate users, including professional athletes, celebrities and industry luminaries like Apple co-founder Steve Wozniak.
To see O'Neill's full business profile and video—and to vote—visit entrepreneur.com/e2013 or tag Instagram videos with bit.ly/olloclipVote and #olloclip.
About olloclip
The olloclip® brand is synonymous with creativity in your pocket — olloclip products give amateur and professional photographers alike the ability to use the iPhone to capture and share what was previously impossible — easily, spontaneously and artistically. With olloclip, one's mobile phone becomes a window to the world, and mobile photography/videography enters a whole new realm of possibility. For more information about olloclip, visit olloclip.com.
Connect with olloclip
• Instagram - http://instagram.com/olloclip - @olloclip
• Flickr - http://www.flickr.com/groups/olloclip/
• Facebook - www.facebook.com/olloclip
• Twitter - http://twitter.com/olloclip
• YouTube - http://www.youtube.com/user/olloclip
olloclip® is a registered trademark. © 2012 olloclip. All rights reserved. Featured photography and the content within are the property of respective owners. olloclip Registered Community Design Numbers 001312359-0001, 001312359-0002, 001312359-0003, 001312359-0004. U.S. Patent No. 8,279,544. U.S. and foreign patents pending. iPhone 5/4/4S and iPod are trademarks of Apple Inc.
DISCLAIMER: The information provided in this press release is deemed to be true at the time of release.
---