Back to News
B$Z: Bamboo Skateboards Debuts Eco-Friendly T-Shirt Line at Stingaree Rooftop Fashion Show
August 26, 2013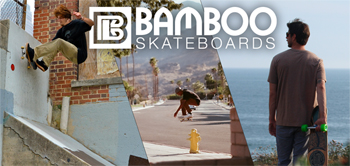 Environmentally conscious skateboard company promotes Indiegogo campaign and expands product line with clothing made of recycled plastic bottles and X-ray film
Press Release from Bamboo Skateboards
SAN DIEGO — San Diego-based Bamboo Skateboards, a sustainable and philanthropic skateboard company, is planning to unveil an environmentally friendly t-shirt line at their final Indiegogo event at Stingaree on August 30, 2013 (www.bambooskateboards.com). This innovative company will be celebrating the completion of their 30 day crowdfunding Indiegogo campaign to raise awareness for maple deforestation, evolve the skateboarding industry and expand their eco-friendly product line.
Bamboo Skateboards consists of a team of environmentally mindful entrepreneurs and skateboard enthusiasts who manufacture high-quality decks and longboards made of sustainable bamboo from managed forests. In addition to their groundbreaking and sturdy skateboards, they are producing a new line of ecological t-shirts made from discarded plastic bottles and X-ray films combined with recycled cotton to create a perfectly smooth, super durable and extremely comfortable fabric without toxic chemicals or dyes.
"Our goal is to make an apparel line that not only looks cool, but is also made from a sustainable material that parallels the company's eco-friendly stance," said Wyatt Gregson, CEO of Bamboo Skateboards.
What: Bamboo Skateboards Rooftop Fashion Show at Stingaree
Where: Stingaree–454 6th Avenue San Diego, CA 92101
When: Friday, August 30, 9:00pm-2:00am
Cost: Suggested $10 Indiegogo donation
The final event for Bamboo Skateboards' Indiegogo campaign at Stingaree will include a rooftop fashion show to debut the new line of sustainable t-shirts along with products from SOLO Eyewear and Deuce Brand. The event will offer an Instagram contest leading up to the event with prizes including bottle service provided by Stingaree and products from Bamboo Skateboards, SOLO Eyewear, Deuce Brand and Sanuk. Bamboo Skateboards will be accepting donations from attendees to support its Indiegogo campaign, running from August 1 through August 30, 2013. For more information on their crowdfunding campaign, please visit http://www.indiegogo.com/projects/bamboo-skateboards.
About Bamboo Skateboards
Bamboo Skateboards is an ecologically-based skateboard brand and manufacturer of high quality skateboards made from sustainable bamboo from managed forests. This company is comprised of social entrepreneurs who believe that giving back to the community is as equally important as profits. Bamboo Skateboards services core shops, brands and individuals around the globe while providing a solidified partnership and unique experience with each. This environmentally friendly company is completely immersed in action sports and skateboarding and now passionately hopes to inspire others to take actionable steps towards preserving our natural environment.
For more information on Bamboo Skateboards, visit www.bambooskateboards.com. Become a fan at www.facebook.com/SkateBamboo, follow on Twitter @SkateBamboo and on Instagram @BambooSkateboards.
---