Back to News
Frosch Media Q&A with Founder and Director Dain Hedgpeth
September 4, 2013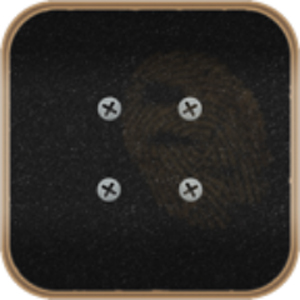 Frosch Media Q&A with Founder and Director Dain Hedgpeth
Since 2011, Frosch Media based in Sydney, Australia has specialized in developing and marketing actions sports games and content. To date, most in the world of action sports would know the interactive media studio for producing Rip Curl's "Live the Search" mobile surfing game.
The company was founded by Dain Hedgpeth, who we met earlier this year at the 2013 IASC Skateboarding Summit in Anaheim, Calif. Dain was excited to show a beta version of a new game the company has been developing, called Touch Skate. Touch Skate is a skateboarding game for iOS and Android that Frosch Media plans to publicly release by the end of the year.
"Touch Skate is a completely new take on skating games," explained Dain Hedgpeth via email. "We understand the way picking up a skateboard for the first time changes the way you experience your environment and the creative freedom of expression it gives you. Touch Skate aims to capture that essence."
We caught up with Dain, Founder & Director of Frosch Media, about preparing to launch its latest product in Touch Skate, how the game will actually look & feel, and what the future holds for the company.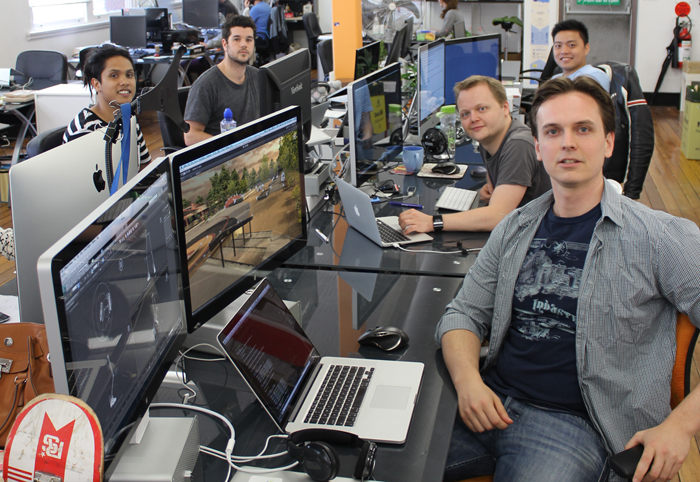 Dain Hedgpeth front and center with the Frosch Media team at headquarters in Sydney, Australia.

What is Frosch Media and who is involved with the company besides yourself?
Frosch Media is a mobile game studio based in Sydney Australia. We develop games for mobile phones with action-sports brands including recent projects with Rip Curl and Renault Sport which reached #1 in their categories in more than twenty countries and won numerous awards for game design and marketing. We also create entertainment and novelty apps which have reached top 10 highest downloaded and highest grossing in the US and top 100 most downloaded in the world.
The team comes from a range of backgrounds and have extensive experience in blockbuster AAA and mobile development and marketing, having worked on some of the most successful titles in video game history. A bunch of us have also been skaters for many years and our video editor actually names all his machines after members of the original Bones Brigade (he currently edits on 'Lance').
Among a number of projects the Frosch Media team is currently working on is Touch Skate, a skateboarding game for iOS and Android. Can you update us on the status of Touch Skate? When will the app be publicly available?
Touch Skate is currently in beta testing and we're aiming for a holiday 2013 release.
And what about the game experience itself – what levels/spots have developed and what can future users expect from Touch Skate
Currently the game has some of the most iconic spots from skating, including Love Park, El Toro, Carlsbad, Stoner Plaza, MACBA, London South Banks, Hollywood High, Wallenberg and a few more levels which are under wraps. It's amazing to be able to pay tribute to and in some cases resurrect these famous spots.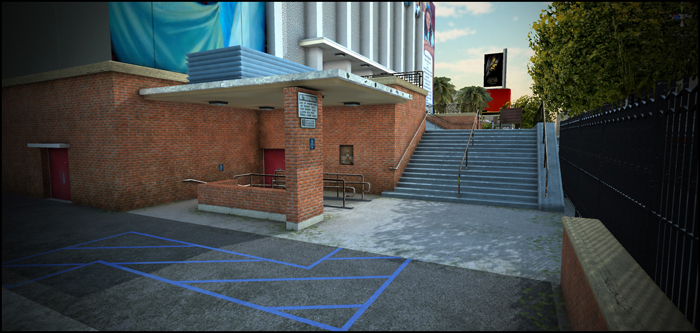 A screenshot of Touch Skate's take on Hollywood High.
Do you see any competition? Are there similar games currently available? If so, what's unique about Touch Skate?
From what we've seen, there's nothing available for mobile that's really true to skateboarding and of a really high caliber. Skating games on consoles have been among the biggest successes on their respective platforms but no one has designed a really great skating game for mobile yet. There's so much more that can be done with a touch screen so we think it's a great opportunity to be first to market with a game completely designed for the mobile platform.
What challenges have you faced in developing Touch Skate?
The real challenge has been boiling down and capturing the underlying elements of skating, figuring out what people really love about the sport and designing the game around that. This is possible because we're lucky enough to have a team with the right experience and with a real connection to the sport and to the culture. It's a rare mix but you really need that to build a title that represents a sport and culture like this.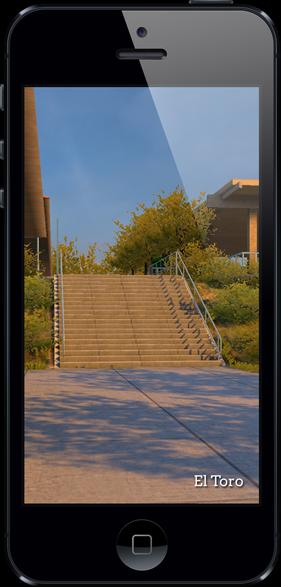 Are there any dream spots that you'd personally like to see in future versions of Touch Skate?
We've started with some of the best and most meaningful spots for the first version of the game. We surveyed several hundred skaters from around the world and have some great suggestions for possible future updates including Barca spots such as Paral-lel and Sants, classics such as the Brooklyn Banks and various parks and plazas. Of course, we're always open to hear more suggestions!
You are based in Australia but work with heaps of action sports brands based in the States, what are the pros and cons of being based in Oz?
Australia has great creative and technical talent and the government and business environment is very supportive. Australia also has the highest density of iOS devices anywhere in the world and high disposable income, so it's a great test market for our products.
We've taken two trips to the US this year to get high-definition reference photos of skate spots. That's a long way to go to get content but we want the levels in the game to be completely authentic. Because of our commitment to the authenticity and making as real as possible, we're actually setting up an office in San Francisco in November this year. I think then we'll have the best of both worlds and have team members closer to the skate scene and brands we deal with.
How has the company's past experience working with brands in the lifestyle-driven industries helped influence how you operate today?
We've learned a lot about the needs of the brands we work with. Brands serve audiences who are increasingly connected but who are seeking more authentic experiences. The challenge for brands is to reach these increasingly larger audiences while maintaining their core image and values.
We've been able to focus on products that really align with those goals. People are much more responsive to a brand message when it's delivered in a congruent way and action-sports translate so naturally into video games that players actually love engaging with the content. Other forms of media provide brand exposure but what we do conveys a brand experience. Engagement and retention is also so much higher in games than any other form of content and mobile is so big now globally that game products are really a no-brainer as part of a brands marketing strategy.
What has been the biggest reward in starting and maintaining Frosch Media as a leader in mobile app development?
Coming in to the office every day and being completely stoked about what you do is very rewarding. We're really lucky to be able to bring our passions into what we do and it's a privilege to create fun experiences to give back to the community.
What advice could you give someone who is interested in starting a career in action sports as an engineer or technical product developer? It's a great career and you'll be able to build things for others who share your passion for action sports. Companies need more tech savvy engineers and developers who really get the sports and the lifestyle and who are dedicated to bringing what they love about the sports to the products they make.
I'd advise learning everything you can about how technology and media can deliver these experiences and really try to understand the medium. In the case of games this involves learning about things such as 3D graphics, physics, lighting and color theory, behavioral psychology and pedagogy, interaction and user experience design, social media, and online and mobile marketing. You need to be on top of all these things and more to create leading products in the space.
Any last words?
We think skating has so much more potential as a sport and if our game could help more people around the world understand and get into skating that would be an amazing result. Given the huge success of previous console titles and the fact that there are now more mobile gamers than on Xbox and PS3 combined and the broad mobile gamer demographic, I think we're in a good position to do that. And really, soccer is the highest participant sport in the world. We all know skating should be higher than soccer.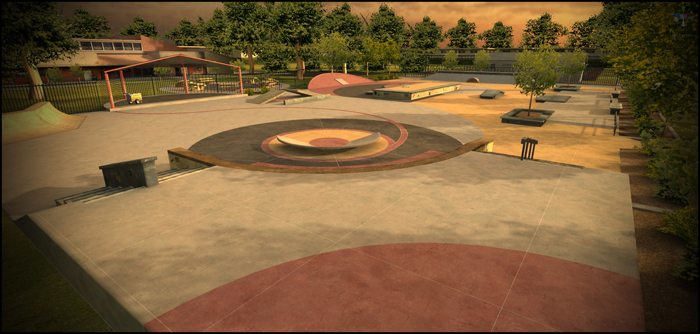 Check out more exclusive screen shots, like this one of the iconic Stoner Plaza, and be one of the first to know when Touch Skate is released by visiting touchskate.com, Facebook or Twitter. You can also find Frosch Media on Facebook.
---