Back to News
SUPPORT: Noll Surfboards Live Auction Raises $4,600 for Stokes Me
September 20, 2013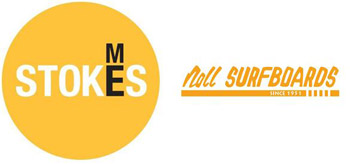 Noll Surfboards Live Auction Raises $4,600 for Stokes Me
Press Release from SIMA
SAN CLEMENTE, Calif. (September 20, 2013) – Thursday night, Noll Surfboards hosted an artist reception to showcase Trevor Mezak, ending in a live auction that raised $4,600 for the SIMA Humanitarian Fund's campaign, Stokes Me. The piece auctioned was a collaboration surfboard shaped by Jed Noll and painted onsite by Mezak.
The auctioned board was a refined version of a transition egg from the early 70s. The idea behind it was to create a board that would compliment the artist's well-known sea turtles that he would be painting directly onto the board. The board also features a polyurethane core with a polyester finish glassed on fin. The deck has a reverse lay up of an orange tint with a blue tint inlay in the bottom. This board was a one-of-kind collaboration making it the perfect auction item.
The board itself went for $1,700, however with a little push from emcee and auctioneer, Scott Bass, the event attendees felt that more needed to be raised for the 11 humanitarian organizations that Stokes Me supports. When there was a lull in bidding, a shout from the crowd was heard calling that they would add $300 to make the total $2,000. From there, the spirit of charity caught on and the additional donations escalated from the crowd until a grand total of $4,600 was reached.
Surf legend, Robert "Wingnut" Weaver, commented on the live auction saying, "It was amazing as the bidding topped out and Scott had a goal in mind for Stokes Me. How the crowd responded – $300 here, $100 there, $500 over there... It was crazy. Shows that when the right people come together great things can happen! Gave me chicken skin to be there!"
Surf industry brands, retailers and consumers are all joining together this year to raise funds for Stokes Me, as demonstrated by the spontaneous charity at the Noll Surfboards event. The funds raised from Thursday's event and the $35,000 raised at the Stokes Me Surf Contest will be added to the grand total raised from participating retailers asking their customers to add a dollar to their purchases throughout September. In addition, some brands are taking matters into their own hands by hosting events to raise additional funds. Rip Curl, for example, will be hosting a team signing in San Clemente on Saturday with a mega-raffle benefitting Stokes Me. Donations can also be made directly online at www.stokesme.org.
About SIMA
The Surf Industry Manufacturers Association (SIMA) is the official working trade association of more than 300 surf industry suppliers. Founded in 1989, SIMA is a non-profit organization that serves to promote awareness of the surf industry and participation in the sport of surfing through public relations efforts and a variety of services, educational programs and research. In addition, SIMA actively supports oceanic environmental efforts through its 501(c)(3) charitable environmental foundation, the SIMA Environmental Fund. In the past 23 years, SIMA's Environmental Fund has raised more than $6.2 million for environmental groups seeking to protect the world's oceans, beaches and waves. The SIMA Humanitarian Fund, also a 501(c)(3) charitable foundation, was established in 2006 to award grants to various surf or boardsport related social and humanitarian non-profit organizations whose efforts are focused on improving the quality of life, health and/or welfare of people.
---