Back to News
B$Z: Firewire and Bast Collaborate on Eco-Packaging
October 7, 2013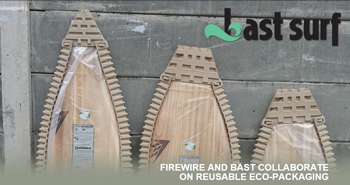 Firewire and Bast Collaborate on Eco-Packaging
Press Release from Firewire Surfboards

Aside from the overall toxicity of a surfboard's raw materials, in many cases the packaging materials used to protect boards during transit are not much better. Bubble pack, cardboard, plastic bags and rolls of packing tape are the usual culprits.
Named after the Egyptian Goddess of Protection, San Diego based Bast decided to do something about it. After collaborating with Firewire, the end result is a 100% post-consumer packaging system, which not only removes bubble pack, cardboard and packing tape, but can also be re-used to protect boards whenever surfers travel. The system is modular, and with a couple of nose and tail options, the Bast system can be configured to fit almost any shape surfboard. In addition, once nested on top of each other, the system creates over 1" of separation between boards, further protecting them during shipping.
Firewire and Bast Collaborate on Reusable Eco-Packaging from Firewire Surfboards on Vimeo.
Jared Koett of Bast explains, "Our aim is to reduce the time and materials involved in packaging while improving protection. We're excited to collaborate with Firewire to affect this change."
"When Jared first approached us it was clear he was on to something unique and long overdue for our industry", said Firewire CEO Mark Price, "and therefore we did not hesitate to get involved in helping to refine the system and bring it to market. Not only is it significantly more eco-friendly than traditional methods, but the benefits accrue throughout our supply chain due to better protection, the ease of unpacking boards at retail, and the fact that surfers can reuse the system when they travel."
Firewire will introduce the system on all TimberTEK boards beginning in October, and will convert to the system 100% by early 2014. Bast hopes that retailers and surfers alike will embrace the system and that over time, it will become the default packaging option for the surfboard industry. For more info, please visit http://www.firewiresurfboards.com/BAST-eco-packaging.php and https://www.facebook.com/BastSurf.
Firewire believes in the continued improvement of modern day surfboards through the optimization of flex, the development of new technologies and the inclusion of greener raw materials to reduce environmental impact.
---