Back to News
FATCAN Ski Poles Q&A with Max Iorno, Owner
October 9, 2013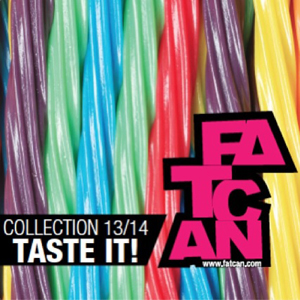 FATCAN Ski Poles Q&A with Max Iorno, Owner
FATCAN is a European-based freestyle skipoles and apparel company that produces beautiful & recyclable poles made in Italy. FATCAN was started four years ago to address the technical needs of freestyle skiers and the company's commitment to providing riders the highest quality equipment has caught the attention of the sport's best.
FATCAN's skipoles are produced using a sublimation printing process to ensure a long lifetime and feature unique graphic designs that range from the traditional, including simple branded tonal prints and camo, to the more stylized, like the Fat Mac and Flower Power. The customization extends to several aspects of the pole itself: the length is self-editable, customers can choose from a soft, biker or freestyle grip as well as powder or park baskets, and each pole's diameter is freely selectable from 18-22 mm.
We interviewed Max to get the scoop on how FATCAN was started and why, what's unique about FATCAN's product line, and we asked him about growth and expansion for the company.


The Stripes Series is FATCAN's most popular product.
Let's start off with Fatcan's new website, set to launch in the first two weeks of October - what will the new site look and feel like?
More photos, more social...a fresh feeling for the new season.
When was Fatcan started and where does the name come from?
Fatcan was launched in 2009, with a group of passionate skiers from Engadin (in the Swiss Alps). The name is quite easy, we make non conic poles, so we are FAT. And CAN, like can of coke. So, you put those together and you have FATCAN.
What is unique about the company and its products?
100% recyclable – 100% one size – 100% made in Italy. Coming out in a photo or video, it's difficult to really see ski poles. Now, put some graphics and colors on those poles and you'll find the easiest way to enjoy the mountain.
What are your most popular products?
The stripes series (available in multiple color variations) and the one love collection.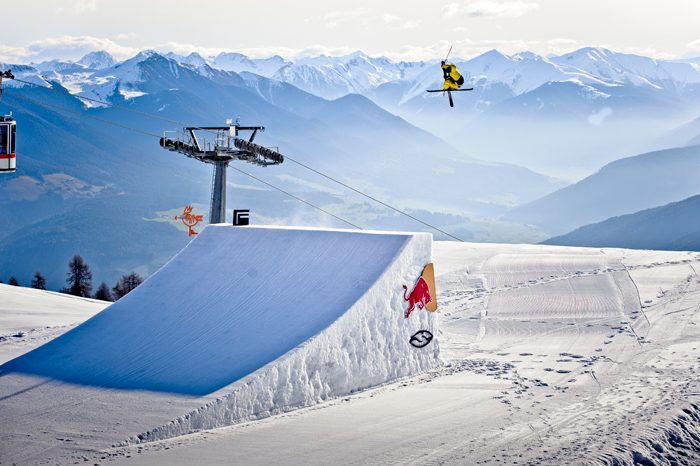 FATCAN team rider Klaus Finne makes for a great tester, photo: Alessandro Belluscio.
Is Fatcan available in the U.S.? Are there any current dealers in the US?
Yes, SNOWIDE in Portland, Ore.
Can you share the pros & cons of being based in Europe and having product manufactured specifically in Italy?
We would like to create jobs for our children. [Being based in Europe] we can assure the high quality of our product featuring a mix of fashion and design. And, we are able to keep our lives simple while saving the planet. At the moment, we count every kilometer.
On Facebook, your page states that Fatcan's Freestyle Ski poles are made from 100% recyclable materials - why? Does this extend to the entire product line offered by Fatcan?
Aluminum is one beautiful material and you can recycle it several times. This means that we don't use paint and chemical glue. We are moving on a green plastic as well.
Are there thoughts or plans on expanding the current product line? Do you see growth for Fatcan extending to skis and other hardgood categories?
We make Ski Poles and we will keep going on this category. We will expand our range with freeride poles, ladies and kids line, and rental poles as well. Regarding other category, maybe we will have some collaborations in the near future. We are a poles company and we will grow in this segment; maybe moving in outdoor business in the future.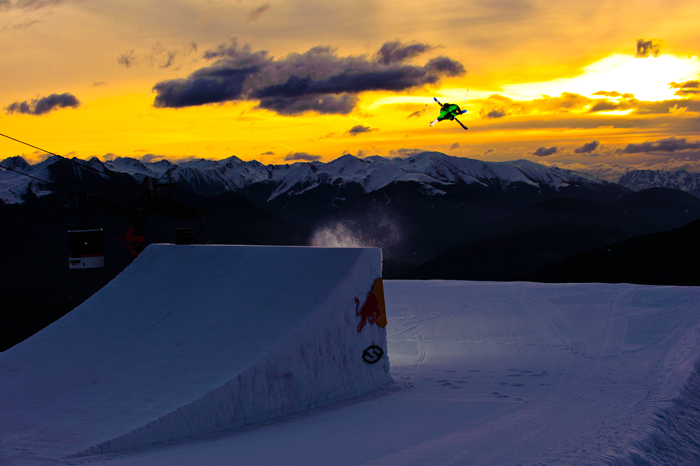 FATCAN's McRae Williams, from Park City, Utah, photo: Alessandro Belluscio.
What advice would you give to someone who may be thinking of launching their own technical product-focused company?
Listen to the rider and feel that you make a great product.
Who do you see as your biggest competitor in the market and is there anyone out there doing what you do?
Freeski is a growing market, everybody is a competitor but we are a family. There are freeski brand of ski and others pole manufacturer, we will see in the future.
Is there room for growth moving forward?
Yes. We have been growing at a rate of +30% every year, but we started very slowly!!!
What has been the most rewarding aspect of launching the brand?
Being able to make something different.


FATCAN's Shaper design retails for €69.90n (approx. $94.85).
Any last words?
Never give up and keep it real. See you on the ski!
Be sure to visit the website: www.fatcan.com. Fatcan is on Facebook and on Instagram (@Fatcanpoles).
#pimpyourpoles
---