Back to News
EMP: Brixton Welcomes Neville Sales Group as Midwest Sales Representative
October 18, 2013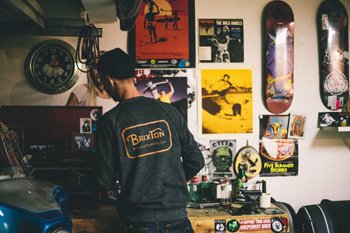 Brixton Welcomes Neville Sales Group as Midwest Sales Representative
Press release from Brixton
Oceanside, CA (October 17, 2013) – Brixton is excited to announce Neville Sales Group as the brand's Midwest Sales Representative. The Neville Sales Group includes Mike Neville, Brooke Neville, Brad Steuer and Ted Lakeman and is a key addition to Brixton's sales team as the brand continues to expand.
Neville Sales Group founder Mike Neville, a Green Bay native, comes to Brixton with over 15 years of sales experience in the action sports industry including 13 years with Sole Technology brands Altamont, Thirty-Two, Etnies, Emerica and eS. Mike and his agency have also been the recipients of multiple sales rep of the year awards for their outstanding work.
"We are very excited to have Mike and Brooke Neville's sales group on board, they are a great fit for Brixton," said Brixton's Director of U.S. Sales Mike Lawson. "Their agency comes with years of experience and brings a level of insight, professionalism and knowledge that will continue to elevate Brixton in the Midwest. The timing is perfect and we are looking forward to great things."
"We are long time fans of Brixton and we're very excited to be part of such an original and authentic brand," said Mike Neville. "It feels great to join the family."
About Brixton
Founded in 2004, Brixton is the collaboration of three friends who wanted to convey their lifestyle through unique products. Based in Oceanside, CA, Brixton manufactures a full line of apparel, headwear and accessories and is distributed in over 30 countries. The clean, classic design of the Brixton collection has a modern yet timeless feel and each piece is constructed with the commitment to bringing customers quality product they'll want to hold onto forever. For more information on Brixton visit www.brixton.com and follow @brixton.
---