Back to News
EMP: TransWorld Skateboarding Announces New Marketing Director
November 18, 2013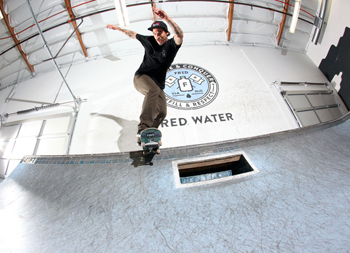 TransWorld Skateboarding Announces New Marketing Director
Press Release from GrindMedia
CARLSBAD, Calif., Nov. 18, 2013 – TransWorld SKATEboarding (TWS), the number one skateboarding media brand in the industry, is pleased to announce the addition of Paul Kobriger as Marketing Director. Kobriger will work closely with the editorial team to develop valued events, core promotions and skater- driven digital and print franchises.
Prior to joining TransWorld, Kobriger served as Marketing Manager at CCS, where he solidified his reputation in the skateboarding industry. The initiatives he developed there were always as much about promoting the growth of skateboarding as a whole as they were about growing the business. That core belief, combined with his strong ties to the industry, vast marketing experience, and overall awareness of value propositions make Paul a valuable asset to the TransWorld brand.
"TransWorld SKATEboarding has always represented the pinnacle of quality to me. I grew up with this magazine and haven't missed an issue in probably 20 years," says Kobriger. "Their legacy is unmatched, and it's a tremendous honor and thrill for me to work at the best media brand with the best staff in all of skateboarding!"
"The TransWorld team just got that much better with the addition of Paul," says TWS Editor in Chief Jaime Owens. "Paul's solid background in the skate industry, along with his being an all around stand up guy, is going to help take TWS to the next level."
About TransWorld SKATEboarding
Transworld SKATEboarding (TWS) has been the largest, most respected skateboarding media outlet in the world for 30 years. Known widely by its mantra, skate & create, and delivering the most innovative photography, cutting-edge editorial, and top-notch videos, TransWorld SKATEboarding offers its audience an inside look at the skateboarding culture through its magazines, videos and website. TransWorld SKATEboarding can be found online at skateboarding.com. TransWorld SKATEboarding is published by GrindMedia, the world's leading action sports media company.
About GrindMedia
Source Interlink Media's GrindMedia is the world's largest action/adventure/outdoor media company, with 29 leading media assets featuring brands such as GrindTV.com, SURFER, SURFING, TransWorld SKATEboarding, Bike, POWDER, TransWorld Motocross, Snowboarder, Canoe & Kayak and more. GrindMedia reaches more than 40 million engaged consumers every month through its print, online, mobile, TV/video and events. Delivering significant reach across both action sports enthusiast and various in-market consumer audiences, GrindMedia also produces more than 40 leading events and webcasts such as Surfer Poll Awards, TransWorld SKATEboarding Awards, Powder Video Awards, Lowers Pro and EnduroCross. GrindMedia is also the exclusive action and adventure sports content provider for Yahoo! Sports. To learn more, visit grindmedia.com.
---