Back to News
SWAE Watches Q&A with Vice President and C.O.O. Nilo Jones
November 18, 2013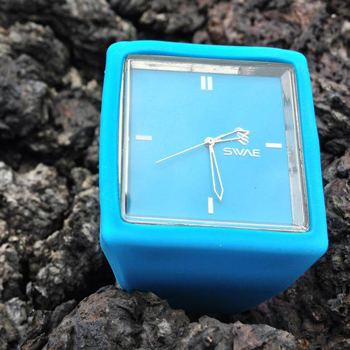 SWAE Watches Q&A with Vice President and C.O.O. Nilo Jones
SWAE Watches was started by Braydon Moreno and Nilo Jones in San Diego, Calif. when the pair of entrepreneurs saw a gap in the actions sports / urban lifestyle markets and the need for "a watch company with enough swager to cater to the masses". SWAE's initial product was the company's original design for an interchangeable watch that allows for distinctive combinations so consumers can express themselves in their own individual ways. Appropriately, SWAE Watches are proudly endorsed by some truly unique individuals, like former UFC Light Heavyweight Champion Chuck Liddel and Christopher 'Big Black' Boykin of MTV's Rob & Big fame.
Now, after having successfully completed a crowd-funded campaign on Kickstarter, the team at SWAE are continuing to work hard to create a line of watches that they hope will empower its wearers to be bold, confident and to live life to the fullest.
We had a conversation with Nilo Jones, a Co-Founder of SWAE Watches who now serves as Vice President and C.O.O., to get the scoop on what's unique about SWAE, to find out how the company prepared for the Kickstarter campaign earlier this year, and we asked him to share the biggest challenges and rewards in successfully launching a new brand.
What was the initial inspiration for launching an interchangeable watch company?
Well technically, we're not labeling ourselves an interchangeable watch company, but simply a watch company created bold enough to bridge the gap needed within all categories in the action sports / urban lifestyle fields. The inspiration actually came from my partner Braydon Moreno who was interested in creating a watch company with enough swag to cater to the masses and cover different genres.
Who was involved with launching SWAE earlier this year?
Initially, my partner Braydon had the vision of creating SWAE and introduced the "SWITCH" Watch to me while at a bar and grill in Coronado, CA. At the time, I was the Director of Operations for Big Black (MTV's Rob & Big / Rob Dyrdek's Fantasy Factory), with the resources I have and background in the action sports industry, he offered to make me a partner in this venture. Our early intentions were to launch Holiday '12, but we weren't where we wanted to be at the time and brought in my buddy Mike Krogh from the Bay Area to help structure a proper launch for 2013.
Why use Kickstarter? How did it go?
We used Kickstarter for plenty of reasons, one being that it is an excellent platform to release and get feedback for an idea you are turning into a reality all while raising capital and gaining massive online exposure at the same time. All and all, our Kickstarter campaign was a success, but being new to that platform, we now realize other approaches we could have taken to multiply that success.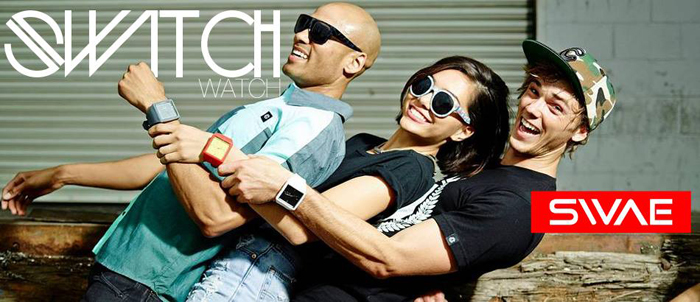 What has been the response from the general public since your project was successfully funded in May?
The response we have been getting from the public has been fantastic and since then, we are still gaining more and more notoriety. Since the Kickstarter launch, with the inventory we were able to gain, we were able to produce a solid team of athletes and musicians to help attract more of a following and interact more within the industry.
What is unique about your product?
Our vision is to be vivid, bold and try out different approaches and looks. What makes us unique in some cases are the stories behind the watch for instance, "The Hawaiian." Being a watch lover myself, I've never seen watches made out of Hawaiian Koa Wood that is sold within our industry and decided to create a watch utilizing the wood and incorporating Hawaiian tribal imagery within it. The wood used for these watches are cut from fallen trees on the northeast slopes of Mauna Kea (The Big Island of Hawaii) and are of high grade. In ancient times, Hawaiians used Koa for war canoes, paddles, weapons, surfboards… but we're here to put this beauty on your wrists. When you purchase this watch, you will also be planting a Koa Tree in Umikoa, HI, land that once was King Kamehameha's personal Koa forest during his reign. This is all an effort to restore Hawaii's native tree, help endangered animals who depend on Koa for it's survival, and plant more and more Koa trees for our children's children to enjoy.
What have been the most popular products from SWAE?
So far the SWITCH has been a major hit and people are now going crazy over The Hawaiian and have been waiting for it to drop. They have also been going crazy over our new watch "The Coqui" we created for pro skater Manny Santiago.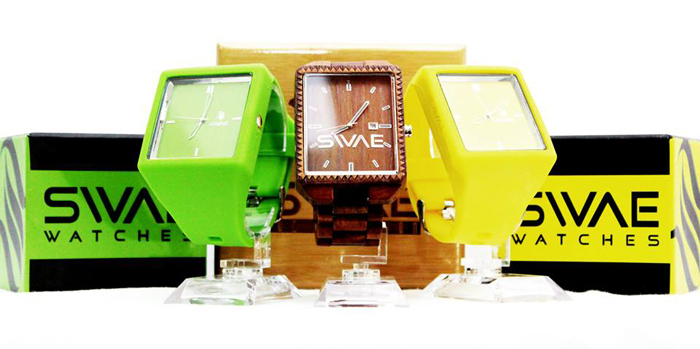 Where is there room for growth with the current interchangeable watch line?
There's plenty of room for growth. The SWITCH is our instant classic and poster child so to speak. We will be creating different generations of it such as the Digital Switch hitting the streets 2014. It's a totally new and custom style that people gravitate to easily.
Do you see company expansion into other categories within apparel and accessories?
Absolutely! We are currently creating a full line of tees and hats to go with the watches we create. Normally people finish off their attire by picking a watch that goes with that outfit… This time around with our line, the rest of the outfit is going to be based around the watch. Hahahaha!
Where do you see the company this time next year?
Lord willing, we see a heavy growth by this time next year. We are including ourselves in much more events and marketing campaigns especially with our new athletes and musicians. I think we will have a strong following.
What has been the biggest challenge for you in launching SWAE?
The biggest challenge was the launch itself. Getting everything ready pre-launch by getting the crowd worked up in hopes that all your efforts will get positive feedback and great crowd reaction.
What has been the biggest reward for you as the co-founder and COO?
So far, the biggest reward is the ability to work with such great and energetic people. In the past working for others, you had a limited amount of access and exposure to things. I only got to see a portion of the picture although I was right there in the mix of things. Then at the end of the day, all that hard work you did, all the credit was going towards the heads of that business. With us, we give credit where credit is due. Working with Braydon, Mike, and getting our athletes to back and believe in our product is truly a humbling experience that I personally could never take for granted. So now, at the end of the day I could look back and realize that each and everyone of us accomplished something truly special and it took the village to make it happen.
Can you share any advice for our users who may be interested in launching their own business?
Stay focused to your goal. There are going to be plenty of ups and plenty of downs that you need to learn from.
Any last words?
WRISTPECT SWAE!!!=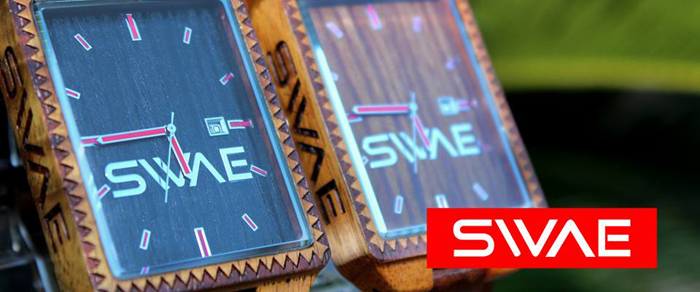 Keep up with the latest from Swae at swaewatches.com! And be sure to check 'em out on Facebook, Twitter and Instagram.
---