Back to News
WIN: A Golden Ticket Opportunity To Win A Firewire Surfboard
November 19, 2013
A Golden Ticket Opportunity To Win A Firewire Surfboard
Press Release from the Surfrider Foundation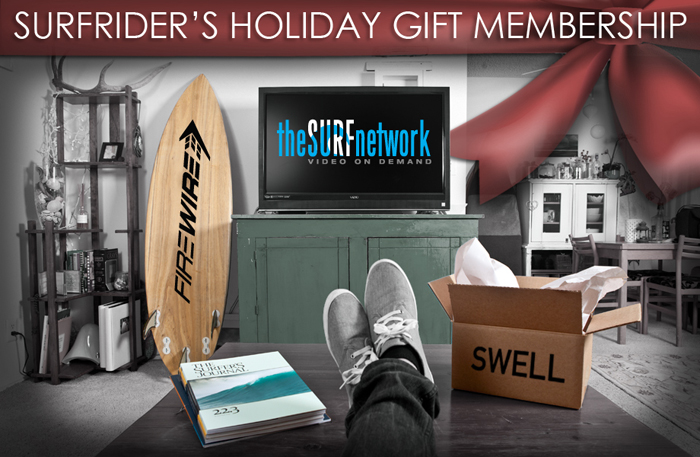 'Tis the season to give a Surfrider Foundation membership
"I've got a golden ticket, I've got a golden ticket," is what you'll be singing this holiday season when you give the gift of a Surfrider Foundation membership. But will your golden ticket be the winning golden ticket for a Firewire surfboard?
This year, the Surfrider Foundation Holiday Gift Membership Packages are all about giving the gift of enjoyment. When you give a gift membership, not only are you helping protect our oceans, waves and beaches, as an added bonus, you'll have a golden ticket entered into a sweepstakes for a chance to win a brand new Firewire surfboard.
So what exactly is Surfrider offering in its unique gift packages to sweeten up your holiday giving? The first package for $49 includes a one-year membership to the Surfrider Foundation, a $50 voucher to Swell.com, and a gift certificate for two free downloads on TheSurfNetwork.com. The second package at $149 includes a one-year membership to the Surfrider Foundation, a one-year subscription to The Surfer's Journal, and a choice of Masters of Surf Photography book.
As a Surfrider Foundation member, your favorite beach enthusiast will receive a one-year subscription to the Foundation's digital newsletter, Making Waves, two membership stickers and 20% off any purchases on Swell.com.
"During the holidays, people love to give and so do we," said Laura Lee, Surfrider Foundation's Director of Marketing & Communications. "The 'Golden Ticket' is our small way of saying thanks to all those who help protect our oceans, waves and beaches this holiday season. And you never know, by giving a gift to others, you just might win a Firewire surfboard for yourself!"
The last chance to purchase a holiday membership with a golden ticket is Monday, December 16. One lucky winner will be randomly selected on December 18 and announced via Surfrider's homepage. Be sure to stay tuned throughout the promotion because you never know what kind of surprises will be announced…
Surfrider Holiday Gift Memberships are available here: http://www.surfrider.org/holiday. No purchase necessary to enter the sweepstakes.
About Surfrider Foundation
The Surfrider Foundation is a non-profit grassroots organization dedicated to the protection and enjoyment of our world's oceans, waves and beaches through a powerful activist network. Founded in 1984 by a handful of visionary surfers in Malibu, California, the Surfrider Foundation now maintains over 250,000 supporters, activists and members worldwide. For more information on the Surfrider Foundation, visit www.surfrider.org.
---